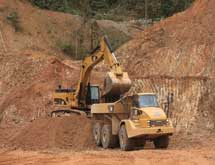 For Chairman Richard Fifer, leading Petaquilla Minerals Ltd. has not been a half-hearted effort. Instead, "In my case, it has almost been a lifetime endeavor," he declares. The Vancouver-based company specializes in gold, silver and copper mining. A 25-year veteran of the industry, Fifer founded Petaquilla Minerals in 1987 as Adrian Resources. Soon after, it formed a joint venture with another exploration company and began looking for copper on its Molejon property in Panama. "In the process, we found gold deposits," Fifer recalls.
Petaquilla Minerals also discovered six copper deposits, and eventually sold a portion of itself to finance production. Commercial production began in January 2010, and the firm recently enjoyed its first three profitable quarters. "We're projecting $260 million in our cash flow in the next few years," Fifer notes.
In 2009, Petaquilla Minerals formed Panama Development of Infrastructures, which specializes in mining, construction and energy projects. It also wants to begin exploration on a mine in Huelva, Spain, which has an estimated 2.1 million ounces of gold and 45 million ounces of silver.
"We got our environmental impact statement approved by the [Spanish] government," Fifer says. "We expect to get our production authorization sometime in early October. We expect it will take another year now to finish our final feasibility study."
A Good Group
A native of Panama and a geologist by trade, Fifer previously worked in the petroleum industry before starting Petaquilla Minerals. He says he appreciates how the firm has kept him close to home.
"I was born just 50 miles south of the [Molejon] project, so it is in my backyard," Fifer says. "It's not hard to stay at home."
He praises his management team at Petaquilla Minerals, which includes COO Lazaro Rodriguez, Corporate Secretary David Kaplan, President Rodrigo Esquivel, CEO Joao Manuel, General Counsel in Spain Oriol Prosper and Senior Steel Superintendent Lucas Gonzalez.
"It's a very good [range of] people that represent the core of our management," he says. "Most of our key managers are in their 50s and early 40s. [They are a] very experienced group."
Petaquilla Minerals has become known as Panama's "first modern-day mining company," Fifer says. "We're the iconic flag bearer of the mining industry in Panama."
Petaquilla Minerals has sought to employ locals, and has worked hard to meet high standards and maintain its progressive reputation. For instance, it recently passed audits by the World Bank Group and Nature Conservancy.
Because Panama did not have a strong mining industry before Petaquilla Minerals' start, the firm has had to work to bring others up the learning curve. For example, it had to work with the federal government to create mining regulations. "[We had to] almost teach the government to monitor us," he recalls.
"We had to establish our own contractor supply chain," he adds. "[We also] had to help the contractors in our country get familiar with the operational and legal parameters. It was quite the effort."
This has driven more competitors to make their way into Panama and follow Petaquilla Minerals' lead. "Panama has enjoyed one of the fastest economic growths in the country," he says. "The IMF has called it the most dynamic economy in South America."
Petaquilla Minerals is planning for more growth of its own, Fifer adds. "In five years, our key goal is to become a mid-tier gold producer," he says. "[We want to produce] 300,000 ounces of gold a year from the two projects."