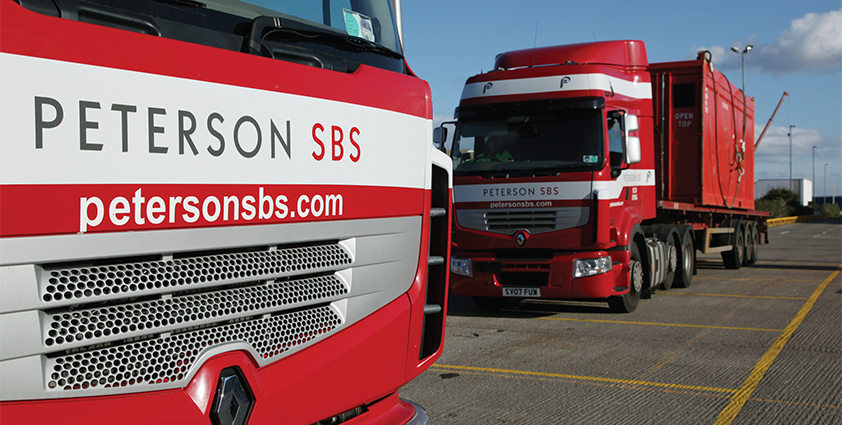 Supplying demand
With a history dating back to the early 1970s when it was established to provide logistics services to the emerging oil and gas industry in Shetland, Peterson SBS has grown and expanded over the years to hold a host of international operations.
The organisation originally became involved in this area when platforms started to be built and pipelines began to be laid in the Shetland region 40 years ago. It was only in the late 1990s following a strategic management buy-out that the company started to look south for expansion in line with its goal to provide services from numerous ports in the UK. Its Aberdeen base was established in 1998, while the Heysham location was built to serve customers in the Irish Sea in 2005 and activities started in Great Yarmouth the following year.
The most significant development in its 40-year history came in 2008 when the original business was combined with the Dutch logistics operations of Peterson. Today the company has coverage and strategic locations around the North Sea serving numerous oil and gas clients with essential value for money logistics and management solutions. The organisation's 700,000 square feet of warehousing across the UK, alongside its proficiency as a complete package provider enables it to not only receive material, but also inspect, store, move and lift it alongside customer demand. Peterson SBS' UK facilities are some of the best in the industry, served by an experienced workforce of over 650 and receiving over £2 million of investment every year.
Mike Porter, managing director and group director of Peterson SBS, outlines the main changes since the merger two years ago: "Obviously this move has increased our range of supply bases and geographical coverage, but more than this it has improved the contract coverage for our customers. We found that many of the clients Peterson had in Holland were also customers of ours in the UK and now these key clients can access numerous ports through only one company and contract. Peterson is also a worldwide company with activities in over 50 countries across the globe giving us a platform to internationalise our oil and gas logistics business on the back of this asset."
Despite this recent growth, the company's core strengths within the market have always been the same and it is the ability to provide numerous services within one single contract that sets it apart from competition. Instead of customers having to gain separate contracts for loading supply vessels, chartering supply vessels and warehousing for example, Peterson SBS is one of the few companies in the UK to bundle such requirements together in one easy solution. This capability is available throughout the supply chain and stage of the oil field's life providing customers with consistent support and reliability.
While the market has witnessed some fragmentation with an increasing number of smaller operating companies outsourcing capabilities, the company gained involvement in the major decommissioning project that took place in Shetland in 2007/08. This contract involved the removal of redundant platforms and marks the start of a huge trend within the oil and gas arena for decommissioning, especially as over 400 structures in the North Sea are due for dismantling over the next 30 years. To meet this demand Peterson SBS has plans to open more decommissioning sites across the UK, while a vessel pooling arrangement in the southern North Sea has proven to be highly successful. In order to reduce operating costs for its customers the company put together a pool of its own vessels for clients in the southern North Sea to utilise and share. Priding itself on innovating solutions for customers that couldn't afford them on their own, the organisation is not only reducing cost but is creating a ground breaking logistic capability based on its understanding of customer need.
"Volumes in the past two years have been below that experienced in 2008, though we predict that in 2011 we will see a return to positive growth margins. Our aim for the coming years is to gain an international presence, providing oil and gas services elsewhere in the world beyond the realms of the North Sea. We are not walking away from this arena as even though production levels have dropped there are a lot of opportunities for companies like ourselves who can actually facilitate sharing between oil companies and as the market continues to fragment this will become ever more important. We are also looking to cement our influence and services at our Great Yarmouth facility, which is currently supporting the 'piece small' decommissioning of an offshore platform, while the Heysham location is involved in quite an exciting period within the history of the Irish Sea. We are highly positive about the future and are already in the early stages of establishing relationships within the international oil and gas logistics field," Mike concludes.
Peterson SBS
Services: Logistics solutions