Waves of development
For close to two decades, Petro Middle East (PME) has faithfully served the oil and gas market within its home country of UAE and neighbouring Gulf States, providing world-class equipment and corresponding support services that extend from the oil and gas to petrochemical and utility sectors.
The company was founded in 1995 and has a proven track record in collaborating with trusted, high-end manufacturers to deliver robust front-line services. When PME was last featured in European Oil and Gas Magazine during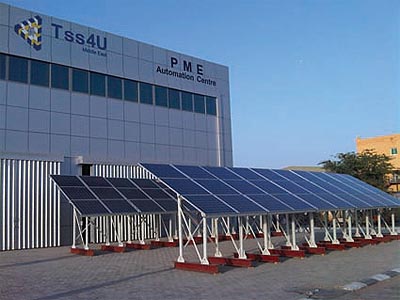 May 2012, it had made significant strides in expanding its services portfolio by extending its capabilities in HSE, integrity studies, MLF-free swimming intelligent pigging and UT inspection.
The core of PME Group is divided into two distinctive businesses: Representation and Joint Venture, yet fundamental areas that offer the eminent services that have made PME an invaluable partner to operators operating within the Gulf Co-operation Council (GCC). Its engineering services division provides contracting, integrity and projects services as well as dedicated aftersales support. The company's engineering products section supplies components for electrical and power applications, instrument and control apparatus, laboratory and analytical equipment as well as solutions in material outsourcing, mechanical flow control and process division. Furthermore, the expertise on offer from the company is further bolstered by its membership of the PME Group, alongside PME's several joint ventures such as Press Bolt Middle East (Manufacturer of Stud Bolts, Nuts, and Washers), ACIS (Automation and Control Industrial Systems), TSS4U Middle East (Off Grid Solar Power) and RRC Middle East (Special Services). Together
these companies are able to share synergies and support mutual growth, while forwarding first-class service options to the group's clients.
Having successfully integrated new service packages into its portfolio of support options, PME is ready to begin a fresh round of development to further expand the company's sphere of operation. "During the past two years we have developed the services department, which has progressed very well and we have carried out some impressive jobs within the UAE and gained a lot of experience," says group business development and administration manager Nur Yachou. "We have enjoyed good relationships with ADNOC and its affiliates such as ADCO, tendering contracts where with Exprosoft, which is our business partner from Norway, we have succeeded in providing the first consolidates solution for Wellhead Integrity Management System (WIMS) in the Middle East."
Petro Middle East has also solidified its capabilities within the offshore marine sector through the acquisition of technology from some of Europe's leading subsea entities, including One Subsea for multi phase solutions and several others. As part of its expansion into the offshore marine market, PME has participated at several trade exhibitions including the Offshore Arabia Exhibition in Dubai with an aim to introduce oil spill recovery systems to the UAE and to meet potential customers.
"Two short years ago we were embarking into the services market and now that is well established we are moving into the engineering market and intend to be firmly established in this area too. We intend to be able to do the
front engineering design (FEED), engineering detailed solutions with a specialist company from the US. So, when we next speak to European Oil and Gas Magazine we will be reporting on the successful implementation of our engineering division.
"The engineering division will come under our projects department, which I am currently heading," Yasser Al Alami elaborates. "This is because engineering companies are more closely involved with projects. We will be targeting small to medium size projects."
The company will remain focused on a strategy of responsible growth in terms of both the services that it provides and also the geographical regions in which it operates. To date much of the work carried out by PME has been for companies operating within its native UAE however, in conjunction with the development of its engineering division and PME joint venture companies, representatives from the company will be travelling to Saudi Arabia, Oman, Qatar and Kuwait to develop these markets and build further relationships with prospective clients. In taking these progressive steps, PME can rely on close to two decades of operational experience as well as a strong operational base as key strengths going forward.
All of the four companies within the PME Group are situated inside of the PME facility located in the Mussafah Industrial Area, encompassing 3000 square metres of workshop, warehouse and office capabilities. Included within the company's impressive infrastructure is its Automation Centre, which operates as an authorised service and repair centre in the UAE for Biffi Actuators and various other products. At the heart of the business PME Group has 130 dedicated and highly motivated workers. Around 50 employees are employed by PME, of which 15 are qualified engineers who are supported by an inside sales team and a separate division (Business Development) that acts in co-operation with the company's sales engineers by carrying out prequalification work for companies entering the UAE. The rest of the PME group employees are working within its JV companies.
By looking to expand its footprint within the GCC by entering into countries outside of the UAE and by aiding business that are making their first tentative steps into the region, PME can rightfully be considered as an invaluable partner in the area's rich oil and gas market. As 2014 progresses PME will work to consolidate its recent success before launching into the next wave of development in the company's growth as it develops it engineering strength and seeks out strong, yet stable and responsible expansion.
Petro Middle East
Services: Supplies specialised service solutions