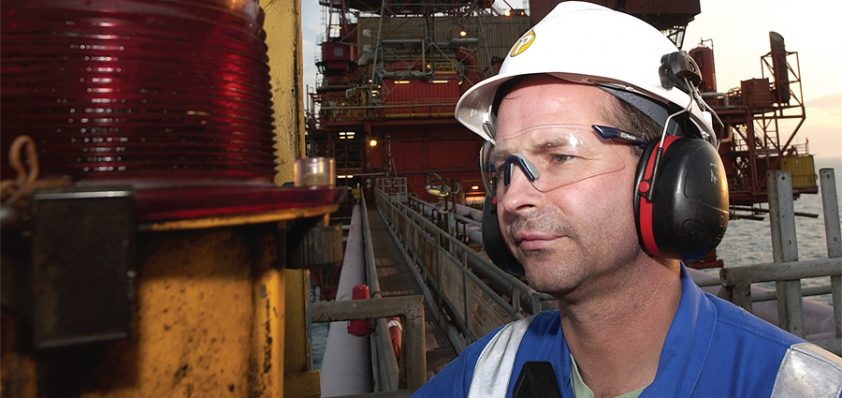 Petrofac Facilities Management
Decade of duty
This year Petrofac celebrates the tenth anniversary of its pioneering duty holder initiative, a programme created and developed by the company that has revolutionised the way in which the oil and gas sector operates facilities management services.
Petrofac Facilities Management, part of the Petrofac Group, is instrumental in supporting such operations, offering a vast range of services that include operations management, support and modification, rotating equipment management, diagnostic and consulting services, and specialist manpower and team supply.
In 1997 Petrofac became the first ever contractor duty holder of an offshore installation, creating an innovative contractor duty holder model that represented a unique approach to oil and gas management services. This has evolved and developed during a number of difficult challenges, and has subsequently been duplicated and used by other North Sea contracting companies. Since its initial success a decade ago, the company has continued to develop its duty holder services, creating a platform that has changed the international facilities management sector, and which maintains the company's leading position in the market.
Gordon East, managing director of Petrofac Facilities Management elaborates on the recent celebrations: "I believe that it really is quite an achievement for Petrofac to be celebrating ten years as a duty holder in the UK, and to remain ahead of the competition in terms of what we can offer. Our longest serving duty holder contract, the Northern Producer, which produced nearly 60 million
barrels of oil and maintained oil uptime performance above 98 per cent, has also ended its ten year location this year, and we are now in the process of talking to a number of companies about the next generation of duty holder contracts."
The nature of Petrofac's duty holder model ensures that through its various divisions, the business assumes overall responsibility for the management and safe running of an installation or facility. Gordon elaborates on Petrofac Facilities Management's role: "We provide operations, maintenance and training services to a wide range of clients. The business has grown considerably since its early days of purely carrying out duty holder contracts. Together with these we are currently expanding our operations to enter into joint venture operator style contracts in our core areas, which are the North Sea, the Middle East and North Africa."
One such joint venture contract is the company's operation in Dubai, where Petrofac is managing the country's complete offshore infrastructure of 72 platforms: "The Dubai operation was a world's first in terms of a nonmajor oil company coming predominantly from the contracting arena to work directly with a government entity," says Gordon. "It is a very exciting development for us as it provides recognition of our skill in project management, and of the high-quality, and broad range of services that we can provide.
"It is a life of field contract, through which we will maintain and service all of the oil and gas assets for the government," he continues. "Very recently we have taken over full operation of the project, and it has already settled down well with some significant expansion, including doubling of the drilling programme in the first months. It involves more than 1000 people working in a number of roles at 72 platforms and over 100 wells, performing operations, maintenance, logistics and modifications work. It is an area that we are certainly looking forward to continued growth in."
In recent years Petrofac has expanded its portfolio to encompass a number of new areas, including brownfield engineering services: "In the last years we have been steadily developing our brownfield engineering capabilities in a number of geographic areas," says Gordon. "Our operations in this sector originally started in the UK, but are now growing in the United Arab Emirates, and from here we are looking at further opportunities across North Africa and the Middle East, and blending these into our engineering resources in India."
Petrofac's brownfield division combines the core competencies, and vast experience of Petrofac Facilities Management and Petrofac Engineering, and is capable of large and small modification projects, new module operations and the removal of obsolete equipment, whilst causing minimum production downtime at minimum cost, with maximum safety. In this field the business carries out construction, commissioning and decommissioning, feasibility studies and detailed engineering, and total project management and support services.
Gordon elaborates on the importance of health and safety to the business: "Petrofac places an extremely high emphasis on HS&E, utilising many of the industry's leading programmes to maintain our high standards. We have recently announced an increased focus on the asset integrity sector of safety across the group. We have appointed John Methven as director of Group HSSE and Integrity Assurance, making some important changes to our core safety assurance team. John is now responsible for reinforcing the focus on asset integrity, and providing regular assurance reports to the board, across the business."
The appointment of John signifies considerable changes to Petrofac's core safety assurance team, which is designed to reinforce the focus on asset integrity management and process risks, and to introduce best safety practices throughout the Group. To coincide with the new appointment, all of the safety advisory and audit resources of Petrofac's different operating divisions are being integrated into the new, singular unit. John, who will have a worldwide remit covering the three Petrofac divisions, is one of the company's most experienced operations professionals, and as a recognised safety leader has been instrumental in launching 'Horizon Zero', Petrofac's global safety campaign.
Gordon looks to the future with much enthusiasm: "We will continue to develop by building our service lines and expanding our brownfield and well engineering capabilities. In addition, we are continuously looking at a number of joint venture opportunities with clients in various countries to expand our operations. Our core values will remain being responsive to our customers, listening to what they want, and being flexible in the way that we deal with them. Our flexibility continues to allow us to offer a broad range of solutions, whilst tailoring our capabilities in a number of ways.
"Because of this, Petrofac is well positioned to build on its extensive capabilities, whilst growing considerably by moving into new core areas and providing the complete solution in terms of total facilities management. For us to remain successful I wish to see that wherever Petrofac Facilities Management works with any customer, their operation has always been improved by that interaction," Gordon concludes.
Petrofac Facilities Management
Industry: Total facilities management services