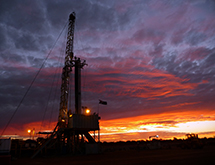 An alliance with a multinational energy company experienced in exploring unconventional oil and gas assets gives PetroFrontier Corp. an advantage among junior exploration companies.
The Calgary-based company in 2012 entered into a farm-in agreement with Statoil Australia Oil & Gas AS of Norway to explore land PetroFrontier owns in the Southern Georgina Basin of Australia's Northern Territory. PetroFrontier acquired more than 13 million acres of land in the region during 2009 and 2010, shortly after the company formed, CEO and Director Earl Scott says.
The agreement stipulates that Statoil could potentially spend up to $175 million by the end of 2016 to unlock a potential resource of roughly 26 billion total barrels of oil in the Arthur Creek and Thortonia shale formations within the Southern Georgina Basin. Statoil this year anticipates drilling five exploratory wells, up to three of which will be perforated, fracked and tested.
Future years could potentially see even further activity. "For us, success in 2014 would mean being able to provide proof of the concept of extracting oil from these formations and getting it to the surface," he adds.
Statoil assumed operatorship in September 2013. The company has thus far participated in the drilling of two horizontal wells and testing of one, PetroFrontier says.
Strong Backing
Statoil can earn up to 80 percent working interest on two large land blocks wholly owned by PetroFrontier. PetroFrontier also has a majority interest in two other parcels it co-owns with Baraka Energy and Resources; Statoil can earn up to 65 percent working interest in that land. PetroFrontier is committed to monitoring Statoil's progress and providing whatever assistance or support it can to the operator, Scott says.
Prior to the agreement, PetroFrontier financed the drilling of two pilot holes and a horizontal well. The company also analyzed existing well bores and completed a seismic program to identify existing resources. This data was then shared with several major oil companies with the intention of securing the capital for further exploration.
"We didn't have the kind of capital required to explore this properly on our own, so we knew we had to team with a major company," Scott adds. "We amassed the land, derisked the technical story and attracted a company that has the resources we needed. Getting Statoil on board was a major accomplishment for us."
Statoil's experience in exploring and producing unconventional oil assets makes it an attractive partner to PetroFrontier. The company works in more than 30 countries including the United States, where it has acquired companies involved in exploring the Bakken, Three Forks, Marcellus and Eagle Ford shale plays.
"These exploration activities are in line with our objective to access shale plays at an early exploration stage, at low cost and develop them into potentially high-value assets," Atle Rettedel, senior vice president for new ventures at Statoil, said in a statement. "We are looking forward to explore it together with our partner PetroFrontier, a small but highly competent company."
Staying Power
PetroFrontier is one of the first companies to extensively explore the Southern Georgina Basin, and the first to introduce open-hole horizontal drilling and multi-stage hydrofracturing technology to the region, Scott notes.
The company's executives and technical staff have extensive experience in international oil and natural gas exploration and development. Scott's experience includes technical leadership roles in Canada, Malaysia, France, Venezuela and Ecuador with companies including Exxon, Schlumberger, AEC International and BG Group.
Scott sees Statoil as key to the company's future. "We have staying power, and plan to stick around and manage this opportunity," he says. "We have a major land position and a first class major oil company dedicated to spending $175 million to explore it for us. We don't fall into the category of companies that have limited funds and a high cash burn."