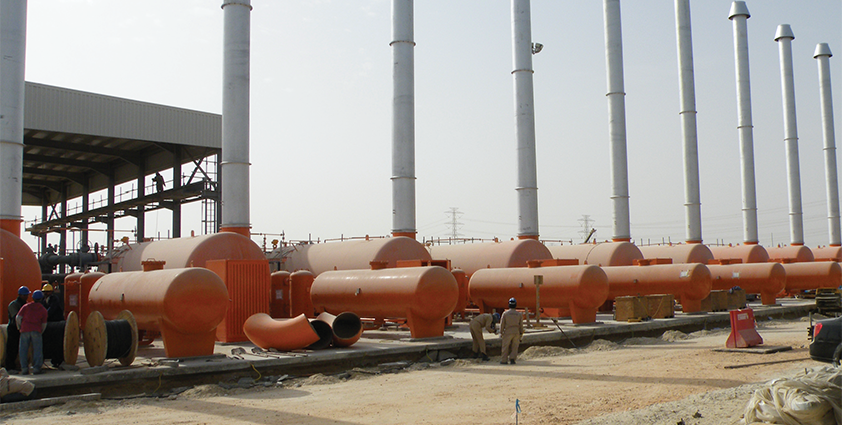 All systems go
When a gas field near Coevorden, the Netherlands, was discovered in 1948, Petrogas Gas-systems was founded to build stations for its local distribution.
Since that time the company has raised its profile within the gas industry, both nationally and internationally, through comprehensive service and top quality engineering. Today the company continues to be a major provider of gas treatment installations for gas turbines, and has also established a presence within the mid- and upstream markets offering items such as glycol units, high-pressure gas filters and separators.
Sales director Edwin Hoogwerf illustrates the scope of Petrogas' work further: "Most of the work we do today is outside of the Netherlands because the major gas turbine power plants are being built abroad, in regions such as the Middle East, Asia and South America. We travel all over the world together with our clients to provide our stations and services. At the same time we continue carrying out projects here in the Netherlands for Gasunie, which is still a frequent and major customer for us."
A recent example of its continuing collaboration with Gasunie is a project to develop dehydration units for Gasunie's underground gas facilities. With the Netherlands becoming Europe's central hub for storage and processing, Gasunie has begun developing systems to mix the gas it receives from countries such as Russia, Norway, Sweden and the UK. Petrogas' role is to manufacture systems for the underground salt caverns in which the nitrogen and other gases are stored.
The company also works with other big name clients such as GE, Alstom and Siemens, with which it recently won contracts to work on gas treatment units in Sohar and Barka, Oman. This latter contract is part of Petrogas' plans for moving into the Middle East region, and to support this strategy the company opened facilities in Bahrain from which it can both manufacture and carry out customer services.
This became an important decision because, with Middle Eastern business increasing, the cost of transporting equipment from its European or Chinese factories became unjustifiable. "We expect to increasingly focus on countries such as Qatar, Saudi Arabia and Oman, and all of these are easy to reach from Bahrain," comments Edwin.
Petrogas also has several working partnerships with companies including Bemco Contracting and Anabeeb, both of which are situated in the Middle East. Chris van der Ree, managing director, talks about these further: "We are currently working out the contract with Bemco, which is headquartered in Lebanon but has a major presence in Saudi Arabia, but it will be very beneficial to both parties. Anabeeb is a maintenance company in Saudi Arabia and through it we are rolling out our aftersales and maintenance activities for units that we have supplied within the Middle East. Over the last ten years we have supplied several hundreds and they all need maintaining and modernising, so through our partnership we are able to offer that."
In November 2009 a partnership contract was signed between Petrogas and Dutch contracting company Mourik, enabling both companies to co-operate in offering comprehensive turnkey solutions. Whilst Petrogas can provide gas treatment skids, Mourik offers supporting items such as concrete foundations, power cables, underground piping and housing structures. This will allow Petrogas to grow further within a market where it already has a notable presence.
Chris talks about why the company has had such success: "One of our main strengths is that, particularly in partnership with Mourik, we are able to give one-stop shopping for our customers. We can do everything from civil engineering to the maintenance and operation of installations. Furthermore, we are very flexible in our designs. We have in-house engineering for equipment such as separators and heat exchangers so we understand how these products work, and through that are able to optimise our products to customer requirements.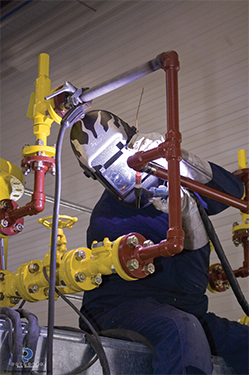 "Because both manufacturing and engineering are done in-house," Edwin adds, "we have the advantage of being able to act quickly on changes in specification or demand. If a client suddenly needs to change midway through a project, we simply sit down with them and work out a way to accomplish those changes."
Petrogas has had both good and bad fortunes within the market over the last two years. Whilst OEMs used to be a big client sector, this market has gone through a major downturn and the number of projects being undertaken by the company has halved since 2008. Fortunately the company predicted this change in the market before it became critical and began moving into the mid- and upstream markets, which now comprises 50 per cent of its business.
One of the key developments Petrogas is witnessing in this respect are the Mega Deal projects currently being hammered out in Iraq. With many of the engineering, procurement and construction (EPC) contracts currently in the bidding stage, and many of these EPC contractors approaching Petrogas for its gas processing systems, this looks like it will become an increasingly important sector for the company. Another region that is becoming rising to prominence is North Africa, particularly Algeria and Libya, where it is marketing dehydration units for gas dehydration projects. Areas such as Kazakhstan and Azerbaijan are currently undergoing market research by the company for possible growth further into the future.
Furthermore, Petrogas is developing new equipment to suit the demand of its customers. Currently, the development of Black Dust separation systems is nearing its completion and Petrogas will be rolling out these technologies as of November 2010. With many operators in the natural gas transportation market are experiencing difficulties related to Black Dust, Petrogas is keen on providing suitable solutions for this. As Edwin elaborates:"Petrogas is not just supplying kilograms of steel, we are providing custom designed solutions for our valuable clients. As Black Dust is currently a problem faced by many of our customers, we are designing the specific solutions for these situations."
Chris approaches the company's future with confidence: "In terms of growth, we want to have a year-on-year increase of at least 15 per cent so that we can fulfil the demands of our clients. We will grow our engineering activities, together with Mourik, in civil engineering and maintenance. In terms of turnover we hope to have a figure of ten per cent year-on-year, whilst we are looking at approximately 15 per cent per year growth for our employee numbers."
Edwin concludes: "Not only will we continue to expand our in-house engineering and fabrication services, but we have strategic partners that can help carry out construction projects whether it is in the Netherlands or globally. This will help us to grow, which for us is an imperative thing. We have to do it because, to us, not expanding means going backwards."
Petrogas Gas-systems BV
Products: Gas processing technology