Petroineos Manufacturing Scotland
Leading a renaissance
The area around the town of Grangemouth, Scotland, has long been at the forefront of innovation and technology, ever since shale oil refining began to shape its industrial landscape in the 1850's. Since 1924, Grangemouth Refinery has been the main industry of the town, and the wider Falkirk council area, existing as the country's only crude oil refinery and one of the largest facilities of its kind anywhere in Europe.
Since December 2005, the refinery – which as well as petrol and diesel, also produces significant quantities of kerosene,jet fuel, gas oil, LPG and petrochemical feedstocks – has been owned and
operated by privately owned, UK-based chemicals company Ineos. It was then, in 2011, that the Ineos Refining business (which included both the Grangemouth and Lavera, France, refineries) entered into a 50/50 joint venture with Chinese state oil company Petrochina, to form Petroineos Refining & Trading. Since its acquisition, Petroineos/Ineos have invested more than £1 billion into the Grangemouth Complex, which today processes some 210,000 barrels of crude oil per day, and produces over nine million tonnes of clear fuel per annum and around one million tonnes of chemical product each year.
As Refinery Manager, Russell Mann, details, 2019 has been another important year so far for Grangemouth. "In 2019, the refinery undertook its largest ever turnaround programme. This scheduled event, where more than half the Refinery was taken off stream for an extended period of renewal, involved around 3500 people and was completed in the first half of the year. It was also carried out without any disruption to the fuel supply of Scotland, which is something we take great pride in."
Energy, Oil & Gas magazine spoke with Russell at a particularly significant time for the refinery, one in which it describes itself as undergoing a radical transformation and investment that will herald a new era in petrochemical manufacturing. In fact, at the time of our conversation, UKPIA had just published a new booklet looking at the future vision for refining in the UK, and for Russell the big topic of conversation on his mind revolved around what the next 15-20 years will mean for Grangemouth.
"The way that we can look at what the future holds for both ourselves and the wider refining sector is to take a short, medium and long-term approach," Russell states. "In the coming months, we will be putting the finishing touches on setting ourselves up for the changes in fuel oil specs being brought in by the International Maritime Organization (IMO) at the beginning of 2020. This will result in the current maximum fuel oil sulphur limit of 3.5 weight per cent falling to 0.5 weight per cent.
"In order to meet these demands we have been investing in flexibility, de-bottling our systems so that we can work with different crude oil grades – for example, we are seeing more value in US grades than North Sea grades at present – and looking at the potential rise in value of middle distillates that will increasingly be needed to blend down sulphur pressure. We are also examining what changes might be required to export this newly specified fuel as a finished product. By covering all of these different aspects, we are ensuring that whichever way the market moves over the coming months, we can respond in kind."
Ready for change
Turning to the medium-term future – specifically the next five years – the theme of our discussion turns to the ongoing shift away from diesel vehicles and back to petrol, a much publicised and debated topic in the UK at present. "Over the last 12 months, we have seen a rapid reversal of the pattern which was prevalent over the previous two decades, which can be seen in the fact that the vast majority of new registrations in 2019 have swung back to petrol vehicles," Russell details.
"It takes around 20 years to change out the vehicle fleet, so we need to work to reconfigure Grangemouth to accommodate the decline in diesel vehicle production and the resurgence of petrol," he continues. "Ironically, we find that many of the UK's refineries already hold a surplus of petrol at the moment, so this swing should actually suit sites like Grangemouth. What we will have to do in the meantime, however, is look at how we address areas such as the refinery's current tankage set up and its dispatch systems, while also turning our hand to the expected decline in diesel into an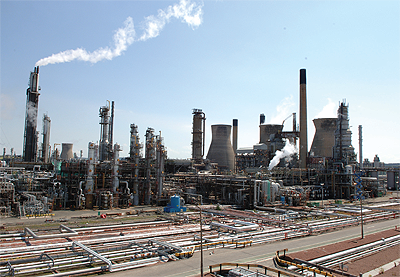 opportunity to make greater volumes of in-demand products such as jet fuel and more indigenous petrol."
While the shift back to petrol takes effect, refineries will also face ongoing changes in biofuels legislation. Driven by the UK's Renewable Transport Fuel Obligation (RTFO), there has been a gradual increase in the required bio component – bioethanol or fatty acid methyl esters (FAME) for example – of transport fuels in recent years, with the current percentage stipulated standing at 8.5 per cent. In 2020, this will rise again to 9.5 per cent, which Russell believes will have a telling impact on the refining market.
"Not only is this legislation displacing conventional fuels that come out of crude oil, but it also means that refineries have an entirely new blending component that they have to manage, and it is almost certain that the end result will be the introduction of a whole new fuel grade within the UK for petrol," Russell states. "For us at Grangemouth, we presently import our bioethanol and FAME, so what we want to do is find a way to relieve the increasing stress on refining logistics by looking at how we can make more of these components indigenous to Scotland. As part of these efforts, we are working with both the Scottish Government and Scottish Enterprise to see if we can rebalance the import/export structure of fuels in the country."
Embrace the future
Last, but not least, Russell focuses his attention on the long-term future of refining, and specifically how it will fit into a world defined by factors such as the electrification of the transport fleet, the phasing out of the combustion engine, reductions in CO2 output and the UK's commitment to reach a target of net zero carbon emissions. "As an industry, we must accept that great change is already underway and that there is no point in trying to fight it or in refusing to move with the times. Rather, we must embrace what the future holds," he declares.
In the case of Grangemouth, a lot of this means achieving greater energy efficiency. "The total fuel bill for our refinery can be in excess of $200 million per year, making it our biggest single cost. Therefore, we have a massive incentive right away to become more energy efficient," Russell says. "The Site is currently in the process of investing £350 million in a new energy plant to bring efficient steam power generation capacity to the whole of the Grangemouth complex. The new plant will play a key role in the future development of the refinery."
What is clear from speaking with Russell is that he is steadfast in his belief that if change is not embraced now by refineries, then they may find that they cease to exist altogether in 20 years' time. "As an industry, we need to be forward looking and actively seek to make ourselves a strategic part of any future energy mix. Only by doing so and focusing on things like energy efficiency, and adopting new blends and products, can we begin to build a future energy cluster around a refinery itself. Make no mistake, there will always remain a role for refining in one form or another, but change is coming and our industry needs to start embracing it now!"
Petroineos Manufacturing Scotland
Services: Crude oil refinery