Petrovietnam Marine Shipyard
Jack of all trades
"Petrovietnam Marine Shipyard (PV Shipyard) was established in 2007 to cater for the growing demand for offshore oil and gas services in Vietnam and the surrounding region," states Le Hung, deputy managing director of PV Shipyard.
"The aim from day one was for the company to become the first jack-up builder in Vietnam and this was the motivation to begin the construction of its facilities in early 2008."
Working over a 400,000 square metre area, the first phase of development, which has spanned three years, has involved the investment in and construction of a series of facilities and various types of equipment. Included amongst the many new additions to the shipyards growing list of assets are 22,770 square metres of covered workshops, 148,383 square metres of open fabrication space, a 3200 square metre blasting and painting chamber, a 273 metre jetty with 11 metres of water depth and lifting equipment with a capacity of up to 1250 tonnes.
"The first phase of yard development was completed in March 2011 and has enhanced PV Shipyard's production capacity to 40,000 tonnes per year," Le continues. "The second phase will involve the building of a dry-dock measuring 380 metres in length and with a depth of up to 12 metres. This development represents a considerable investment in the engineering capabilities of the company and is expected to begin in early 2012. Once completed it will give PV Shipyard the facilities and ability to undertake up to six rig building projects concurrently."
As a major part of its own programme of self-development, PV Shipyard is currently building its first jack-up rig, a 90 metre LeTourneau Super 116E: "This landmark project is well on schedule and the company is working diligently towards achieving a launch of the rig by the end of August 2011," Le says. "There is certainly an increasing demand for new build jack-up rigs and that is why PV Shipyard is also starting to target potential clients operating outside Vietnam in countries such as Singapore, Malaysia, Indonesia and Brunei. In the long-term it would also like to pursue opportunities in the more traditional markets like the North Sea, the Gulf of Mexico and Latin America.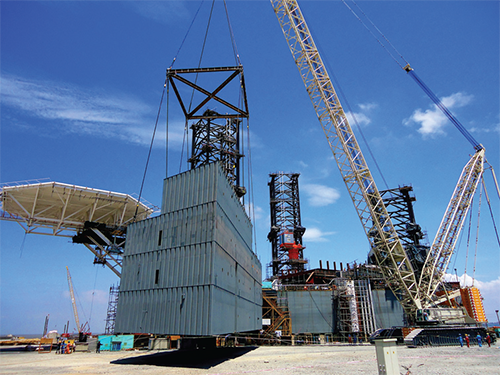 "The core focus of the company will continue to be the new building, conversion and repair of jack-up rigs, as well as semi-submersibles and drilling ships, however in the future PV Shipping has significant plans to diversify its product range. In time it is hoped this range will include other offshore facilities such as central processing platforms, topsides, jackets, wind-farm towers, crane barges and offshore installation vessels. In short, the aim of the company is to become a recognised, reliable and reputable EPC contractor for drilling rigs and other offshore structures and facilities."
With work on the LeTourneau Super 116E well on its way, and the rig expected to be delivered two months ahead of schedule in March 2012, PV Shipyard's efficiency has already been rewarded in the form of future projects that have already been secured. These include the new building of a Tender Assist Drilling Barge, a contract secured through sister company PetroVietnam Drilling Company, and the new building of a second 90 metre, self-elevating drilling rig, this time on behalf of VietsovPetro, work on which will commence during 2012.
"It is the company's opinion that the key to its success can be found in three of its core attributes, high quality workmanship, low labour costs and strong management," Le explains. "PV Shipyard considers its key strength to be its human resources, a belief that gave birth to the company's motto that, 'employees make success'. Under its roof, PV Shipyard has 300 permanent dynamic and experienced engineers and 800 permanent, skilled workers including welders and fitters. Furthermore a network exists to ensure that up to 3000 non-permanent workers can be easily mobilised from affiliated companies and subcontractors locally.
"The company has a strategy in place to continually develop its human resources through a process of recruitment, competitive remuneration and ongoing training. Engineering really is the backbone of any shipyard and that is the reason why PV Shipyard makes sure it sends its engineers abroad to attend specialised technical training and skills development courses. Part of the long-term strategy also includes the application of a comprehensive development programme that facilitates the investment in state-of-the-art computer software. PV Shipyard's approach to business was officially recognised when the company received the 2010 Golden Valve Award for Engineering, celebrating its well-executed use of Smart Marine 3D and SmartPlant software, annually supported by Intergraph Process, Power and Marine."
The oil and gas industry has witnessed a particularly dramatic increase in activity within the new build market over the past 12 months, particularly in relation to the construction of jack-up rigs. As Le highlights, the demand for these services in the Far East has given rise to increased competition amongst companies like PV Shipyard: "Well established shipyards are now filling up with new orders and contracts for jack-up new builds and the market is showing an even greater demand for premium rigs with an operational water depth of more than 400 feet. As this consumer trend grows PV Shipyard is presented with the perfect opportunity to enter the international rig building industry, building on its strengths and its well publicised relationship with LeTourneau Technologies.
"PV Shipyard is confident that with the support of LeTourneau it can continue to strengthen in its domestic market, before making an entry into the international field over the next five years. In the years to come PV Shipyard plans to be renowned as one of the major rig building shipyards, operating with a regional market share of close to ten per cent, something that it is well on its way to achieving over the course of the decade to come," Le concludes.
Petrovietnam Marine Shipyard
Services: Drilling rig construction and repairs