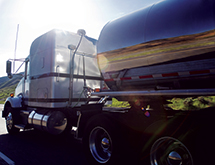 The founder of one of the most successful companies in Puerto Rico has a message for future business owners. "If you are confident, sure and you have the proper business knowledge for the field you want to enter, let go of your safety net, deliver excellent service to your clients and you'll be met with success," says Robin González, president and CEO of PetroWest Inc.
Today, PetroWest is the No. 1 fuel supplier in Puerto Rico, and upholds an excellent reputation in the market for its distribution services. However, it wasn't always this way for the petroleum wholesaler. Like most beginning entrepreneurs, González began his business with minimum resources and high risk.
A Step in the Right Direction
In 1980, González decided to create his own company to fill a void in the industry. In his opinion, buyers were in need of good service and the multinational companies weren't providing what was required and demanded. So, as the Rocky Balboa of the petroleum industry, González went after his dream against all odds. "I decided to create my own company in spite of the negativity of many of my friends and family members who told me it was impossible for me to compete against worldwide companies such as Shell, Esso, Texaco and Gulf," he says. "I decided to leave my sales job at Shell and venture out as owner of my own business in the sale and distribution of fuels and lubricants."
González initially founded his company as a retailer. In those early days, the modest competitor had only one delivery truck for diesel fuel, another for oil, and five employees. "We began to win over people's trust in the market and then branched out to the pharmaceutical and tuna industries," he says.
Due to the ever-changing nature of the petroleum market, the 34 years González has spent as PetroWest's leader have given him a front row seat to the highs and lows of the industry. "The fuel sale and distribution market of 1980 is very different from that of today," he notes. "We have fought against all odds in this industry. In the beginning, it was very hard to get into certain industries, like pharmaceuticals, and educate them on our services to make them our clients because they only wanted to do business with multinational companies." Nonetheless, González began by finding many cases among the utility and engineering fields in which companies weren't receiving the support they needed from their suppliers, a problem which benefited the smaller oil business.
Once given the opportunity, González gained people's confidence to the point that today PetroWest services 80 percent of the pharmaceutical industry in Puerto Rico and is the island's leading oil seller. PetroWest has gone from being a two-truck operation manned by five people to a well-known name, with a fleet of 60 trucks and tanks, led by a team of 55 employees.
Customer Service
González' secret to success began with – and has always been – the combination of his excellent service and the quality of his products. Today, PetroWest sells mainly as a wholesaler and works with clients in the construction, pharmaceutical, tuna and electrical engineering sectors, including notable names such as Pfizer, Bausch & Lomb and Puerto Rico Electrical Authority (PREPA).
González has built his reputation as a provider who cares about the well-being of his clients' business based on the regular personal visits he makes. If a problem should arise, he has been known to go directly to the client to help resolve the issue efficiently and quickly. In this fashion, he's frequently managed to find money-saving options for his buyers, finding them the highest-quality fuel at the least possible cost.
"Our client comes first," González says. "We have the best sales team, which is highly capable of steering our clients through whatever issue they come across. Our service is seven days a week, 24 hours a day."
Each new PetroWest client undergoes a study to see how fuel is being used and what the needs are. The study is then analyzed and used to create the best offer based on quality and price. Another customer benefit is the occasional price cut. PetroWest is continuously looking for deals on oil, and when one is found, the good fortune is spread around. The oil distributer buys the maximum amount possible at the lower price to pass the savings on to the client.
During the recession, González found himself in a special position to help his buyers with finance troubles. Since PetroWest had maintained its stability, it was able to examine each case and allow for payment options for those who possessed a solid financial strategy. In this way, many clients received extensions for paying off their debt.
PetroWest Products
PetroWest is known for products that always meet or exceed the quality standards required by clients. Not all fuel is the same. There are differences in the opacity and gravity of the products, as well as requirements over the content of sulfur and ash. Each buyer is analyzed to see which combustible is right for him through research that is done in the company's own in-house lab.
The low-sulfur fuel sold by PetroWest is a product with less than 0.05 percent sulfur, which is used in boilers and engines. Its color is transparent and oily. The high-sulfur product has a sulfur content of no more than 0.5 percent, and is red and oily. It is also used in boilers and engines, but not for road vehicles.
PetroWest also offers No. 5 fuel oil, which contains no more than 1.5 percent sulfur and has a dark color. Its viscosity does not have to be greater than 75 degrees cSt. The No. 6 fuel is a product with sulfur content of no more than two percent, with a dark color and a viscosity that fluctuates between 500 and 600 degrees cSt.
Solid and Effective
Throughout more than three decades, González has overcome the market's difficult circumstances. He began with only $25,000 to invest in his company. He showed the doubters among his family and friends that it was possible to compete against the largest companies, and he managed to weather the economic crisis.
PetroWest's goal is to continue expanding. "We have many short-term plans, such as local gas stations and to have an office presence in the northern area of Puerto Rico, which will create more jobs," González says. The company is on the cutting-edge of green initiatives and is looking into bringing the sale of liquefied petroleum gas (LPG) to Puerto Rico Gas to improve the environment. Additionally, PetroWest has its own recycling business called Oil Energy System and a service that collects and processes used oil.
Less than two years ago, PetroWest expanded its business through a $5 million addition of another site. The new center is located in the city of Hormigueros, 30 minutes from its headquarters in Mayaguez, and adds 400,000 square feet.
"We are ready to face the future," González explains. "We dare to invent and implement new ideas to benefit the customer."