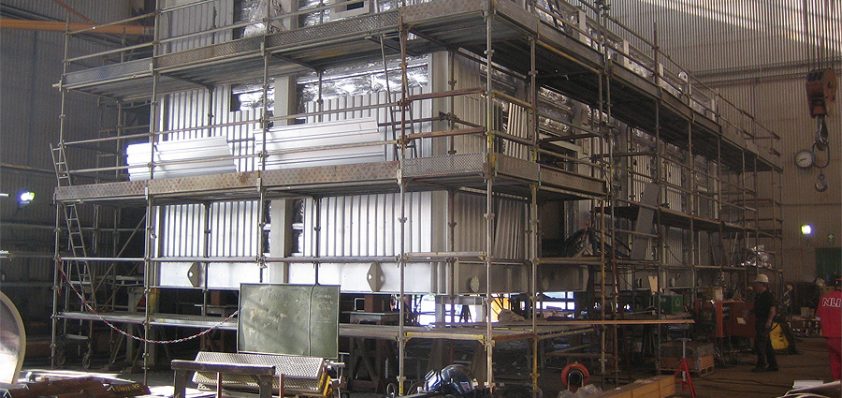 PG Marine Group – Ing Per Gjerdrum
Changing the game
Based in Nesbru, Norway, PG Marine Group – Ing Per Gjerdrum (PG) specialises in developing and supplying liquid handling systems and solutions to the global maritime oil and gas, and offshore industries.
The organisation was founded in 1982 with the intention of serving the Norwegian maritime market, and has since developed into one of the industry's leading players, delivering more than 120 ship sets of various content every year.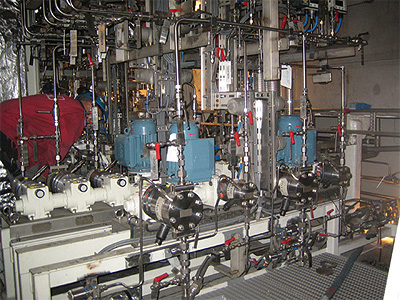 With over 25 years of experience, PG is currently the leading global supplier of pumping systems to the offshore supply ships, with substantial deliveries into the oil and gas sectors. In 2006, after six years of product development, PG launched its globally patented cargo handling system, known as PG-MACS (Multi-Application Cargo Solution). The system is composed of closed atmospheric discharge tanks with a special design feeding solution, which is utilised for drill cuttings and drilling mud, as well as for various dry bulk, and all liquid cargo.
Drill cuttings, which are the dimensional medium for the PG-MACS solution, are both a complex and difficult material with a variable composition, which normally makes them difficult to pump as the dry content is high. For this reason, the subject of safe and reliable environmental handling on rig decks and offshore supply vessels has always been a highly scrutinised and challenging one.
To overcome these challenges, the new and closed loop pumping system is designed and engineered with emphasis on the tank bottom, mechanical feeding system and a specially designed PC-pump. This technological breakthrough has optimised a whole range of possible mixes of drill cuttings. Through comprehensive testing with a variety of water and oil based drill cuttings, the present version of the equipment has passed all these tests while adhering to all the relevant testing standards and specifications.
As expected, such a state-of-the-art design has turned heads and made waves in the industry. Roy Norum, chief executive officer and partner at PG, comments: "This is a completely new way of thinking when it comes to offshore cargo handling and the most revolutionary technology leap of the last 20 years in the supply ship business." Such an analysis of the system is perhaps unsurprising given that supply ships with the PG-MACS tanks and discharge pumping solution have, beyond comparison, the best cargo load ability, utilisation and flexibility.
The system affords ship owners and oil companies alike an extensive amount of economic and environmental advantages as well as allowing the safe handling of waste and disposals. Amongst its plethora of strengths includes zero discharge to the environment, safer operation, as there is no human exposure to bulk, dust or spillages and total flexibility of the tanks and feeder systems. Furthermore, it can be integrated in the hull of supply ships, offers multi-use of pumps between tanks, saves time through faster loading and unloading of tanks, and avoids the need for skips and containers, being craned off the rigs.
As a relatively new development, the first vessel with PG-MACS tanks and discharge pumping solution was delivered earlier this year and it is already in service to use by Shell. It is the first of many as PG currently has contracts with Farstad Shipping, MAN Ferrostahl, Harms Offshore, Bourbon Offshore, Østensjø Rederi and DOF ASA. Such is the demand for them that the company actually has orders for the delivery of more than 100 PG-MACS tank systems in the near future. Additionally, major oil companies such as StatoilHydro, Petrobras and Shell have taken the PG-MACS system into their tender specifications, illustrating the general buzz the systems have generated in what is the most of demanding of markets.
Looking forward, the PG-MACS will soon be able to handle drill cuttings and drilling mud from the shaker to the dedicated storage area on the rig, This solution for the near future will also include the PG-MACS tanks and pumping solution, which will challenge and may one day replace the skip and containers that are commonly used in the sector today. It is the belief of those at PG that only in this way can the transportation of the cuttings and drilling mud be properly handled within the logistical system, and subsequently be pumped to the supply ships upon arrival.
PG believes that trustworthy partners and alliances are of great importance to succeed in developing new technology. Therefore PG pays special attention to its partne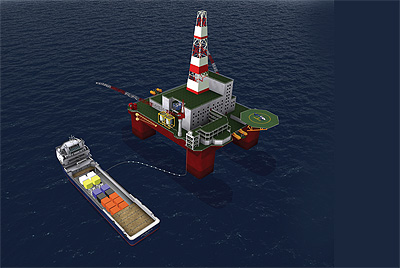 rs and sub suppliers in order to deliver the best technology and solution to its customers. The company is also committed to increasing the awareness of its brand and the impressive portfolio of products that it boasts – not least the PG-MACS. As such, PG was well represented when it appeared at the ONS (Offshore Northern Seas) 2008 Oil and Gas exhibition that was held in Stavanger in August. The fact that the PG-MACS solution was nominated for the coveted ONS Innovation award bears testament to the regard that PG is currently held in by the industry.
This was illustrated in last year with PG being awarded a 48 million NOK contract alongside the NLI Group to supply a complete chemical injection package for the Gjoa semi production platform in the Norwegian North Sea. The EPC contract for Aker Kvaerner and Statoil included fully insulated and ventilated housing, electrical equipment, instrumentation, structural works, valves and pipeworks. It was delivered in August, with PG having been responsible for project management, process and pump design and valve and instrument supply. It was another example of PG adding value to clients and working to tight quality and time demands.
Recently, the company has attended exhibitions and conferences all over the globe. It garnered a significant amount of attention and interest at September's Rio Oil and Gas exhibition, which focused on the growing trend towards marine orientated applications in the industry. As the cross-Atlantic relationships between Brazilian and Norwegian companies have increased, PG has been able to solidify its position in this exciting new marketplace, which is expected to rise sharply in years to come. For traditional liquid handling packages to offshore supply vessels, PG has already enjoyed a 90 per cent market share since 2000 in Brazil
PG's high standing in a number of industry sectors has long been one of its strengths as a business. This was further illustrated by its attendance at September's SMM marine exhibition, which was oversubscribed to that extent that 200 exhibitors were turned down. At the most important marine date in the calendar, PG caught the eye once again, attracting many visitors and actually agreeing a new build contract in the second day. It was just the latest of a number of high points in 2008 – arguably the company's best year to date and a key indicator that the future is likely to be prosperous.
Ing Per Gjerdrum
Services Pumping systems