Adding value
PG Marine Group is a focused company that works within the oil and gas offshore and maritime industries, with its core business of cargo pumps and pumping systems.
The company offers systems engineering, integration and packaging based on world-class products and technologies. PG Marine mostly works with process and utility pumps and compressors for the offshore arena, but it also offers complete liquid-related installations for OSVs, tankers and barges.
The Group is based on a global partnership between a company called Ing Per Gjerdrum AS, and leading global brands within their specific fields of operations. Its mission is to meet demands in the global oil, gas, and maritime markets with innovative solutions and products by working as a complete systems provider for liquid handling processes.
One of PG Marine Group's main areas of expertise, and one in which it has been a leader since its establishment in the early 1980s, is cargo handling services for offshore service vessels and specialist tanker ships. In this field its solutions range from simple electric-drive pumps, to the most comprehensive automated, bridge-integrated computerised solutions – either frequency controlled, or hydraulically driven systems.
At the high-end of these applications is the proprietary, worldwide-patented PG-MACS (multi-application cargo solution.) This ultra-flexible solution for both supply vessels and drilling rigs has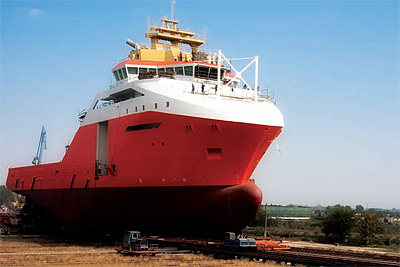 massive liquid and dry capacities, and is very efficient in terms of loading-unloading time. It also has a low power/performance ratio, and very large recovered oil capacities, as well as offering the ability to carry drill cuttings below deck. So effective are the company's solutions in the field that its quality and expertise have been rewarded by the presentation of a Global Leadership Award for such applications in recognition of more than 1100 ship installations successfully in operation.
The business achieved a number of successful cargo handling projects during 2012, continuing its success in the sector. For example, Hellesoy SY and Siem Offshore selected PG Marine Group for the supply of cargo handling systems for its newbuild project, the LNG PSV. As well as cargo handling equipment, PG will also be responsible for supplying ballast water treatment and tank cleaning solutions for this build. Also during 2012 PG Marine Group successfully provided a highly advanced hydraulically driven cargo handling solution for one of the world's most sophisticated newbuilds – the ice class offshore support vessel 'Atlantic Kestrel'.
Alongside cargo handling systems PG Marine Group's origins lay in the delivery of pumps and pumping solutions. PG's Oil & Gas Division delivers pumps and pumping services based on a combination of proprietary products and customised products sourced from its long-term partners for the widest range of applications, and pump technologies. The company can add value to the products through its strong in-house competence for engineering, design and systems integration.
PG's independence enables the company to select the most beneficial technology for the clients' requirements, and thereby facilitate competitiveness on a high level. PG's pumping solutions include everything from the simplest pump, to the most comprehensive systems including state-of-the-art control systems for a wide variety of applications. Because of this high level of service the company regularly works with many of the leading names in the oil and gas industry, including Statoil, Norske Shell, Esso Norge, Norsk Hydro and Kvaerner Brug/Shell. The business has an ongoing contract with Statoil, for example, to supply multiphase pumps for Susbea7 IMRV vessels, which are being constructed by Ulstein.
As the oil and gas industry continues to explore in deeper waters and harsher environments PG Marine Group is using its expertise to make a growing contribution to enhanced offshore oil and gas recovery. Participating in subsea developments, PG Marine Group focuses on enabling technology previously recognised as top-side oriented, to be facilitated in the most demanding subsea environments for the offshore oil & gas industry. PG's proprietary subsea product/system PG-MAPS is a linear shuttle pump; designed for the efficient transportation of aggressive liquids, which features simplicity in build, compact design, low weight and high efficiency. It is also hermetically enclosed which means there are no dynamic seals. PG-MAPS can handle liquids ranging from effluent chemicals, through slop and mud, and even extreme masses like drill cuttings up to 50mm particle size.
At the 2011 OTC Exhibition PG-MAPS was awarded the 2011 Spotlight on New Technology Award, which recognises products that fulfil several criteria, not least of which is that they must be 'original, groundbreaking and capable of revolutionising the offshore E&P industry'. To be awarded such recognition reflects the dedication that the PG Group and its partners place on research and development and highlights the technological advances that the Group is making in its field.
Related to subsea, PG Marine Group also offers a range of well intervention systems that consist of sophisticated pumping systems for water and chemical injection, scale squeezing and fracking applications. The company's scope in this field incorporates all software and hardware, ranging from touch-screen systems for vessel bridges, remote control systems, large hydraulic power units and individual mixing, dosing and injection pumps and agitators.
Whilst PG Marine Group's service and product portfolio may cover a number of areas and consist of a large range of solutions, the business manages to maintain a strong focus on technology, development and customer satisfaction. With business looking healthy for the company, and product development continuing at pace, there is little doubt that PG Marine Group will remain a leading name in the industry for many years.
PG Marine Group
Services: Cargo solutions