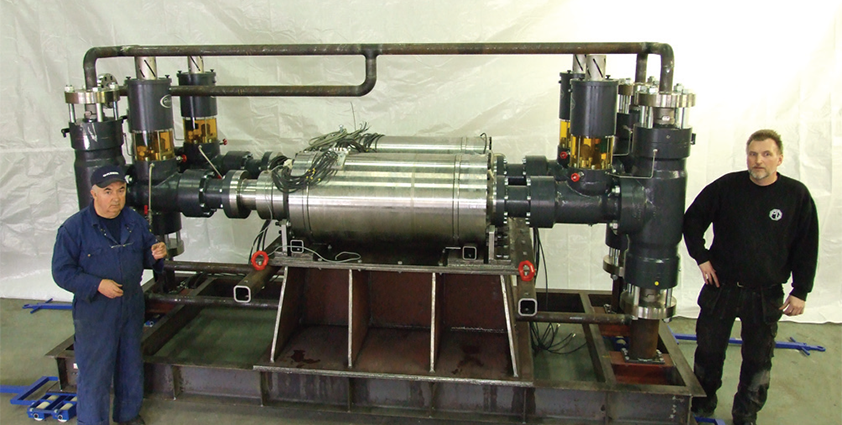 Mapping the future
In March 2011 PG Pump Solutions won the Offshore Technology Conference (OTC) Spotlight on New Technology Award for its recently launched PG Multi Application Pump Solution (MAPS).
This award was given to highlight the product's admirable combination of high capacity, high pressure and compact design that will make it an essential component for future subsea oil and gas applications. As intended, the presentation of this Spotlight award has subsequently encouraged a great deal of interest in the new technology.
PG Pump Solutions is a division of the wider Ing. Per Gjerdrum AS – PG Marine Group that was founded in 1982 by Per Gjerdrum, a passionate MG collector who honoured his favourite automobiles with the design of his own company's logo. Marketing manager Per Sørum expands further on the company's background: "Since 1982, we have developed mainly within the offshore oil and gas sector selling pump solutions from suppliers throughout Europe, and has been a key figure in the development of the Norwegian market throughout the 1980s, 1990s and 2000s. We gradually expanded our presence in the marine supply vessel market too, so that today these two sectors constitute our main business streams."
PG Pump Solutions is the sales agent for a wide variety of pumping products from many different suppliers including multi-phase, diaphragm, sound-isolated, canned API, piston/plunger and screw spindle models as well as a comprehensive selection of cutting edge control systems and accessories. To provide clients worldwide with only the highest quality equipment, it sources primarily from German suppliers where it believes engineering standards remain of the highest quality. Where PG Pump Solutions' expertise enters, however, is in its ability to promote the most suitable combinations of pump, control system and accessories for customer applications.
It is from this expertise that the PG MAPS was born. "It is a development with one of our German suppliers, FELUWA Pumpen, to try and make a robust pump with a simple connection system that would be ideal for offshore and subsea applications," Per explains. "This is how we came upon the idea of using a liquid pump and FELUWA topside head with a Techni magnet motor-driven actuator to replace the more traditional crankshaft drive system. This innovative combination enables a compact size small enough to be transported by truck, thereby increasing its availability to every level of the drilling and offshore industries."
This technology, which took more than three years of research and development, is recognised as an ideal replacement for many different applications, particularly with its hermetically sealed design reducing the chance of spillage accidents. It is not, however, PG Pump Solutions' only successful attempt to supersede existing technologies in the market. In 2006 the company launched PG Multi Application Cargo Handling (MACS), a container array designed in conjunction with Bourbon Offshore, Ulstein Design and FlowSafe for handling deck mounted liquid/dry bulk combination tanks.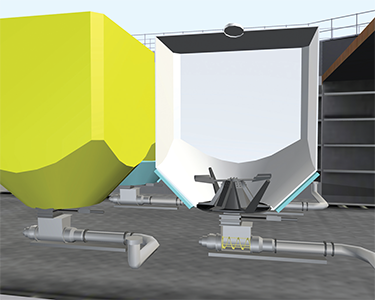 "It comes in several configurations between two and ten tanks," says Per, "and fits onto the deck of any supply ship. It utilises a specially designed progressive cavity (PC) pump fitted beneath the tanks, which then feed out the contents of the tank when required. Inside the tanks themselves is a very powerful feeder to aid in the emptying process. A closed loop system then ensures that the contents travel from rig to supply vessel to shore with minimal human exposure; furthermore, it does not require cranes to transmit the cargo to shore. It means crew don't get exposed to emissions or damp from mud and drill-cuttings. Safety-wise, this is something that the oil companies really look for."
What both the PG MAPS and PG MACS share in their design is a commitment not only to increased safety but also reliability and efficiency through the use of simple technologies. The recognition and market success of both products suggests that, though not yet an industry standard, PG Pump Solutions is moving in the right direction for the future. With health, safety and environment regulations becoming increasingly stringent the steps forward already made by the company will make it an attractive partner, particularly in niche markets such as seabed drill cutting and mud drilling.
Though it suffered from a rapid slow down of business during the financial crisis, especially within its marine supply vessel segment, PG Pump Solutions believes that the future is positive once again with many of the projects put on hold once more returning to active status. "We had a good year in 2008 and this carried us through 2009, but last year was a difficult one," Per comments. "However it picked up at the end of 2010 and the marine market in particular is looking very good for us at the moment."
With this in mind, Per concludes with some confident predictions for the future of PG Pump Solutions: "We are hoping to spread beyond the marine and offshore top supplier markets we focus on at the moment. Subsea construction is an interesting avenue for us, as is ballast water treatment (BWT), where we already have the Hyde Guardian system from HydeMarine. All of this, together with our existing marine and offshore/subsea markets, means we plan to double our business over the next five years. That means more people, more organisational challenges and brand new offices to contain it all."
PG Pump Solutions
Products: Pumps and control systems