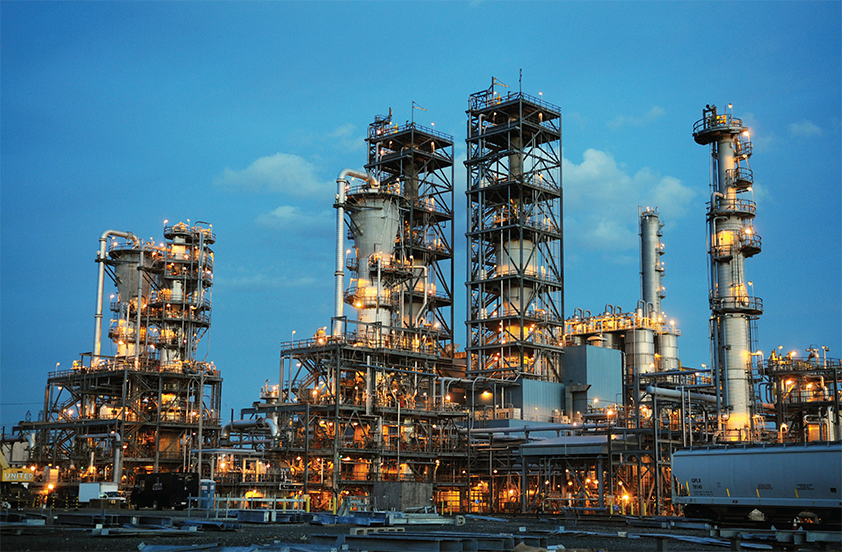 Phillips 66 Bayway Refinery
A renewed endeavor
Off the back of a tumultuous 2020, the Phillips 66 Bayway Refinery is experiencing renewed demand for its products once again and looking to the future with new projects and a major maintenance overhaul of its operating units.
It's been an interesting couple of years for the Phillips 66 Bayway Refinery, located on the New York Harbor, New Jersey. In the wake of Covid-19, after striving for so long to maximize its production capacity, drive forward efficiencies, increase its yields, and cement its place as a foremost refinery in one of the largest petroleum markets in the world, the company faced a new challenge: how to minimize run rate, in order to cope with a sudden drop-off in demand.
"It was the complete opposite to everything we had ever done previously," says Chris Gallo, Bayway Refinery Manager. "The question was simply, 'How do we stay operational?' You can't just flip a switch and shut the refinery down; there's is a minimum rate that we have to run through the facility, and we had to clear the refinery of products that at the time were not in demand. Together, all of our engineers, operational and technical staff focused efforts to figure out new ways to achieve exactly that."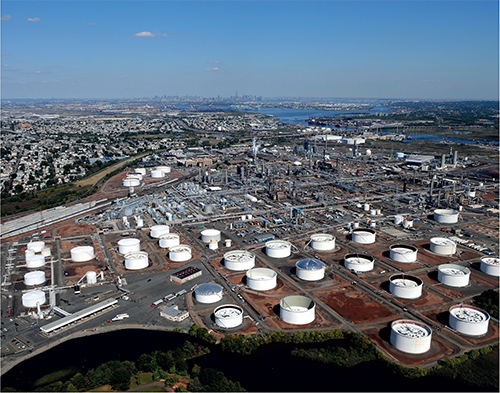 But Bayway's story doesn't end there. A tale of two years, the receding effects of the pandemic in 2021, along with the subsequent unshackling of trade across the world, ushered in a wave of increased demand for the refinery's products. "It was a complete turnaround," Chris admits. "Then, the task was to change gears again and focus on running higher rates, doing everything within our power to make sure that we could maximize our refinery infrastructure and switch gears. Particularly here in the Northeast, we saw very strong demand for the majority of our products, particularly for polypropylene, a key plastic resin. Jet fuel lagged behind slightly, but we were able to use our operational flexibility to pivot to both gasoline and diesel."
A more consistent feature of the two years has been Bayway's efforts to manage the transmission of Covid-19 within its facilities, and to keep its employees safe. "I don't think we did anything unique compared to what other people did during that period, but we did lead with protocol development. A key part of our success was being open and transparent with our employees and contractors," Chris recalls. "At the beginning, we were doing tri-weekly updates of our Covid-19 protocols, which we would then relay to our employees.
"Our mantra was to focus on what we could control," he goes on. "In terms of the spread of the virus in the refinery, we felt as though we could manage the virus with all the protocols we had in place, and the same went for our process safety, our environmental performance and our reliability. We didn't invent anything new, but stuck to our values of safety, honor and commitment. In hindsight, they served as a solid guide pole by which to weather the storm."
Despite a partial return to normality for much of the world, the expectation is that many of the changes brought on by the pandemic are here to stay. For Bayway, this includes an altered set of priorities among its workforce.
"Job security was a key issue at the start of the pandemic," Chris notes. "But for us to run throughout 2020 without any layoffs set a lot of people's minds at ease.
"We're now into 2022, and it's clear that people are asking new questions about their lives and their careers moving forward," he notes. "For us, it's about how you keep your employees engaged and motivated in an industry that requires people to be at the facility. We don't have the luxury of having our operators, welders, boiler makers or whoever be able to conduct their jobs from home. Our support staff also needs to be here on-site in order to provide efficient troubleshooting. In that regard, the idea of workplace flexibility at a company that requires 24/7 operations and in field operational duties will be different than other companies."
Despite this, Chris believes that the company has managed the situation effectively. "It's an advantage for us that many of the people who come to work at our refinery tend to want to be outside, they want to work with their hands, and they want to be able to touch and see things for themselves," he explains. "Nevertheless, we quickly learned to become as flexible as possible with our policies, particularly when it came to things like childcare, elderly care, and taking care of other priorities. It's encouraging to see that our supervisors can now be more creative with work schedules, helping our employees, and recognizing that our workforce's commitment doesn't stop at the end of the working day and some flexibility as needed is important for life balance."
The refinery has also been hard at work to promote inclusion and diversity throughout its workforce. "We recognize that the people at Bayway are our most important asset," Chris tells us. "Last year, we ran a number of initiatives aimed at improving the employee experience. We want to ensure that everybody is able to look forward to coming into work, and that when they swipe in for the day, they truly feel that this is the right place for them to be, where they feel accepted and fully part of the team."
Inevitably, the pandemic has thrust into focus the ability of all companies to overcome supply chain shortages and disruption. In Bayway's case, these difficulties were further compounded by a series of extreme localized events. The southern migration of the polar vortex in early 2021 brought severely cold temperatures, snowfall and ice to much of the US, at a time when much of the country was still reeling from the catastrophic effects of various tropical storms.
"As for everyone in the manufacturing space, supply chain shortages have been a considerable challenge," Chris confesses. "We were fortunate to have certain suppliers who flagged issues in advance, giving us time to come up with novel solutions, to find alternatives, or to identify different ways of doing business that could minimize the impact. By giving us that notice, the supplier creates trust in our relationship, which is always a win-win in the long term. At our end, we do a similar thing – if we know that we have clients who are reliant upon our products, and because of supply chain issues we have concerns that we may not be able to serve their needs, we raise the flag to them early.
"There were times when we were dependent upon a certain delivery that didn't arrive, and we had to experience the necessary pain of that," Chris concedes. "We continue to work those issues. But I don't think that we've necessarily suffered more or less than anyone else. What you have to be is capable of thinking out further into the future, planning ahead, carrying a little more inventory, and handling any upsets with operations excellence as best we can."
Bayway is now targeting major renewals of its existing infrastructure. "Our business requires capital just to maintain the assets that we have," Chris reveals. "To that end, one of our key projects is the construction of a new power substation. Crucially, we're elevating that facility, in order to ensure that it can withstand any type of high-water event, and therefore help to minimize our electrical liability. Similarly, we're upgrading our technology, beginning with our updated computer systems, which ultimately control much of the facility. After that, we've earmarked a number of piping systems, circuits and equipment for replenishment, all to ensure that they're safe, reliable, and that they comply with the very latest environmental legislation. A lot of our focus goes into being able to achieve those three aims."
The environment is a pertinent topic for an industry that has traditionally been viewed as incompatible with efforts to go green. "There's a misguided narrative in the media about the longevity of our business, one that can weigh quite heavily on people's minds," Chris argues. "The products we make are robust and have an important role to play in improving people's lives. For instance, the number one thing that we need to reduce inequality and lift people out of poverty is to provide access to reliable and affordable energy, and it's up to us to fill that need. Climate change is a challenge the world needs to solve, and it's the people already in the energy industry who are best placed to lead the innovations essential to the solution."
To that end, last year saw Bayway's owner, Phillips 66, announce the launch of its Emerging Energy organization. Tasked with commercializing and implementing emerging energy technology within Phillips 66's operations and portfolio of assets, the new organization is pursuing lower-carbon opportunities, focusing on renewable fuels, batteries, hydrogen and carbon capture. The goal of Phillips 66 is to have Emerging Energy stand beside its Refining, Midstream, Chemicals and Marketing and Specialties businesses.
"These are the areas where we believe we have expertise," Chris confirms. "It's the goal of the Emerging Energy unit to develop projects in those spaces that will create shareholder value. To do that, we have to look at all of our assets as a company, and identify which actions make most sense, while at the same time considering the wider regulatory environment. Each state has a different system in place as to how they value renewable products and feed stocks, and we have to be aligned in order to maximize our success."
One of the first of these projects planned for completion in the fall of 2022 will be the export of some of the Refinery's off gas to a large co-generation facility on the Bayway site, owned and operated by one of its strategic collaborators, Linden Cogeneration Facility. "Both Bayway Refinery and the Linden Cogeneration Facility are part of the Bayway Industrial Complex, where company operations are interdependent," Chris explains. "Their facility will be able to capitalize on the high hydrogen content of the gas we produce, running it through a gas turbine in order to generate electricity. That in turn will be used to power the areas of the Bayway Refinery.
"We view it as a useful retrofit project that will allow us to run our facilities while minimizing our emissions. It's an excellent example of a collaboration that works well for both parties and the environment."
The updates to the Bayway Refinery follow earlier news, announced towards the end of 2021, of Phillips 66's intention to transform its San Francisco Refinery in Rodeo, California to a renewable fuel facility. Titled 'Rodeo Renewed', the project will see the refinery cease crude oil processing as early as 2024. "Rodeo is a prime example of a facility where it makes absolute sense to pursue lower-carbon opportunities," Chris says. "It's an ideal location, with the right feed stocks, the correct regulatory framework, and a set of specific refining units that's perfect for a renewable retrofit.
"Last year, Phillips 66 acquired a 16 percent stake in Novonix, a Brisbane, Australia-based company that develops and supplies materials for lithium-ion batteries," Chris adds. "We have been suppliers of materials that go into anodes for quite some time, so it's an opportunity that we're really excited about. The two companies recently signed a technology development agreement. We believe that collaborating with Novonix will help us to grow that expertise, and then further enable us to identify valuable products in the future in the batteries space."
Phillips 66 has also announced significant targets for the reduction of its greenhouse gas emissions. "In Scope 1 and 2 manufacturing-related emissions intensity, we've set ourselves the target of a 30 percent reduction by 2030, and 50 percent by 2050 relative to a 2019 baseline," Chris outlines. "Then, on Scope 3 product-related emissions intensity, we've announced a 15 percent reduction by 2030, also relative to a 2019 baseline. In terms of achieving those targets, Bayway has an important role to play. From our position on the harbor, we're in the shadow of New York City, with its metropolitan area of close to ten million people. As a result, there are a lot of renewable feedstocks, making this a location with incredible potential for renewables in the future."
As it targets a safe and successful 2022, Bayway's approach is to remain true to its core values of Safety, Honor and Commitment and processes. "Our goals don't actually change that much from one year to the next," Chris concludes. "We measure success in terms of our safety, environment and reliability performance, with the aim of making our targets in each of those increasingly harder to achieve. We know that we're already world-class when it comes to overall operational excellence and mechanical integrity, and we'll continue to bring in new programs as we push ourselves to achieve yet-higher standards."
Phillips 66 Bayway Refinery
www.phillips66.com/refining/bayway-refinery
Services: Oil refining