Phillips 66 – Borger Refinery
Lone star spirit
Towering above the vast West Texas scrublands, amongst the rugged canyons filled with rattlesnakes, tarantulas, and scorpions, Phillips 66's Borger Refinery is a facility like no other. It was Phillips first refinery and is located around 50 miles northeast of Amarillo, and half a day's drive from the majestic Rocky Mountains. Today, the Borger refinery is owned by WRB Refining LP, a 50/50 partnership between Phillips 66 and Cenovus Energy, and operated by Phillips 66, but its rich heritage can be traced back to the mid 1920s when Frank Phillips and his brother came to the West Texas panhandle in search of oil. Having already struck black gold near Bartlesville, Oklahoma, Frank and his brother travelled West to try their luck in Hutchinson County, where they soon began drilling – with extraordinary results. The purchase of a small skimming refinery followed and the booming oil town of Borger sprang up almost overnight.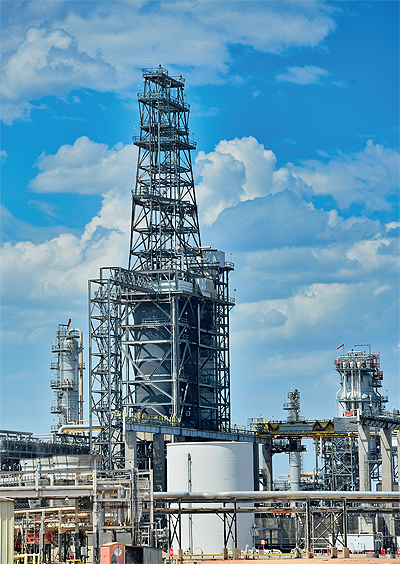 Focus on research
Construction began in 1930 on a pipeline from Borger to East St. Louis, Illinois, to move much needed liquid products to Midwestern customers. Later the pipeline was extended into Chicago. This was the first such pipeline in the world. People in Chicago could purchase gasoline produced from Texas crude, located more than 1000 miles away.
Known today as one of the nation's most technologically advanced facilities, Borger Refinery's focus on innovation began early. The company's first commercial HF alkylation unit went into operation at the Borger Refinery in 1942. Phillips developed the technology a year earlier for producing 100 octane aviation gasoline thus playing a key part in World War Two, for the Allied war effort. In 1961, the first resid cracker was installed to transform residual crude oil and turn it into valuable products. These are just two examples of key technological advancements carried out at Borger.
"Phillips 66 has always had a very entrepreneurial spirit," Darrel says. "We have a research center in Bartlesville and we've always been open to technology and pioneering new products versus standard commodity fuel. We employ a lot of research scientists in Bartlesville today, so that is part of our heritage and it's still a part of our continuing operation. Phillips has always seen Borger Refinery as a place for experimentation and the development of cutting-edge products.
"The First HF alkylation unit I mentioned is a pretty impressive bit of technology, as is the 2200-pound FCC feed hydrotreater. The unit started as a resid hydrotreater in 1982, but when the US changed its Sulfur in fuel regulations, we converted the unit in 2007 allowing it to take the Sulphur out of our fuel. We also added a 28,000 barrels a day delayed coker. The benefit has been that we get a larger volume of quality feed to our FCC units and in 2019, we added a vacuum tower to that process, so we're getting all the diesel that is converted as well. The coker, hydrotreater treating the FCC feed, along with the vacuum tower, provides us with a big competitive advantage to run heavy crudes. Essentially, we are 2200-pound hydrotreating half our feed stock to this plant, which is going to provide a lot of extra liquid barrels, and liquid barrels is where you make money."
Range of products
Now, in 2020, Borger Refinery is a 150,000 barrel a day facility predominantly processing West Texas sour crude oil, as well as heavy Canadian crude. In general, the site produces motor fuels, gasoline, and jet fuels for commercial grade aircraft, alongside diesel for trucks, tractors, and farming operations. The refinery makes a Sulphur stream that goes into making fertilizers and coke which is burned as fuel.
"We are a little bit different to a lot of refineries because we manufacture some low volume, high value specialty products, including aviation gasoline for small planes," Darrel states. "We make solvents used for products like post-it notes and tire manufacturing, and we also send some product across the street to the Chevron Phillips Chemical plant where they make odorants, dry-cleaning fluids, gasoline engine testing materials, and precursors to chicken feed of all things.
"Although, we have a wider product slate than most refineries, the bread and butter of the economics of the plant is mostly in fuels production. If you think about the size of the refinery, running 150,000 barrels a day, some of these specialty product streams might only be 500 barrels a day, so they are very small. They are difficult to make and often energy intensive, so we get to command a higher price."
Historically, Borger Refinery has run sour crude from Midland and Odessa, Texas. However, the recent explosion of lighter, sweeter crudes produced in the Permian region – a lot of which are now being exported – has led the facility to reassess its priorities.
"We are evaluating installing a continuous catalytic regenerator reforming unit so we can tap into those light barrels and turn them into high octane gasoline and other products," Darrel reports. "That is a 2023 venture that we are currently in the middle of and just about to begin detailed engineering. It's a really big project for us that will provide a lot of construction jobs and keep the refinery robust in its operation for the next 20 to 25 years. We are mainly doing it because the comcrude landscape has changed and the lighter, sweeter crude is more available than the heavier stuff, so we are now aiming to do both."
People power
As Borger Refinery continues to thrive, Phillips 66 is eager to highlight the contribution of its first facility's most important asset – its people. Having worked in the industry for more than six decades between them, Darrel and Refinery & Community Relations Director Kenny Morrison are united in their belief that more than any refinery aspect, it is its workforce that makes a real difference.
"Whether it be people out there searching for that last bit of reliability and improvement, reducing the company's environmental footprint, or taking care of their brothers and sisters so no one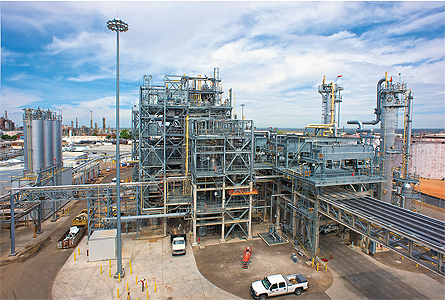 gets hurt, people are 100 per cent the name of the game in this business," Darrel asserts. "In terms of our workplace here in Borger, people take real pride living in this region of the country and working for the refinery. People really help each other and there is a spirit of teamwork. We're just a small plant in a relatively small county and I think that pulls people together. We've got about 1000 employees and contractors that we employ daily. Then we provide feed stock for the chemical plant across the street that hires around 500 more. That is a lot of good, high paying jobs in this part of the country that wouldn't be here otherwise."
Community support
In 2019, Borger Refinery rolled out Phillips 66's Energy in Action program, a set of expectations that encourage employees to promote and celebrate working for the greater good, creating an environment of trust, seeking different perspectives, and achieving excellence. No stranger to public recognition, the facility also earned the 2019 AFPM Distinguished Safety Award, the US oil industry's most coveted honor.
"People have asked me," Darrel adds, "why I work for Phillips, and I answer, that after all these years, I've never been asked to do anything unsafe, unethical, or bad for the environment. We have always been a principle-oriented company and every year we fill out an ethics survey to make sure that everybody understands that you must do things right to work for Phillips. I think that permeates the business."
Widely recognized by Borger residents as 'the lifeblood of the local community', Borger Refinery not only employs local people and encourages business for local hotels and restaurants, but the facility works closely with local schools, colleges, and organizations to devise volunteering activities and fundraising opportunities.
"Any time there is an opportunity for goodwill, we like to get involved," Darrel reveals, "from mentoring on math, to a program called Junior Achievement, which covers life skills for 8th graders. We also work on Habitat for Humanity projects and many employees are involved with the Boy Scouts of America for whom we run an annual sporting clay shooting event that raises approximately $50,000 every year.
"We have stable, high paying jobs at this refinery, and we want more people to understand what we do here so we can attract the best talent. We collaborate with Frank Phillips College in town to provide high school graduates with access and capabilities to get these roles. We offer internships and programs that promote and teach them about working with their hands.
"The Borger Refinery believe it is a privilege to operate in this community. What's nice for us is that the community appreciates us too. This is according to high ratings on periodic company reputation studies where we ask community leaders how we are doing. Philanthropy is so important for a smaller community like Borger. We work with the local fire department to tackle wildfires and have a strong working relationship with the Borger police department. We train with and regularly donate extra equipment to smaller departments in the area. The facility is also involved with the United Way and other charities."
Green efforts
Following a year in which Borger Refinery has continued to perform well despite the negative impact of Covid-19 on the oil industry, the facility is now looking to expand its interests further north and west of West Texas. Denver, Colorado remains a key market for the refinery and work is currently ongoing to reverse a natural gas pipeline between Denver and Borger to allow the facility to transport more products north. The announced closure of refineries in Wyoming and New Mexico looks set to offer new opportunities for product placement in those areas of the country too.
"All in all, we are trying to make the most of investment in the Permian Basin and build upon other pipeline investments on crude and other products," Darrel comments. "This is still a commodity business, to the extent that if we can produce motor fuels cheaper than somebody else then we stay in business, and we are firm believers in that strategy.
"Building on our rich history and the strong Phillips 66 brand, over the next three to five years we plan to consolidate some of our operations, refurbish our offices, improve the efficiency of our plant, and attack cost as much as we can. Much of that will be focused on work to reduce our energy and water consumption, looking at all kinds of things from reduced steam venting to the recycling of water. In the last ten years, we have reduced our Sulphur dioxide emissions by over 98 per cent and in 2019 we commissioned a $25 million wastewater project to improve water recovery. The company has invested a lot of money and Borger Refinery is currently enjoying its best environmental performance ever, but we are always looking at new greener energy sources to help reduce our energy bills and environmental footprint."
Phillips 66 – Borger Refinery
www.phillips66.com/refining/borger-refinery
Products and services: Crude oil refinery