Phillips 66 – Los Angeles Refinery
Modern methods
As part of the company's commitment to sustainability, Phillips 66 has always been aware of its social and environmental responsibilities. The company's Los Angeles Refinery is a leading facility on both fronts, continually building strong links with the local community and taking significant steps to reduce its impact on the environment.
Located around 15 miles southeast of LA International Airport, the Los Angeles Refinery is a two-site facility connected by five miles of pipeline between Carson and Wilmington. The Carson site, built 98 years ago by Shell,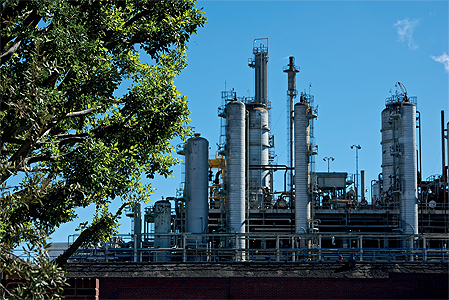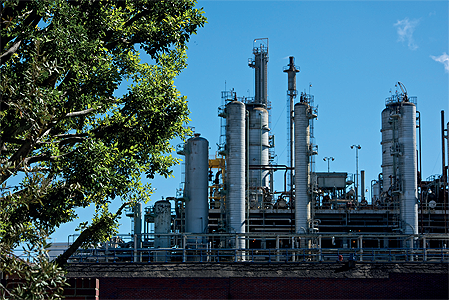 processes crude oil, while the Wilmington site, which celebrated its 100th anniversary last year, upgrades the intermediate products to their finished state.
Los Angeles Refinery Manager Tim Seidel explains more about the facility's output: "The refinery mainly produces aviation fuel and California Air Resources Board (CARB)-grade gasoline and diesel. Like other facilities, we also generate petroleum coke, propane, butane, and sulphur, as by-products in making the primary transportation fuels.
"More uniquely – something we do here that maybe other refineries don't do – we make a sulphuric acid stream, which is a by-product of reducing sulphur from our gasoline, jet fuel, and diesel, and that goes into both battery acid and the agricultural market. We also make food grade carbon dioxide. One of the things we are most proud of though is we produce the majority of the fuel and energy used to run our refinery. We are a highly energy-integrated facility."
A high level of energy self-sufficiency is just one of a number of positive environmental initiatives in place at the Los Angeles Refinery. The installation of a wet gas scrubber on one of the facility's large gasoline producing comunits was the first of its kind in the LA Basin and the only one that's been installed to date. Over 70 feet tall and 40 feet wide, the scrubber sprays a water-based cleaning liquid to wash the gas, removing pollutants and hazardous matter.
"The equipment was primarily introduced to remove particulates from the stack," Tim declares, "but it had the great side benefit of reducing a lot of the sulphur emissions too. As additional regulations have come about in the last ten years, since we installed the scrubber, we haven't had to make further investments to reduce our sulphur. Investing early to reduce our environmental footprint has worked out to be a better economical decision."
In many ways, the refinery's geographical location has helped facilitate its environmental mission. California's tight regulations on fuels are increasing the state's appetite for renewables and forcing businesses to think about reducing their carbon footprint.
"I always remind the environmental activist groups that, if they really want to get fuels with the smallest environmental footprint, they should be promoting refining in California because we have some of the strictest rules in the world," Tim says. "I think it's fair to estimate that Californian refineries spend about five to ten times the amount that most other refineries in our nation do on environmentally-driven capital projects.
"In the last few years, a series of new regulations have been introduced in California," he continues. "Companies are being offered a choice; they can either buy credits to comply with a reduction needed in both greenhouse gas emissions and, what California state refers to as, the low-carbon fuel standard, or, businesses can make investments to try and reduce that footprint themselves. The value and the cost of those credits is getting to the point where it's starting to make economical sense to go ahead and make investments."
Plans for renewables
Although the system may help to expedite the wider introduction of environmentally friendly technology in the state,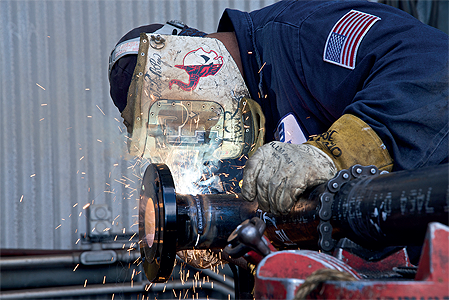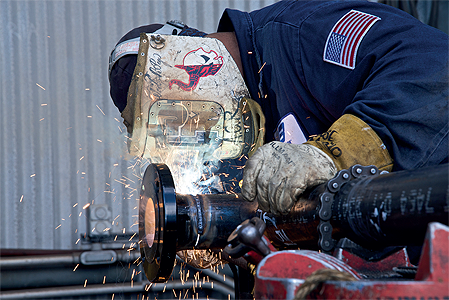 it is not without its challenges. Currently, the Los Angeles Refinery is studying potential alternative fuels that could be used to produce low-cost energy with reduced emissions. Initial research is providing positive results, but Tim insists it is important to remain realistic.
"We hear a lot about the energy transition, but I think most people have a misconception about how long that's going to take. I think we all agree that there will be an energy transition, but unless there is some unforeseen advancement in a scalable, brand-new technology, oil refining is going to be a key part of the energy landscape for the next 100 years."
Still, it is widely accepted that alternative fuels will have a vital role to play over the coming years. As a result, Phillips 66 has assembled a dedicated energy transition team to study energy sources and fuel cell technologies over the long-term to discover options for future power generation.
"Primarily, we are looking at renewable fuels and, specifically, renewable diesel," Tim states. "I don't think there is much of an appetite for renewable fuels in aviation yet, and the gasoline market is consumed with what you get through ethanol blending right now, which means renewable diesel makes more sense than other renewable fuels at the moment. We've got a project we're looking into that would reconfigure a couple of our existing process units and allow them to process the renewable fuel feedstock instead of the hydrocarbon-based feedstock that it currently processes," he adds.
With the same fervour that the Los Angeles Refinery is pursuing next generation processes and equipment, the facility is also searching out its next generation of skilled engineers and craftspeople. Strong community links and long-standing relationships with local education providers mean that the facility is able to offer attractive recruitment programmes and is becoming a preferred employer in the region.
"In the Los Angeles area, we actually have a relatively good concentration of skilled labour," Tim notes. "We've started developing strong relationships with some of the trade schools, and it's interesting to see how those areas are really growing and becoming more technical. Some of the people we're hiring to be our instrumentation and analyser technicians are coming out of four-year programmes because that technology has advanced so much.
"We also have a really good standing with a couple of key universities here in California, though it is sometimes a challenge to make sure that the refining industry is portrayed as an appealing option to the generations of engineering students we work with. There is a lot of interest in the tech fields and other sectors that don't perhaps have the stigma of being mature and on the downward slide, but there are so many opportunities for great careers in our industry and that's why we run an in-depth summer internship programme."
Staff engagement
Despite the tumultuous circumstances presented by the outbreak of Covid-19, the refinery remains dedicated to its talent acquisition scheme. In 2018, Phillips 66 received a Forbes 'America's Best Employer Award', and the latest actions of the firm's Los Angeles branch are evidence of the high value the company places on its workforce – old and new.
"In times like we are going through right now, you often see a lot of companies backing away from their internship programmes or graduate hiring plans," Tim asserts. "We've actually just embraced those, and we aren't going to reduce our numbers at all from what we had planned for this summer. Right now, we are getting ready for those students and new career grads, knowing that they might be working remotely on their first day."
Designated as an essential business, the Los Angeles Refinery has continued operating throughout the pandemic. As well as implementing social distancing and facial covering, the refinery was an early adopter of temperature checks for all personnel onsite. Of all the protocols in place, Tim suggests that open communication with the facility's workforce has been one of the most important steps taken.
"We've really engaged with our staff," he says. "They are the ones out there on the frontline every day, running and operating the refinery and fixing the equipment, so we asked them, how can we help to minimise your exposure? Simple steps such as modifying start times so people can take their breaks at different times have really helped. I've been very impressed with how adaptive the organisation has been."
The importance of safety to Phillips 66 – it is one of the company's core values – means it is unsurprising that Tim and his team have taken such a thorough approach to mitigating the risks of Coronavirus at the Los Angeles site. It is an attitude that pervades every aspect of the refinery's work.
"Our industry often gets a bad rap on safety performance, yet when you go back and look at the Department of Labour statistics for the refining sector in the US, and compare that to other manufacturing or construction groups, our injury rates are eight times lower. In recent years, data shows that Phillips 66 injury rate is half that again," Tim insists.
The Los Angeles facility has previously been singled out for its safety record and in 2019, the site was recognised with an AFPM Elite Gold Award for the previous year's performance. The industry's second-highest honour, Elite Gold Awards highlight facilities with safety performances in the top one percent.
"One of the things I'm particularly proud about at this site is that there is a strong culture for people to stop unsafe work," Tim responds, when asked about the refinery's impressive safety credentials. "We make sure that everybody knows they are not only empowered, but if something doesn't look right, doesn't smell right, then they are expected to stop it. We'll get the right people involved and we'll make sure we've eliminated all the hazards before we go back to work.
"The other unique thing we started three years ago was our Lifesaving Rules. These are ten common tasks we do that we need to get right every time because if they don't go perfectly, something could occur. Life Saving Rules address work such as lifting and rigging with a crane or working in a confined space. We have expectations that these guidelines are always followed, regardless of how different the job might be to the same job somewhere else."
Embracing digitisation
With strong ties to the local community, a history of hiring and retaining talented people, and a broad awareness of the facility's environmental responsibilities, the Los Angeles Refinery has built a solid foundation for the future. Over the last three years the site has embraced digital operations, and Tim suggests that the industry can expect more modernisation in the decade ahead.
"There is a lot of innovation going on and things like catalyst technologies are always evolving. Other than the renewable area of course, I think a lot of refineries are going to be looking at energy conservation," he affirms. "For us, applying deep learning into our process controls is something we are pursuing. There are so many variables comthat go into a refinery and with some of the advancements we are seeing in modelling and forecasting, I think there's an opportunity there. It only takes a small optimisation move to make a lot of money out of a refining operation. One tenth of a per cent increase in a product stream can be very, very economical."
Phillips 66 – Los Angeles Refinery
Products: Producer of gasoline, diesel and aviation fuels