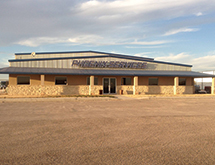 Some companies take many years to build a loyal customer base, but it has taken only five years for Phoenix Services LLC to establish that foundation. Today, President of West Texas Reece Boudreaux says about 90 percent of the company's work is for repeat clients, including exploration titans such as ConocoPhilips Co., Apache Corporation, XTO Energy, Berry Petroleum and Diamondback Energy.
Phoenix Services, headquartered in Houston, offers clients oilfield services, including water transport, water transfer, frac and acid tank rentals, workforce accommodations, crude oil hauling, salt water disposal, frac water heating and other surface equipment rentals.
Boudreaux co-founded the company in 2009 with CEO Mark Fisher, President of South and Central Texas Terry Pruitt, and Kyle Glicksman, president of Barnett Shale. More recently, it added Mark Hefley, the president and CEO of SuperHeaters LLC, as a partner.
All five men were oilfield service entrepreneurs who had operated their own companies, Boudreaux says. "We rolled [them] up all together," he recalls, noting that their previous experience helped Phoenix Services develop relationships with its clients. "We've all been together for so long with most of these guys from previous jobs or previous companies."
Today, "We feel that we are one of the leaders in what we do in our industry," Boudreaux says. Phoenix Services caters to clients in the Eagle Ford Shale, the Permian Basin, the Barnett Shale, as well as the Eaglebine and Woodbine Shale in Central Texas, and the Bakken Shale in North Dakota, Wyoming and Oklahoma.
The company employs a staff of approximately 425 workers, and is careful when recruiting new employees. "We're not just going to hire anybody without the necessary experience and a clear background check," Boudreaux says.
Sales Manager Tyler Smith adds that about 25 percent of the company's applicants pass these checks. "You have a lot of people who apply without experience, whose qualifications will not blend with our long-term employees," he says.
But with the amount of accidents that can occur, Phoenix Services requires workers with the proper fluid experience, Smith says. "You have to be selective, or you're going to hire a lot of inexperienced, unqualified people," he says.
Booming Business
Phoenix Services is seeing increased competition, Smith says. "When the price of natural gas dropped, people started investing in the Permian Basin," he says. "The market flooded with equipment, and has made it more competitive."
But the relationships Phoenix Services has formed with its clients help it cope, Smith says. Instead of seeing its business drop, "We feel like our customer retention is about 90 percent or higher," he says.
In fact, business is so strong that Phoenix Services has added new equipment and employees to operate the new machines, Smith says. "We've created [several] jobs that we haven't had in the past," he says.
Heating Up
On Jan. 31, 2014, Phoenix Services acquired SuperHeaters LLC of Oklahoma and North Dakota, a provider of frac water heating that operates in Oklahoma, North Dakota and Wyoming. The acquisition, Boudreaux notes, will expand Phoenix Services' offerings, as well as its staff by 60 employees.
Additionally, the company hopes to expand its fleet of heating units. It plans on expanding Phoenix's other service lines in SuperHeaters' markets.
The acquisition also gained Phoenix Services a new partner: SuperHeaters and President CEO Mark Hefley and his son, Operation Manager Justin Hefley. "They are stakeholders in Phoenix Services," Boudreaux says. Mark and Justin Hefley bring an unparalleled knowledge of oil field services and will be highly valued members of the Phoenix team.
A Good Team
Boudreaux says he is proud of Phoenix Services' employees, including Smith, who leads its staff in Midland. Boudreaux also singles out Lewis Picone, who manages its offices in south Texas; Glenn Miller, who oversees its workers in central Texas; Kyle Glicksman, who manages its workers in the Barnett Shale; and Vice President of Operations Mike Lloyd, who previously spent more than 30 years at Schlumberger Ltd.
"[Those] are the people that make our lives easier," Boudreaux says, also praising CFO Mary Ella Testa. "She's very, very good at what she does for us."
Staying Busy
Boudreaux sees continued growth in the future for Phoenix Services, both organically and through acquisitions. "As long as prices stay where they are and horizontal drilling is where it is in the Permian, we're going to stay busy," Boudreaux predicts.
Boudreaux adds that SuperHeaters will take Phoenix Services' production into new areas for the company, including highly active oil and gas regions such as the Bakken Shale and Oklahoma. Additionally, "SuperHeaters is coming down to Texas and New Mexico," Boudreaux says.