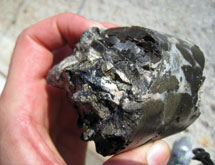 At Pilot Gold, no decision is based on a hunch – either the science is there, or it's not. It may sound restricting, but in its essence it's liberating. By practicing its philosophy – "the Science of Discovery" – Pilot Gold has looked beyond traditional mining regions and opened new areas of exploration.
Pilot Gold consists of the same management and technical team that built Fronteer Gold. Fronteer, acquired by Newmont Mining Corp. for $2.3 billion, is credited with turning Nevada's Long Canyon area into an emerging gold district, opening another quarter of the state for gold exploration. As the new Pilot Gold – formed in 2011 – the team is making headway on another Nevada project called Kinsley Mountain.
"Kinsley Mountain is a Carlin-type gold project in Northeast Nevada," President Matt Lennox-King says. "Long Canyon and Kinsley have similarities. It has the same rock and similar grades which we keyed in on very shortly in order to build a robust project."
Gold was discovered on the 5,426-acre property in 1984 and mined from 1994 to 1999 by Alta Gold, which later abandoned the mine, leaving undetermined amounts of gold below.
Last November, Pilot hit intervals of up to 5.9 g/t over 18 meters, giving it the confidence to expand the project's footprint and get a better definition of the project for more advanced studies down the road.
This year, Pilot kicked off a 12,000-meter core and RC drilling program with detailed geologic modeling and analysis to confirm and expand the property's historic gold footprint and test priority exploration targets at depth and along strike. In May, it achieved 51 percent interest in the project (Nevada Sunrise Gold Corp. owns the other 49 percent) and will earn an additional 14 percent interest by committing to invest $3 million in further exploration by May 2017.
"After securing this property, Barrick Gold came out and staked a property to the east of us," says Patrick Reid, vice president of corporate affairs. "We have raised eyebrows due to Long Canyon, and now we have majors following us around keying in on what we're doing."
In Turkey, Too
Pilot Gold is exploring in mining-friendly Turkey's emerging gold industry. In 2004, it signed a deal with Teck Resources to explore and develop the Agi Dagi and Kirazli gold projects now with Alamos Gold. Pilot grew these projects from a small resource to 3.5 million ounces, laying the groundwork for two nearby projects – TV Tower and Halilaga.
TV Tower is a 17,566-acre gold project in the Biga district of Western Turkey, making it one of the largest gold systems in the country. In 2011, the company drilled more than 14,000 meters, which found 3.8 g/t gold, 0.82 percent copper and 20 g/t silver over a 131-meter span.
In its 2012 drilling program, Pilot Gold will drill 9,000 meters as part of a 16,000-meter drilling campaign focusing on its Kucukdag target where it found exceptional gold and silver grades in previous drilling. As the 40 percent joint-venture partner, Pilot Gold is also the project operator and will invest $4.1 million in the project by the year's end as part of earning in to 60 percent.
It has also partnered with Teck to explore the northwest Turkey copper-gold porphyry of Halilaga. Halilaga covers 23,818 acres. Teck Resources, the project's operator, completed 18,000 meters of drilling last year, finding in an indicated resource of 1.665 million ounces of gold at 0.31 g/t and 1.112 billion pounds of copper at 0.3 percent and an inferred resource of 1.661 million ounces of gold at 0.26 g/t and 1.0007 billion pounds of copper at 0.23 percent.
In August, Teck Resources completed an additional 5,000 meters of drilling and will follow up with two 3,750-meter drilling programs.
"During the second quarter of 2012, we became operator at TV Tower, earned a controlling interest at Kinsley while continuing to expand the extent of gold mineralization, and completed a robust maiden resource estimate on our Halilaga copper-gold project," Lennox-King states. "With drilling underway at TV Tower, an active drill program at Kinsley and ongoing drilling and economic studies at Halilaga, we will continue to make significant headway at all three of our key projects throughout the remainder of the year." EMI