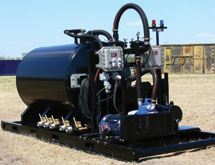 The Pinnacle family of companies offers a variety of services and products, but the values that guide each facet of the operation remain consistent. Serving North America's oil and gas fields, each Pinnacle business is dedicated to delivering on its promises and being upfront with clients if it is not confident it can meet their needs in a timely fashion.
"We just offer results, no excuses," CEO Matthew Hanna explains. "That is a key part of our service mentality – we don't take orders if we know we can't meet a customer's production needs."
"Our focus on time and service really distinguishes our company," President Miles Arnold adds. "We understand the value of doing things on their schedules, and our customers appreciate that."
Based in Sulphur Springs, Texas, Pinnacle got its start in November 2008 in the Haynesville Shale in Texas. Arnold's family had been in the mining industry since the late 1960s, but he and Hanna wanted to get into the energy sector. Its core services began as and remains the supply of aggregate materials, soil stabilization products and steel manufactured goods to the oil and gas industry. Pinnacle started in Texas, but it now serves nearly all of the lower 48 states.
Also, in addition to its core services, Pinnacle has expanded to offer trucking and delivery services and to establish PCI Manufacturing, which produces frac tanks, vacuum trailers, the BigPondTank™, round-bottom mud tanks and other fabrication solutions.
Face to Face
To enhance its material supply business, Pinnacle has developed a logistics management group, allowing it to be a one-stop shop for its customers.
"Our products are only valuable to our customers if they are on site when they need them, so timeliness of delivery is key," Arnold says. "We provide staff to our customers in the field and on their jobs to ensure we understand the need. We have someone on the ground in every region we serve. It's important to work with customers face-to-face."
The improvements to its manufacturing business also revolve around its dedication to service. In the last year, Pinnacle added 151,000 square feet to its manufacturing operation in a $4 million renovation. The new equipment is "very high-end and sophisticated," Hanna says, and the renovation allowed Pinnacle to triple its floor space. The company also has been supporting the training and certification of more welders.
"Certification is important – we must follow all of the codes because we build highly specialized products," Hanna explains. "We are the only frac tank manufacturer in the United States that has met the Alaskan Department of Environmental Quality requirements for holding drill fluids."
Continued Strength
Pinnacle provides its employees with extensive training and guides them through its stringent quality assurance process because quality is such an important part of its operation. "We spend a lot of time on developing our culture to focus on quality because our goal is to build a reputation of integrity for ourselves in the industry," Arnold says.
The development of its culture will be key, he stresses, as the company continues to expand its reach. With its manufacturing business, Pinnacle has clients throughout the United States, and it's looking to grow with them, although it's not focused on a particular geographic area. As for the materials business, Pinnacle established a footprint in about 10 different markets last year, so it's planning to diversify with new customers.
"We go after a lot of niche markets, but that takes a lot of R&D," Hanna says. "We build our business by taking a customer's or potential customer's problem, figure out what they need to solve the issue and then build it for them."
"Our speed of growth shows the strength of our capabilities and our customers' confidence in us," Arnold adds. "In a relatively short period of time, we've developed a great customer base as well as a strong team of managers and personnel. This is a good place to work, and as long as we keep to our vision of delivering the products our clients need in a timely manner, we will continue this path of growth."