The automatic choice
Pipeline Technique Ltd (PTL) is one of the world's leading pipeline and riser welding and construction companies, specialising in the provision of automatic welding services for customers in the oil and gas industry.
The company is an independent international group providing solutions for the most demanding welding challenges. It capitalises on its expertise and knowledge to safely and reliably deliver projects virtually anywhere in the world.
Pipeline Technique is a fully integrated welding service provider offering the complete package onshore and offshore. The company caters for projects large or small and its preliminary workscope
can include welding research and development, welding engineering, weld procedure development and qualification, fatigue testing, AUT system verification, welder training and qualification. For the construction phase, the company mobilises the required mix of highly experienced management, supervisory and hands-on field construction personnel along with the most appropriate and reliable range of equipment for the job. The company's optimum mix of procedures, personnel and equipment allows it to perform the site work safely, efficiently and to the highest quality.
Ian Stuart, joint managing director of PTL, explains: "The company was set up in 1998 by Duncan McGregor and myself. Nowadays, the key market areas we operate in are the Gulf of Mexico and West Africa – mainly in Angola and Nigeria. We are focused on deepwater areas and are looking to move into the Far East in the next few years. In all of these markets, we are able to provide a welding service that meets the most demanding of criteria and to the highest quality available.
"For instance we have welded 20 Steel Catenary Risers (SCRs) including the worlds largest diameter (24" od) and heaviest wall thickness (40mm) working to  0.5mm allowable defect heights," he continues. "We are not limited in terms of the types of materials that we can weld – from high strength carbon steels, stainless, duplex and super duplexes to lined or clad piping, we can weld a combination of materials. PTL offers a comprehensive range of weld processes to suit the demands of every project – be it manual GTAW or SMAW for spoolwork, semi-automatic STT or GSFCAW for reeled pipe stalks, automatic SAW for double-jointing or fully automated pulsed GMAW for J-Lay / S-Lay risers and pipelines. We also fully understand what our clients' requirements are and the nature of their project from the design phase through engineering, procurement, installation, construction and commissioning."
Ian elaborates: "We believe in having close working relationships with our customers as this makes a huge difference in whether the project is successful or not. We try to get involved in the production process at the earliest possible stage, as we feel we can help our customers by suggesting ways to improve the overall running of the task. Within every project there are a significant amount of factors that have to be considered and if we can do this on a joint basis it always makes everything run more smoothly.
"A good example of this is our relationship with Heerema Marine Contractors (HMC), the world's leading offshore construction contractor specialised in deepwater riser and pipeline installation, who we have been working with on their automatic welding operations since 2001," says Ian. "Working in very close co-operation with HMC we have been involved in weld procedure development and qualification, fatigue string fabrication and testing, AUT issues, onshore double jointing and offshore welding on the DCV Balder. The offshore welding scope has already involved 2G J-lay welding on 15 SCRs including the world's largest diameter (24" OD) installed in 2175m water depth, heaviest ever wall thickness (40mm) and the worlds deepest, an 8.625" OD line installed in 2680m of water. A further five pipe-in-pipe SCR's will be installed this year and contracts awarded will move the record water depth beyond 2800m."
Pipeline Technique's combination of design, engineering, project management and practical hands-on construction experience is unrivalled, and provides the company with a unique advantage. PTL's ability to recognise the key project drivers and understand all the technical and commercial issues allows it to offer a tailored service designed to match the requirements of any project and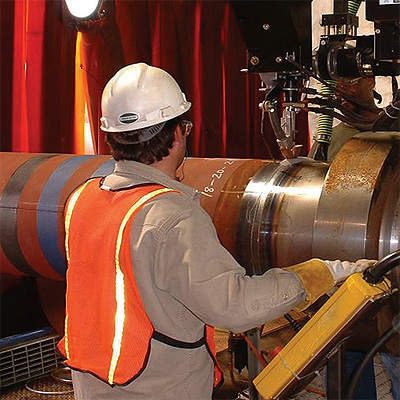 the specific needs of the client, therefore making every job an outstanding success.
Ian explains one of the company's latest projects: "We have recently worked with Acergy on the Statoil-operated Tyrihans project. Here we provided a double joint rack and performed welding of about 1800 welds on 16 to 18 inch inside diameter pipes that are internally lined with stainless steel. We completed all the welding on this project with less than a 0.5 per cent reject rate overall, which we were very pleased with."
The Tyrihans oil and gas field development project in the Norwegian Sector of the North Sea represents one of the most challenging pipeline projects undertaken to date. The project embraces two structures – Tyrihans South, an oil field with a gas cap, and Tyrihans North. Statoil awarded Acergy a contract to lay two pipelines from the Tyrihans oil and gas field to the Kristin platform in the Norwegian Sea. Pipeline Technique has been involved in this process and both pipelines are due to be laid in the course of five months, starting in May 2007.
Ian continues: "For this project we decided to set up a new site in Germany, which was suitable for both Acergy and Statoil. This site reduced the amount of handling operations the materials had to encounter and was required in order to receive the pipes, control the flow of materials and provide good logistics."
He adds: "We have also recently set up a new spoolbase in Hartlepool, which includes a 150 metre fabrication building where all welding and inspection takes place. One of our main customers, Helix Energy solutions, rents this site from the port authorities and based on our relationship with them we developed this new facility. This, like our double and collar joint welding racks, is a modular system that can be moved to other sites around the world as and when we need it."
Whilst undertaking all projects and across all sites, Pipeline Technique places significant importance on the health and safety of its employees. Ian comments: "When we work for the main oil companies, such as Statoil and Shell, we have to operate under their strict safety requirements. It doesn't matter where we are working in the world, we take the same safety procedures and systems with us and employ them locally. We also make sure our entire workforce is fully trained and competent in carrying out their work."
Today's businesses operate in increasingly regulated environments with ever changing legislation, guidance, standards and best practice, which can take considerable effort to manage. In order for Pipeline Technique to keep up-to-date with the requirements of the market, the company is accredited to both ISO 9001 and ISO 14001. ISO 9001 has become an international reference for quality requirements in business-tobusiness dealings and is primarily concerned with quality management. For Pipeline Technique to achieve this it had to successfully fulfill its customer's quality requirements and applicable regulatory requirements, while aiming to enhance customer satisfaction and achieve continual improvement. The ISO 14001 standard helps organisations to meet their environmental challenges. Pipeline Technique does everything in its power to minimise harmful effects on the environment, which may be caused by its activities and also achieves continual improvement of its environmental performance.
Looking to the future, Ian is confident that PTL can maintain its leading position: "We have grown very quickly since we started trading over six years ago. On the first project we worked on we had around 15 employees and last year we peaked at approximately 350 people. PTL has invested heavily in equipment and mobile construction assets to meet the demands of our global business. We are very project driven, therefore growth depends on order backlog and how many contracts we have on our books. With the amount of work that is available on the market at the moment it should be fairly easy for us to continue growing at a steady rate. The one challenge we can foresee in the future is finding the right people for the job. This is a common problem in the offshore industry at the moment and to be able to succeed we need to provide the right skills and confidence to carry out our work successfully.
"In the future we aim to increase our market presence in West Africa and the US by setting up local sites in these areas. This will enable us to provide local content and gain knowledge and experience of the business, cultural and social environment. Through recruitment of local people and maximising our use of local suppliers and subcontractors we will be able to contribute to the local economies and ultimately build a sustainable indigenous industry by providing appropriate training to ensure our knowledge, experience and technology can be transferred," he concludes.