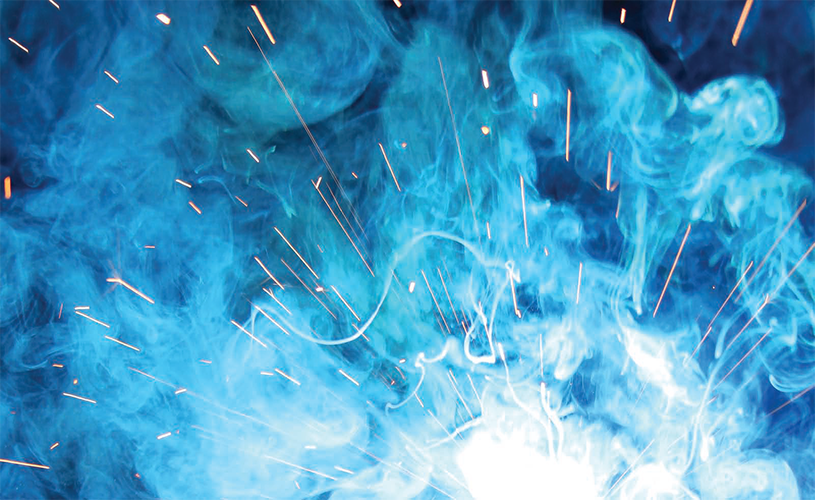 Welding the arc
Following a review of working practices, procedures and welding methods in pipeline construction, and an evaluation of the industry's future needs, the potential for the introduction of automatic welding techniques was highlighted.
It was at this point in 1998 that Pipeline Technique Ltd (PTL) headquartered in Huntly, Scotland was established, focused on specialising in the niche area of automatic pipeline welding in the oil and gas sector.
Growth of the business has proven to be rapid with employee numbers rising from an initial 15 in 1998 to a peak level of 350 throughout the world. Although a UK business, the majority of the company's turnover is overseas and is largely for work on pipelines being installed in ultra-deep waters. A US subsidiary was established in 2002 to service the American market, and the company has an additional permanent presence in Australia and Asia, reflecting international demand of the skill set that includes double, quad and hex joints, collars, tendons and connectors, pipe-in-pipe systems, ultra-deepwater pipeline and riser systems, ultra-heavy wall thickness tubulars, reeled flowlines, risers, J-Lay welding, pipe spool and structural fabrications.
Initial success in contracts with Heerema Marine Contractors (HMC) led to an eventual takeover bid in 2008, which saw HMC buying 51 per cent of the business, whilst founder Duncan McGreggor maintained a 49 per cent stake as CEO, reflecting the important role PTL would play in the years to come. Because oil and gas companies regularly call on HMC to enable full offshore field development in the toughest of environments in all of the world's seas, PTL's order books, as a subsidiary, are healthy. However, as a specialist in its own right, PTL works frequently with other pipeline installation contractors as well as some of the large owning companies.
"Whilst we have been very active across a number of fields, over the last eight months our focus has been on the delivery of a major project off the Australian coast," begins Peter Coward, group commercial and business development manager. In 2012 HMC was awarded a contract to transport and install infield production flow lines, riser line, subsea structures and moorings for the Ichthys Project, contracting all pipeline production welding, both onshore and offshore to PTL. "Reel lay activities will be implemented using the new deepwater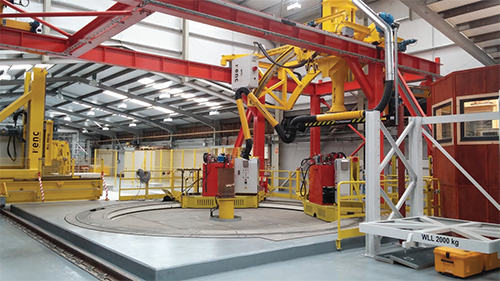 construction vessel (DCV) Aegir, with a 2 x 2000 tonne reel capacity. Utilising a purpose built spoolbase site in Batam, Indonesia we are welding 12 metre lengths of pipe together to produce 500 metre sections, which are then reeled onto the spools. The scope additionally requires operations at a multi-joint site close to the spoolbase where quad joints are produced for the J-lay capabilities of the vessel."
Speaking from the R&D centre that concentrates purely on the fundamental basis of the business; automatic welding, Peter explains: "We have actually developed our own automatic welding system here in Scotland, which we began designing in 2007. We utilise our 'HALO' system wherever possible, and have a team constantly working on its development. Initially the system was a single torch/single head design, which we developed into a dual torch design. Subsequently we have been able to tie that design into various different welding machines, so it may be used with most welding power sources on the market." Rossweld Engineering has supplied the company with welding packages consumables and contract peripherals for UK and international contracts since 2007.
"Primarily we work in the offshore business," says Peter. "However, our expertise on occasions results in responding to the demand of constructing land based pipelines. As such, we are currently involved in the installation of a 42" diameter line in Australia that we expect to complete by February 2015.
"Working in locations around the globe that are extremely strict on local content legislation, it was necessary to establish a solution to develop the right skills to operate the specialist equipment both onshore and offshore. For training purposes a complete mock up of the vessel welding stations were developed at our centre in Huntly. Having selected a crew from Australia, we brought them back to the simulator for intensive and specific training, qualifying in line with the project requirements. The success we have achieved and the level of dedication from all involved is something of which we are very proud."
The importance of the R&D has been highlighted in the success of securing projects worldwide. Equipment must be constantly developed to ensure the business stays at the front-end of this sophisticated niche market, and in its development centres, research is permanently ongoing. "We are also very active in field joint coating developments, undertaking concentrated testing before procedure qualification testing. Our FJC mock up facility allows us to do that, and through imitating actual site setup for land based lines and offshore environments, we are able to further automate and improve the equipment with new processes and consumables," Peter highlights.
The drop in oil price has been considerable in recent months, but despite that, PTL continues to see clients' commitment to projects withfuture activities lined up on works relating to a large offshore project in West Africa. Providing a brief insight into the market, Peter adds: "It was actually the period between 2012 and 2013 when we were at our quietest. Things have really picked up over the last 12 months and 2015/16 is looking positive. We are progressively developing into new segments offshore, securing a shallow water contract earlier this year, which commences in January 2015."
Working within a specialist environment is indicative of the very narrow margin for error, and one aspect, which PTL heavily promotes, is that of dedication to quality. "We work to some very high standards and high specifications, and in the history of the business we have achieved many 'worlds firsts', particularly with large diameter pipework and deepwater climates. The specifications that we are working to are highly stringent and extremely critical," says Peter, highlighting that PTL's next project offshore West Africa commences soon: "This region is recognised as a tough location for numerous reasons, and projects here hold an interesting challenge. However, over the next few years it is important that we increase our client base, as well as nurture existing relationships from strength to strength. Ultimately it is our intention to be the welding contractor of choice."
Pipeline Technique
Services: Pipeline and riser welding contractor