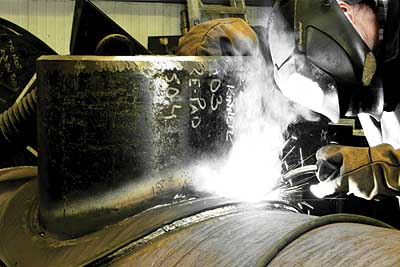 Plans in the pipeline
Established in 1981, Pipetawse Limited has developed its services and expertise to become a high quality pipework specialist in activities such as shop fabrication, project management, pipework fabrication, erection and testing; skid mounted units, pipework, steelwork, skid and vessel design, vessel manufacture, testing and installation and pipework inspection.
This diverse range of services stems from the 30 years of experience the company has gained in supplying pipework and steelwork across a wide range of industries; these include offshore oil and gas, energy, petro-chemical, pharmaceutical, food processing, shipbuilding, breweries and the environment. "We have worked since 1981, not only in the oil and gas sectors, but also the petro-chem, pharmaceutical, food processing, brewing and industrial sectors. We provide not only off-site fabrication and welding, but also provide the ability to fabricate, install & test on a client's site and / or using our off-site facility to support an on-site project," explains Bill Armstrong, Managing Director at Pipetawse Limited.
Pipetawse consists of a 24,000 square feet production area, which is divided into three modern and well-equipped workshops for carbon steel, stainless steel and exotic materials. Because these workshops are each dedicated to specific materials, Pipetawse has eliminated the risk of cross-contamination through complete material segregation. This is available to various material types, including stainless steel and hastelloy, carbon steel, six per cent moly, duplex/super duplex and cupro-nickel alloys. In addition to this large fabrication area, the company also has a covered storage area of 3300 square feet, three acres of fenced lay down area, and 1300 square feet of reinforced concrete slab for the trial-erection of steelwork; the latter of which can take loads of up to 600 tonnes. Furthermore, to ensure optimum security, all areas within the facilities are secured by both CCTV and alarms.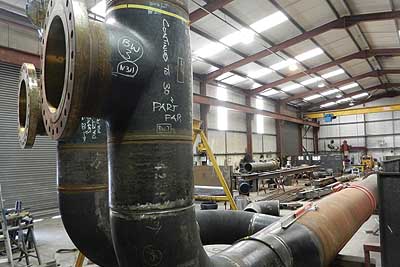 "We are established to meet the needs of each individual company and are able to carry out work as a principal contractor or sub-contractor that works directly to the client's instruction. Our policy is that no job is too small and we are comfortable working on large or small projects, as well as maintenance and repair type works. We are also able to work closely with design and management companies and work in accordance with client specifications," says Bill.
Having worked on a wide range of projects over the years, the ISO 9001 company has proven itself a reliable and quality focused option for blue chip organisations in need of mechanical, pipework and steelwork fabrication & installation solutions. Discussing the reasons behind Pipetawse's notable success, Bill says: "Over the years we have worked on a variety of projects with companies such as AMEC, Heerema, Fabricom, ENI and Haskell Energy, to name a few. The reason behind our competitiveness in the market is our workforce, which we view as our main strength. Some of our employees having been with ourselves over ten years. This means that our employees know our clients, and our clients' expectations, having worked in the industry for many years. Not only that, but our healthy apprenticeship programme ensures that young trades are also coming through, with six of our current workforce being retained apprentices."
He continues: "Welding is another one of our strengths, with over 275 qualified WPQR's, and we ensure that all of our welders are multicoded, and qualified by third party inspection (such as Lloyds & DNV). Our goal is to achieve BSEN 3834 by the second quarter 2016." Indeed, with welding such an integral part of the company's service, Pipetawse is constantly searching for ways to improve the quality and productivity within this business area. "Due to the need to weld some heavy bodied valves (up to 12"NB), we recently invested in new pipe welding manipulators to enable to not only handle this material more safely, but to also improve the production turn-around of the fabrication," says Bill.
Firm in the belief that quality is key, Pipetawse employees are highly skilled craftsmen that are able to provide a broad range of welding procedures that cover all materials, thicknesses and diameters, thus ensuring Pipetawse always has the correct procedure in place for any project. With a 'zero defects' mentality, the company uses its extensive experience in fabricating pipework and steelwork to ensure customers receive exactly what they requested. Further proving its commitment to quality, Pipetawse has all of its fabrication and welding backed up by extensive nondestructive examinations from its approved NDE sub-contractors. For example, hydrostatic pressure testing of pipework will take place to the client's specific test pressures, or x-ray radiography of the company's welds will take place to check for weld integrity. Other nondestructive tests include gamma-ray radiography, magnetic particle inspection (MPI), dyepenetrant inspection (DPI), and positive material identification (PMI). Furthermore, all jobs include a full documentation package to ensure full traceability of materials, consumables, weld histories, and non-destructive examinations as well as optimum quality over the years. With 100 per cent provided on every project, Pipetawse guarantees a quality end product.
Aware that working in hazardous or challenging industries requires a stringent view of health and safety, Pipetawse and all of its workforce are involved in an ongoing training programme with the goal of achieving the minimum level of accidents. "I became qualified to NEBOSH Certificate & DipSim level whilst working at Pipetawse at manager level, and now that I am Managing Director it means that health and safety can be driven from the top down, however I also have a safety assistant qualified to NVQ3 in Health & Safety who helps with the day to day safety within the company," explains Bill. "We also have an open door policy that encourages a pro-active approach to health, safety & environment by all our employees; so far we have achieved over 1,564,224 man-hours without an LTA."
Relied upon by blue chip organisations to deliver optimum quality solutions in a safe and efficient manner and benefiting from a diverse customer base, Pipetawse is certain to continue growing over the coming years, despite the current challenges within the oil and gas market. "The Offshore oil & gas market is going through a challenging period at the moment, which is why it is important to look at ways of improving production, turn-around time, and the service that we provide to our clients," says Bill.
"We are always looking for new business and new challenges, but we are also conscious not to over diversify, thus diluting our core focus and services. Our aim is to continue to develop and improve the service we provide to our existing clients, and to also expand our welding and fabrication services to new clients. We are also aiming to hopefully expand our services to the renewable energy sector," he concludes.
Pipetawse Limited
Services
Providers of mechanical, pipework and steelwork fabrication & installation solutions
Issue 125 October 2015