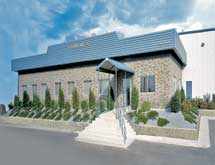 Plainsman Manufacturing Inc.
Since 1966, the name "Plainsman" has been synonymous with one-stop distribution for products related to the heavy oil industry of Western Canada. However, the Edmonton-based "supply store to the supply store network in Western Canada" – as General Manager Mike Kittlitz describes his company – has made a major push into the manufacturing business over the last 15 years.
Today, Plainsman Manufacturing Inc. operates as a full-service manufacturing machine shop as well as an all-inclusive distributor with more than 8,000 SKUs.
The company manufactures and/or distributes a variety of products for oilfield production, pipeline maintenance and construction, gas and water distribution, cathodic protection and other industrial applications.
Plainsman Manufacturing boasts its own engineering department as well as a 44,000-square-foot manufacturing facility in Edmonton, an ISO 9001-certified plant where the company maintains in-house production and subcontracted machining services.
New Products
With thousands of SKUs and a decades-old reputation as a distributor of oilfield resources for supply stores, OEMs, pipeline companies and contractors, Plainsman Manufacturing has a well-earned reputation in the industry for its expertise and customer service. More recently, the company has focused on innovating two of its own downhole heavy oil accessories.
"That would be our most innovative and unique product offering," Kittlitz says. "We have a team of engineers working on continuously improving our products, and two flagship items have arisen from this."
Plainsman Manufacturing's top two products in the downhole accessory category are its trademarked PowerTorq tubing drains and ToughTorq shear couplings. These items act as safety mechanisms within wells that decrease work over times, add a safety factor as well as help prevent oil spills on the well site. The main point is that both products increase efficiency and therefore reduce costs.
A tubing drain allows operators to blow the drain and pull out the tubing string without spilling oil that can cause environmental distress and add cleanup costs to a budget. It also significantly decreases the amount of time it would take to pull the tubing. For its PowerTorq line, Plainsman Manufacturing has increased the length of the drains while making the sleeve more compact, Kittlitz explains. These drains are installed with power tongs, which are more efficient and safer than manual tongs. In the end, the cost-savings on the completion end and the work over side is the main reason for these changes.
"Where you used to have rig hands in tight areas next to heavy equipment and piping, now you can use power tongs," Kittlitz says. "Now, it's a safer and quicker installation, without sacrificing any performance."
Plainsman Manufacturing also redesigned its ToughTorq shear coupling. Unlike past incarnations of shear couplings, this design allows for higher torque applications by staggering the pins and creating a hexagon connection instead of the traditional square shape. This has improved internal torque transition because the couplings are slightly shorter and more flexible. The couplings will last longer in deviated wells, which is a major need in the industry today.
Worldwide Reach
As the need for heavy oil becomes more common throughout the world, Plainsman Manufacturing Inc. aims to serve players in markets that need products to explore and develop significant plays. As Kittlitz sees it, as easy-to-reach oil reserves are depleted, it creates a market for Plainsman Manufacturing's innovative products.
"Heavy oil is becoming more prominent worldwide, even in the Middle East and South America," Kittlitz explains. "They were at the point where you put a hole in the ground and oil comes shooting out. Now a lot has been depleted, so they need to develop heavy oil.
"Obviously, our technological know-how for heavy oil is advanced and well-respected on a global scale," Kittlitz adds. "What we're trying to do is market our products and techniques specifically into Colombia in South America, the MENA [Middle East and North Africa] region, and [we are] possibly looking at moving manufacturing to access the Middle East and South American markets."
The company already is selling into Colombia as well as the Middle East on a small scale. Kittlitz says Plainsman Manufacturing is also exploring the feasibility of joint venturing with a local manufacturer in the next three to five years.
For domestic expansion, Plainsman Manufacturing recently acquired Ranger Steel, an Edmonton-based supplier of steel alloy, carbon bar and tubing for the oilfield manufacturing sector in Western Canada and eventually the rest of North America. Kittlitz says this 50/50 partnership, formed 18 months ago, tightens up Plainsman's supply chain and gives the company another edge as a manufacturer.
Nurturing the Work Force
The management team at Plainsman Manufacturing realizes the company's reputation for innovation and quality stems directly from its talented work force. The company remains loyal to long-term employees, promoting from within whenever possible and paying for employees' ongoing education when it relates to the business.
Kittlitz himself is an example of Plainsman's dedication to rewarding loyal employees. He joined the company when he was 21 and worked his way up from an order desk hand to his current role as general manager and a minor partner.
He isn't the only employee who worked his way up through the ranks at Plainsman. Derek Duncombe, vice president of sales, joined the company out of school as a warehouse employee. They are examples of what can be accomplished within an organization that acknowledges hard work and loyalty.
"If you make Plainsman an enjoyable and interesting place to work, then excellent customer service will be achieved through the cooperation of all the departments," Kittlitz says.
Employee appreciation was particularly important during the peak of the worldwide recession. Plainsman Manufacturing wanted to maintain its experienced employees for the economy's eventual return to normalcy, Kittlitz says.
"This can be a stressful industry to work in because it is cyclical based on weather and the ever changing price of commodities," Kittlitz adds. "It can be a challenge to staff and keep an organization happy and busy during slow times."
"We strive to make sure employees have a high level of job satisfaction and also know that we are committed to the growth of employee's careers as well as the company itself," Kittlitz says.
Plainsman Manufacturing offers all employees tuition reimbursement as long as the coursework is industry-specific. In return, employees sometimes sign a one-year retention contract and receive passing grades in their courses.
"Anything that's involved with self-improvement, improving morale or a job function, or someone's well-being, we will fully pay for any course," Kittlitz adds.
The tuition reimbursement initiative ties into Plainsman Manufacturing's overall mission to grow through the strengths of its employees.
"Our vision of the future is to continue to grow through our employees' improvement and focus on taking what we've done here in Canada to the international level," Kittlitz says. "We'll continue to increase our management team's skill sets by either acquiring new employees or training our own, as well as expand globally through acquisitions and partnerships while continuing to innovate our products."