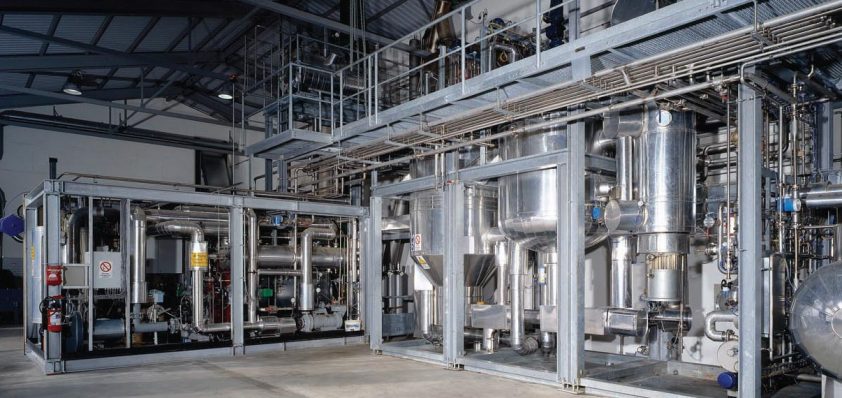 Planting growth
Founded in 1993 under the name RVA Reststoff-verwertung, Plastoil AG was renamed in 2007 following a year of operations at its pilot plant in Sihlbrugg, Switzerland.
Developed with a mission to treat plastic waste in an environmentally friendly and economically profitable manner, Plastoil's plant turns waste that would otherwise be dumped or burned into a high quality and sought after fuel.
Discussing the background of the company, commercial director Edwin Hoogwerf begins: "The Plastoil pilot plant in Switzerland has been running since 2006, transforming plastic waste into oil. In 2013 DiesOil (the concept
owner and licenser) was looking for a company to take on the design of the system as well as the roll out of commercial plants. As a manufacturer of gas systems, metering units and regulating systems Dutch company Petrogas was able to provide the engineering as well as the realisation of these plants, which led to an exclusive co-operation between Diesoil and Petrogas in the second quarter of 2013. In the first quarter of 2014 Plastoil was taken over by Petrogas and became the exclusive party for the realisation of these commercial Plastoil plants."
A standard plant will have three production lines and an input of 15,000 tonnes of plastic a year, with a product output of 14.2 million litres of EN590 targeted guaranteed heating oil. "We are completing tests to prove we are wholly compliant with European norms for diesel fuels; these results will be back with us during June, so this is a very exciting time for us," enthuses Edwin. Once the company receives positive results it aims to use the refined oil product in cars. "Our pilot plant has been producing high grade fuels for a number of years, which means we are in a great position to roll out commercial plants. Customers are lining up to become owners/investors/operators of these plants because the process is very profitable; our production process costs are approximately 30 European cents per litre, while the sale price of a litre of diesel is 70 European cents. So not only do we offer a process that is good for the environment, we also offer incentive through profitability," he adds.
Elaborating on the development of the technology involved in the process, inventor Dr Weser highlights: "We began with mechanical biological waste treatment systems, which, instead of household incineration, sorts and prepares the mixed household waste into an organic fraction and a stream of recyclable materials like metals and inert material for road works. An ongoing problem in that stream was plastic, so we started to treat the plastic fraction with a special thermal depolymerisation technology (PTF). This basically means long chain polymers are cut by temperature to break down to molecules with diesel characteristic." Despite being relatively simple the process has its challenges (PVC, heavy metals etc.), which is why the company keeps sorting, cleaning and preparation at the forefront of its thermal cracking system and thus ensures the oil produced at the pilot plant is high quality.
"What you throw into the system you find in the oil," affirms Dr Weser. "So when we have sorted and cleaned the feedstock we melt the plastic with a temperature difference as small as possible between the heating medium (thermal oil) and the plastic itself. This is very important for the production of oil, because a high temperature difference between the heating medium and the plastic decomposes the polymers into coke and gas instead into liquid diesel."
With the melting process complete the fuel goes into a crack reactor, where the cracked hydrocarbons are vaporised, but non-diesel specific polymer chains (C22 up to C30) are also evaporated. "With this in mind we invented a process that doesn't let any gas pass that has more than 22 carbon atoms. We produce a liquid mixture of hydrocarbons between five and 22 carbon-atoms, while all longer chained go back into the crack reactor to be cracked until they are short enough to form diesel, and they then go into a distillation column," Dr Weser adds. The vapours that have passed are condensed by cooling and then the light hydrocarbons (C5 – C8) are separated by distillation. The diesel-type fuel goes through a final treatment and online quality analysis before it is stored and offloaded.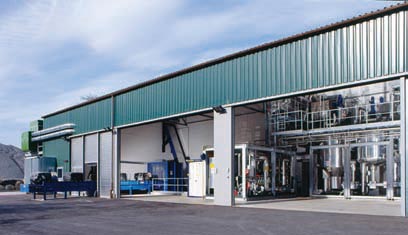 Having generated interest from governments, investors and waste handling firms over the last 12 months, Plastoil is currently in discussions with potential clients in locations such as Western Europe, Southern Africa and Asia. These customers not only see the advantage of a highly profitable business through an environmentally friendly and efficient process, but also the creation of jobs with training and education for locals in developing areas. Additionally the plants provide energy, either through the sold fuel oils or an optional on-site cogeneration plant that is capable of providing heat and electricity.
In addition to constructing all Plastoil plants, ISO 9001, ISO 14001 and DVGW certified Petrogas will also build process modules at its factory in the Netherlands and offer operator training, full construction supervision, a performance test run of each plant as well as service and maintenance. With Plastoil looking to sell one plant per month and multiple plants contracted so far, the future looks positive for the company as it awaits EN 590 compliance and continues enhancing its technology to make products such as paraffin and kerosene. "With the interest we see from the market it is not unthinkable that supplying ten plants a year is not enough, so Petrogas will be looking to further production capacity in the near future. Ultimately, by providing a profitable process that is good for the environment and can improve communities in developing countries we can also ensure our own continuity so our personnel can work with the same level of satisfaction for many years," concludes Edwin.
Plastoil
Services: Manufactures equipment to convert plastic waste into oil