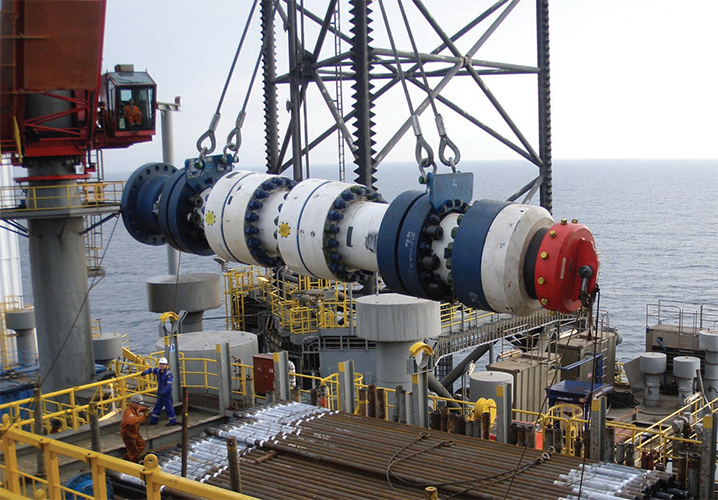 Setting standards
Founded on innovation and the POS-GRIP® friction grip method of engineering, Plexus Holdings plc is known for challenging the wellhead market through the delivery of ground-breaking equipment that significantly enhances safety and minimises cost.
Admitted to trade on the London Stock Exchange AIM market in the final quarter of 2005, the Aberdeen based operating subsidiary Plexus Ocean Systems Ltd has developed an impressive customer base both in the vibrant North Sea and globally with its exploration jack-up rental wellhead systems.
First patented in 1997, the POS-GRIP wellhead system was designed, developed and commercialised by founder and CEO Ben van Bilderbeek, an accomplished engineer with more than 42 years industry expertise; it has since been used on more than 350 wells worldwide and has become an industry leading solution in surface wellhead design. Safer, more reliable and cost-effective than conventional wellhead equipment, POS-GRIP proprietary technology was originally used as an adjustable rental wellhead system for standard pressure jack-up exploration drilling. Subsequent technological developments led to Plexus supplying specialised high pressure and high temperature ('HPHT') wellhead systems to the market; a product that has proven vital to the oil and gas industry, where HPHT drilling conditions demand the best and safest technology, which has become particularly relevant after a number of high profile incidents in the field, such as the 2010 blowout in the Gulf of Mexico.
The advantages of the POS-GRIP wellhead design include enhanced safety such as avoiding the need to lift the blow out preventer to terminate casing, virtual elimination of movement between the seal parts, larger metalto- metal seal contact areas, fewer components and much greater corrosion resistance. In addition, the technology is easier to manufacture, has a reduced installation cost, and increased and long-term integrity.
As the need and demand for enhanced solutions and technology continues to grow, Plexus was invited by the industry post the Gulf of Mexico incident to take its technology from the surface to subsea, and to design and develop a new subsea wellhead which could address and solve shortcomings of conventional subsea wellheads subsequently identified as contributing factors to the incident.
In response to this request, and committed to changing global drilling standards, Plexus launched a joint industry project ('JIP') in collaboration with a number of major oil and gas operators for the development and commercialisation of a new, safer subsea wellhead ('HGSS') through the utilisation of Plexus' POS-GRIP technology. Key planned features of the HGSS wellhead include an 18 ¾-inch full-bore system, rated to 15,000 psi and 350 degrees Fahrenheit, upgradeable to 20,000 psi and 450 degrees Fahrenheit; four million pounds of instant casing hanger lockdown capacity, annulus monitoring and bleed-off capability, which enables it to address sustained casing pressure, with diagnostic and remedial capability as well as the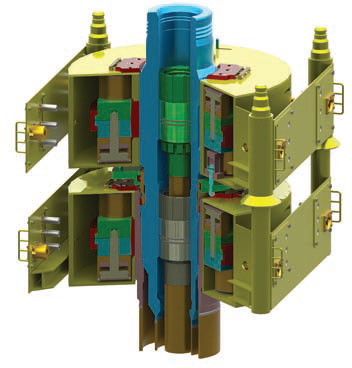 ability to open and reseal the casing to enable remedial cement jobs. The integration of such features and capabilities will be a first in the industry; furthermore, the monitoring of casing annuli capability is currently not considered feasible due to a number of technical and cost reasons.
In September 2014 Plexus announced BG International Ltd (BG), a subsidiary of BG Group, was the sixth major oil and gas consulting partner to sign up for the ongoing JIP; the JIP is extremely well supported by a number of major international oil companies and members now include Total E&P Recherche Development SAS, Maersk Oil North Sea UK Ltd, BG, Shell International Exploration and Production BV, Wintershall Noordzee BV, Tullow Oil, Senergy Holdings Limited, Eni SpA Oil States Industries Inc. and the UK entity of the world's largest offshore drilling firm. Continuing to contribute to the design and engineering process, the JIP members will be focused on upcoming milestones such as the completion of the HGSS testing programme and the construction of a prototype, which the JIP aims to have installed in the field for the first time in the second half of 2015.
This commitment to continuous technological improvements has led to the company being shortlisted for two Northern Star Business Awards: 'outstanding contribution to the energy sector' and 'commitment to innovative use of research and development'. These shortlisted nominations focus on Plexus' two current R&D projects, the HGSS wellhead and the HPHT tieback connector; the results will be announced at the 11th Annual Northern Star Business Awards ceremony on September 25th.
As well as Plexus developing and expanding its range of POS-GRIP applications it continues to pursue initiatives that will increase sales and expand its customer base. The company recently announced that its subsidiary, Plexus Ocean Systems (Singapore) PTE LTD, has completed the formation of a new Malaysian joint venture company (Plexus Products (Asia) Sdn Bhd – 'PPA'), which will enable it to pursue opportunities in the Asian region. A major milestone in Plexus' strategy to develop a wholly operational business hub in Asia, PPA was established in conjunction with local Malaysian oil and gas partner Integrated Petroleum Services Sdn Bhd (IPS); a renowned upstream support services firm with in-house manufacturing capabilities and a strong presence in the Malaysian and Asian Pacific region's oil and gas industry, IPS will provide PPA with an already established regional network of positive working relationships, and has an immediate goal of securing a Petronas Licence.
In addition to developing a high quality joint venture in Malaysia, Plexus has also recently invested £2.4 million in expanding its operational headquarters in Dyce, Aberdeen, through the acquisition of an extra workshop and office facility. The purchase of a 36,000 square foot workshop and office facility, which lies adjacent to Plexus' existing 36,500 square foot site, will double the size of the company's Aberdeen base as it continues to strengthen its offering to the oil and gas industry. Furthermore, the new facility will enable Plexus to consolidate its work facilities, which will improve logistical efficiencies as well as create additional workshop, warehouse and service bay capacity.
These exciting developments and ongoing market penetration for its innovative POS-GRIP wellhead equipment has led to the board at Plexus anticipating full year results in line with market expectations at revenue level, while profit after tax is expected to be materially ahead. The board's trading update announcement of its expectations follows the end of Plexus' financial year on 30th June 2014 and also confirmed that Plexus has a strong order book in place, with demand for its POS-GRIP wellhead equipment spanning the globe from both new and existing customers. To help with its global ambitions, particularly in relation to the Gulf of Mexico, Plexus has just announced the appointment of Charles Edward Jones as a non-executive director of the board on 18th September 2014. With more than 30 years of senior management and board experience, in addition to a proven track record in the oil and gas equipment and services sector within the US and Gulf of Mexico, Charles will provide strategic direction to the board as Plexus identifies ways of delivering POS-GRIP to the American markets. Moreover, with the company's Asian expansion strategy progressing well, and its JIP at an advanced stage, Plexus looks set to flourish as it continues to achieve strong revenue growth and increased profitability.
Plexus Group
Services: Engineering wellhead solutions