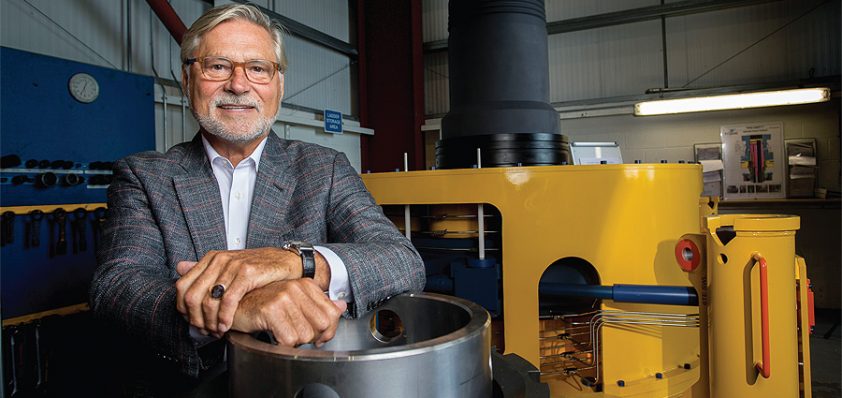 Future innovation
Despite the challenges present throughout the oil and gas market in the wake of the 2015 drop in oil prices, Plexus Holding PLC (Plexus) has continued to move ahead, forging new partnerships and pursuing new markets. Indeed, since CEO Bernard van Bilderbeek ('Ben') founded the business Plexus has built a reputation for challenging the wellhead market through the development of new methods of engineering. Core to the success of the company has been the 1997 invention of its patented POS-GRIP® friction grip method of engineering, which offers significantly enhanced safety features and minimises costs through significant time savings and other operational efficiencies.
The company was previously featured in Energy, Oil & Gas during July 2015 and although Plexus has naturally felt the impact of the current decrease in activity throughout the oil and gas market,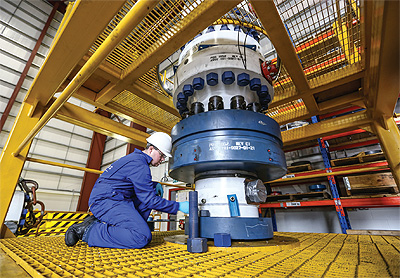 it has continued to develop its unique POS-GRIP technology while taking the time to expand its Plexus product range through ongoing R&D initiatives. Indeed, one of the main strengths of the business is that by offering a unique propriety patented system Plexus is able to differentiate itself from competing conventional solutions and address the requirements of the market in critical areas like high pressure and high temperature ('HPHT'). "Everything we do is centred around our superior proprietary method of engineering. POS-GRIP offers several unique safety and operation advantages and is backed up the company's recently demonstrated ability to test and deliver wellhead seals to the same standards and requirements of premium couplings," explains Finance Director, Graham Stevens. "Plexus has been working for ten years to get its technology into the market and continually made good progress. The point of difference with our solution is that POS-GRIP technology is proven in the rental jack-up drilling exploration space and we are now striving to take it into the significantly larger land and platform and subsea market sectors."
Plexus believes that one of the key requirements for wellhead equipment and wellhead seals is the need to ensure that they are not a weak link in the well architecture chain. It is therefore critical that qualification standards for casing hangers and annular seals are aligned with those for casing and tubing couplings, and importantly Plexus is uniquely able to deliver such a standard. "Shell some time ago provided new casing hanger qualification test procedure guidelines, for surface and subsea wellhead equipment. We chose to adopt these as the standard for the Python® prototype subsea wellhead system. In essence these new specifications address the anomaly that in conventional systems the connection between the wellhead housing and the well casing is qualified to a standard, which is much lower and totally different from what is required of tubular couplings in the well casing.
"As a result a 'weak link' exists in all well systems, because test procedures for casing hanger annular seals are conducted in special adapted fixtures, where seals are isolated from pressure and temperature induced loadings. Effectively conventional annular seals are tested as components in the laboratory, rather than as part of a system exposed to real life well conditions," Ben elaborates.
"Additionally tubular couplings are engaged by using verifiable methods of torque delivery, so that metal interface seals are engaged in compliance with Hertzian Contact Stress principals. Such control is simply not provided in subsea wellhead systems," he continues. "Today, after five years and six million pounds of R&D investment for which Plexus paid, we now have delivered a prototype Subsea Wellhead system, which has been independently tested to be fully compliant with the new higher specification standards and we are, as far as we know, the first and only company in the world to be able to do so."
Whilst the oil market continues to recover and as Plexus begins planning for increased exploration activity in the near term, the company can count on proven technology and a trusted reputation, to leverage its position outside the North Sea in the coming years. "Like all companies operating within the oil and gas sector, the rapid and sharp decline seen in the oil price over the last 18
months, particularly since late 2015, has significantly impacted our financial performance. Despite this we remain positive about the future as, unlike many other oil and gas services and engineering companies, Plexus is a proprietary IP driven business, thanks to our patent protected POS-GRIP technology which is the heart of our best-in-class wellhead equipment. This sets us apart from our competitors who use conventional methods of wellhead engineering which cannot deliver our unique standard of safety and time savings benefits, and metal to metal seal integrity," Ben elaborates. "Having successfully deployed our wellhead equipment in over 400 wells around the world, we believe that the superior performance, reliability and safety of our equipment is now proven. As a result, we are confident that when exploration activity reignites we will be well placed to pick up where we left off before the downturn took hold. The basis of such confidence is perhaps best illustrated by the £3.3m Total E&P Norge AS Solaris exploration well contract win in June 2015 for a technically challenging Ultra High Pressure High Temperature well offshore Norway."
In addition to continuing to deliver POS-GRIP technologies to its established markets, Plexus has also made significant inroads in expending its presence within Russia and the CIS region. In January 2016 the company was pleased to announce the formation of a licence agreement with Gusar and CJSC Konar (ZAO Konar) ('Konar') for the manufacture and supply of Plexus' jack-up exploration wellhead equipment in the Russian Federation and other CIS states (the 'Territories'). This was followed by an announcement in April 2016 that the company had raised $5 million through the issue of 6,764,893 new ordinary shares in the business at a price of 52.05 pence per share pursuant to a share subscription agreement with the Russian oil and gas equipment manufacturer, Gusar. At the same time as the Subscription, Plexus, Gusar and Konar have also entered into a Commercial Agreement under which Plexus will work with LLC Gusar (OOO Gusar) ('Gusar') and Konar to finalise an additional licence agreement to enter the Territories' larger and more active surface land and platform production wellhead equipment markets. The expansion into Russia again represents an important and exciting opportunity for Plexus to strengthen its global presence once the market becomes active again.
"Russia has for some time been a key potential target market for Plexus. I am confident that our unique technology will over the coming years play an important role in improving the integrity of drilling and production systems in this important market, particularly in potentially sensitive environmental areas where drilling activities are likely to take place in the future," Ben concludes. "The US Energy Information Administration (EIA) in 2014 ranked Russia the third largest producer of petroleum and other liquids and estimated it holds almost a quarter of the world's proven natural gas reserves. With gas forming the vast majority of the Russian energy sector and our best in class wellhead equipment being ideally suited for the most challenging gas service conditions, this dynamic market offers considerable commercial opportunities for Plexus, Gusar and Konar."
Plexus Holding PLC
Services: Engineering wellhead solutions