Turning the corner
Six months can be a long time in what is currently a volatile oil and gas industry. That was the sentiment shared by Plexus PLC (Plexus) Chief Executive, Ben van Bilderbeek in the company's interim results for the six months to 31st December 2016. While Plexus like virtually every business in the sector, has seen itself impacted by an extended period of low oil prices and reduced levels of exploration activity, particularly in the North Sea, what sets Plexus apart is the fact that it stands well placed to see out this downturn. It has achieved this, in part, by significantly reducing costs, strengthening its debt free balance sheet and reducing its capital spending commitments. Even more important is Plexus' patented POS-GRIP® friction grip method of wellhead
engineering, which continues to deliver best in class solutions to the industry in terms of safety and operational efficiency.
"In spite of the fact that the trading cycle within the industry remains in a downturn, being an intellectual property (IP), engineering and technology led business means we do not believe in taking our foot off the pedal when it comes to our IP or our R&D," explains Graham Stevens, Plexus' Chief Financial Officer. "While it is true that, like everyone else, we have been tightly controlling our budgets in recent times, what we have is a comprehensive body of patented technology under our belt which we know has many possible applications aside from those proven within our traditional jack-up arena."
Invented in 1997, Plexus' POS-GRIP technology offers significantly enhanced safetyand operational features, whilst minimizing operator's costs through increased time savings and which have been taken to a whole new level by the company's proven ability to test wellhead metal seals to the same standard of premium couplings. Key to the success of POSGRI is the technology's ability to deliver instant casing hanger lock down and a true metal to metal seal based on real and verifiable science employing Hertzian Contact Stress principles that can withstand well dynamics and which deliver a large seal contact area. Such features are uniquely advantageous for HPHT and corrosive drilling conditions.
"By December 2015, we had come to the end of an extensive R&D cycle, the result of which was a number of products that we could look at marketing in additional industry segments to those that we would usually target, including connectors, surface production and subsea applications," Ben adds. "We see from a number of reports released by researchers and analysists that hydrocarbons are on target to remain a vital part of the energy mix for many years to come and that exploration drilling activity levels will ultimately pick up again.
"Even if cars move quickly towards being electric, energy consumption satisfied by gas is growing and global demand for industrial purposes and chemicals remains strong. We are already starting to see some of the green shoots as exploration drilling begins to pick up, and our strategy will continue to be geared towards using our unique IP to generate revenue by marketing our capabilities to customers around the world, as well as the large providers of related equipment and technology."
Plexus has also begun to spread its wings in a geographical sense, identifying potential areas of growth away from those where it has historically been present such as the North Sea. One of the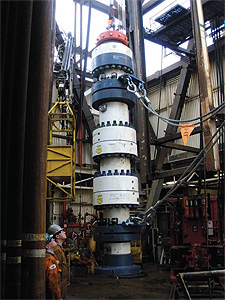 regions it has recognized as being a potential source of future growth is the Gulf of Mexico, particular on the Mexican front. Similarly, it has pinpointed increasing levels of activity in India and the Middle East. "It could very much be a game changer for the company to be marketing its IP in such regions," Ben enthuses. "For more than a decade the majority of our marketing was focused on the North Sea and its surrounding countries. Whereas previously our operations were more compact, typically organised from Aberdeen, this international growth requires the forming of new alliances and partnerships. We have a great deal of confidence in our IP and its potential to be adopted by these new markets."
The significance of Plexus' IP, and its POSGRIP technology is clear for anyone to see. The specialised nature of the technology has seen it used in over 400 oil and gas wells to date. With its many advantages coming to the fore in High Pressure/High Temperature (HPHT) and Extreme HPHT (X-HPHT) oil and gas environments, Plexus is increasingly recognised as the supplier of choice. One such project the company recently completed was the supply of an X-HPHT exploration wellhead to Total for the Solaris well, which is believed to be the deepest and highest pressure well ever drilled in the North Sea.
"We were selected to provide the wellhead equipment for the Solaris exploration well, an undertaking that went very well indeed," Ben states. "We were fortunate in that this was not a project that we actually had to tender for. Rather we believe it was a case of the customer recognising Plexus as being the only company of its kind to be able to supply the specialist wellhead equipment required to carry out activities in such a challenging environment and which could supply the type of technology needed to complete the task at hand."
In the face of some of the most testing trading conditions that the oil and gas industry has experienced in recent decades Plexus has continued to demonstrate its ability to win complex, technically challenging contracts such as the Total Solaris well. At the same time, it has strengthened its debt-free balance sheet, solidified its IP position and begun planning for the future by targeting new geographic regions and new customers. "Our stakeholders all share the belief we have in the strategy we are pursuing, which we are certain will enable the business turn an important corner on its journey towards becoming an innovative, world class technology and engineering led oil equipment services and solutions provider," Ben concludes.
Plexus PLC
Services: Engineering wellhead solutions