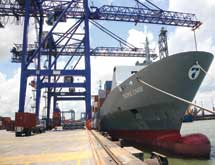 As the owner and landlord of the 860-hectare Point Lisas Industrial Estate, Point Lisas Industrial Port Development Corp. (PLIPDECO) Ltd. serves more than 100 industrial tenants. These include world-class methanol, ammonia and urea plants, three steel plants, a power plant and light manufacturing companies on the west coast of central Trinidad.
PLIPDECO also oversees Port Point Lisas – the second major port in Trinidad and Tobago – featuring six general cargo and container berths to handle containerized break bulk, consumables dry bulk, lumber, paper and steel. Port Point Lisas is an award-winning facility that was recognized as the Caribbean Shipping Association's Port of the Year for three consecutive years – 2000, 2001 and 2002.
Identifying a Need
Before PLIPDECO was established 45 years ago, Point Lisas Industrial Estate was a field of sugar cane. Cargo vessels coming into Trinidad were anchored offshore, with their cargos divided and taken directly into the Port of Spain and occasionally the Port of San Fernando. However, a decision to dredge the Port of Spain for direct berthing prompted vessels to discontinue servicing San Fernando. For years, merchants near the Port of San Fernando dreamed of having their own deepwater harbor but did not have the resources to build one as the Port of Spain had. It wasn't until the 1950s, when businessman Robert Montano organized the South Trinidad Chamber of Commerce with the objective to build a deepwater harbor for San Fernando, that their dreams would eventually become realized.
The idea initially was rejected based on high costs and because only a small number of importers would benefit. However, proponents of the harbor pointed out that developing the port would create employment opportunities in a time of economic distress. Plus, there was one key advantage that San Fernando had over the Port of Spain: its proximity to oil. Industrial companies already operating in the area had been forced to build their own port facilities. The government eventually gave its consent, and in 1966, PLIPDECO was formed. Construction on the port began shortly thereafter.
Today, PLIPDECO is a public company based in Couva, Trinidad, with 51 percent ownership by the government of Trinidad and Tobago. The remaining 49 percent is owned by private shareholders, which includes financial institutions, insurance companies, company employees and the general public. Point Lisas Industrial Estate represents an investment of more than $2 billion (U.S.)
HSE Awareness
Maintaining a strict quality management system led PLIPDECO to achieve ISO 9001:2008 certification last year.
In addition, PLIPDECO has a commitment to social responsibility, specifically, to protect the environment, it says.
In addition, providing security support to its tenants is extremely important to PLIPDECO, the company maintains.
Point Lisas Industrial Estate has its own police force to ensure security measures are maintained on the property. "Security awareness programs are conducted for employees and contractors on a continuous basis," PLIPDECO says. "We are committed to ensuring that the working environment is safe and that all individuals take responsibility for achieving this."