Dedicated and proactive
Formed following Dutch company Pipeline Nitrogen Services' (PNS) acquisition of the Singapore-based Duplex Energy in 2009, PNS Asia Pacific has enabled its parent company to strengthen its presence in the booming South East Asia region.
Not only taking advantage of the existing organisational synergies between the two organisations to ensure growth, PNS Asia Pacific has also taken on the values of both Duplex Energy and PNS; PNS Asia Pacific provides a close-knit, open environment to its competent, dedicated and proactive workforce. Taking these values forward, the company has been involved in pipeline and flange management projects for some of the most renowned upstream operators in the region.
Discussing the development of PNS Asia Pacific over the last four years, general manager Jan Frieling begins: "Although PNS has been involved in Singapore since 2009, we acquired a company called Duplex Energy in 2007, so really we have had a presence here since then. To continue our growth strategy we established a joint venture in Jakarta, Indonesia, in 2012 to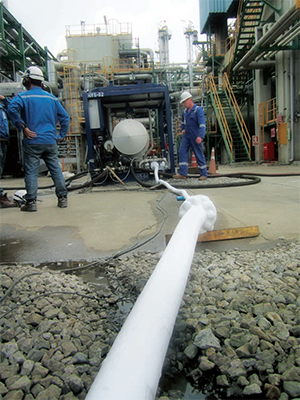 target to growing Indonesian market. The joint venture was registered in 2012 and the first contract was signed in 2013. Project wise, we completed our first pipeline job in Singapore in 2012 and our first operation in Thailand in 2013. Over the last year or so we have been trying to diversify our business and to bring pipeline and LNG services into the Asia Pacific region. Work has proven fruitful over the last six months and conditions look positive for the future."
Committed to expanding its services to support clients in the best possible way, parent company PNS has developed alongside the evolving oil and gas industry to ensure customer satisfaction and long-term relationships that thus cement the company's future. Merging with Coil Services BV in 2009, the company today is part of the Well Services Group BV, which complements its strong capabilities in providing a broad portfolio of services such as process-pipeline services, bolt-working and LNG services. Digging deeper, this includes pigging, chemical cleaning, pipeline hydrostatic and strength testing as well as a growing number of other services in line with the required demands of customers.
For example, in 2013 the company established a new joint venture for Mercury Solve solution, which it anticipates will be in huge demand over the coming years. "As a company that focuses on developing new services that meet market needs, Mercury removal is certainly something we want to begin providing to the South East Asia region," says Jan. "It is our objective to introduce the Mercury Solve solution to the Asia Pacific Region in 2014."
Present in many of the world's natural gas fields, the concentration of mercury has increased massively in many gas reservoirs; particularly susceptible to mercury caused liquid-metal embrittlement (LME) are the brazed aluminium heat exchangers that are typically found in LNG plants and pipelines. As the oil and gas industry increases its attentions on the production of LNG, the effective removal of mercury from streams during the production of the gas is becoming an increasing issue. "PNS is constantly focused on new services to support our clients in the best possible way, which has resulted in a new joint venture for Mercury Solve solution. The objective is that in 2014 the first Mercury projects will be performed and we expect a huge demand for these services in the future," says Jan.
A recent major development for PNS has been remedial flow line services with coil tubing, which has been made possible through the representation of a US company. This agreement thus enables the business to offer its clients special patented tools that can pull coil tubing and slick line distances up to and beyond ten miles thanks to hydraulic force thrusters. The equipment can be used in applications such as washing out paraffin and debris, with heated fluids, from subsea pipelines, the retrieval of stuck pigs from subsea flow lines, and jet cleaning the walls of subsea flow lines.
Of course, being part of a major company that focuses on enhancing its services has its benefits, as Jan highlights: "We get the best support to ensure we grow; this is through engineering support, the accumulated experience and expertise of managers and the ability to use the same systems as PNS. We are not in this business to be the cheapest, but to be the best at providing high quality services that are driven by focusing on exactly what our clients want."
Looking ahead, there is a great deal of opportunity for PNS as it looks to develop a wider footprint in the Asia Pacific market through the potential expansion of offices, as Jan concludes: "PNS Asia Pacific currently has a regional office in Singapore and a support base in Batam, which is managed by the Singapore office. Over the coming years we want to increase market growth in Thailand and Malaysia and perhaps look to areas such as Brunei and the Philippines in the future. Depending on market demand, we will look to open a few more bases in the region."
PNS Asia Pacific Pte Ltd
Services: :Process, pipeline, LNG and bolting services