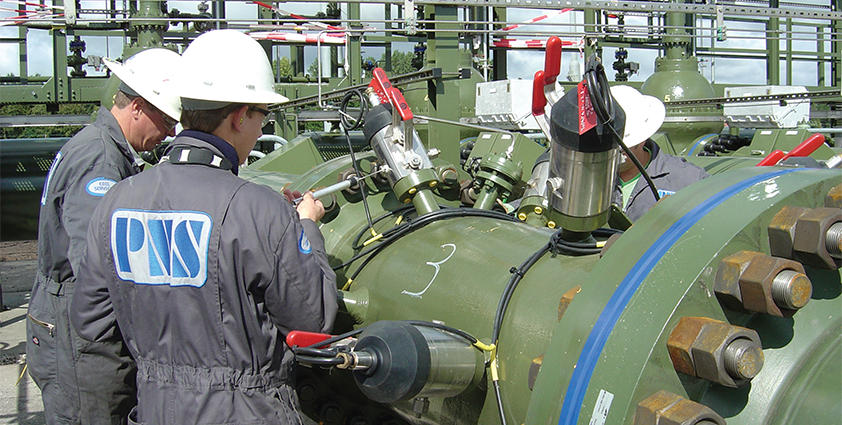 A quality service provider
The offerings from Pipeline Nitrogen Services (PNS) are designed to optimise production and minimise downtime during the whole lifecycle of the pipeline and/or process plant.
The services available from the company include pipeline chemical cleaning, ethylene pipeline pigging, mechanical pigging programmes, testing and drying and all nitrogen related services such as blanketing, inerting, ground-freezing, cool-downs, foaming applications, pipeline product displacements, high pressure pneumatic testing and driving medium for products and tools through pipelines.
It also offers nitrogen pumping services – nitrogen pumping is used in numerous applications to solve many industrial problems. PNS Nitrogen Units have the versatility to meet various pressure, flow and temperature requirements, and the company has three basic types of unit:
The HP N2 Pump Units
The Steam Vaporiser's
The Ambient Vaporiser's
Alongside those services mentioned above, PNS can offer reactor cool-downs and hot gas stripping.
Nitrogen/Helium leak testing is another service PNS offer, the benefits of which include simulated operating conditions of the process system, a proven auditable method of preventing hydrocarbon leaks, ensuring a safe start-up, with an inert atmosphere left behind, and it can be combined with critical valve testing.
Another example of one of PNS' offerings are pipeline rehabilitation services, which offer an in-situ coating application whereby a two compound epoxy coating can be applied to inside pipe-wall between pigs. This will allow several kilometres of pipeline to be coated without cutting the pipeline.
Pipelines always involve work to be executed under the most difficult circumstances. Pipelines cross deserts, mountains, rivers, lakes and domestic areas. It is vital that they are tested for strength, are leak tight, cleaned and inspected regularly. PNS has developed a complete pipeline commissioning maintenance and decommissioning package to safeguard safe, smooth pipeline operation during the whole life cycle of this valuable asset.
The company's headquarters (PNS BV) is based in Emmen, The Netherlands, where it was founded in November 2006. Its early actions involved the entry in its home market of Western Europe, and since that time PNS has become a global operation, capable of executing projects across the world.
For example, PNS has performed several tasks on the South Hook LNG project. The company carried out the line blowing and pigging as part of the pre-commissioning, and this included pipeline camera inspections. PNS also successfully completed LNG tank pneumatic tests and tests on the LNG storage tank.
PNS was also involved with pressurising all systems up to ten bar with dry air and testing the joints with a soap solution – once the system had been checked, dry air was blown through the system until the desired dryness was achieved.
Already certified to ISO 9001 and SCC8 2004/04, in 2009 PNS became a full member of the Pigging Products & Services Association. This is an international trade association serving the pipeline industry, and it is dedicated to promoting the knowledge of pigging and its related products and services by providing a channel of communication between the members themselves and with users and other interested parties.
Another exciting development occurred for PNS in 2009, when it acquired a majority share of Duplex Commissioning; a company situated in Singapore that specialises in bolting services and helium leak testing. Duplex provides a servicesunique combination of integrated management services for process pipe-work integrity to the oil, gas and petrochemical construction industries. The company philosophy is to provide value for money, and as a result it is very targeted and driven to provide a high quality service utilising on-site multi-skilled teams that are focused on the needs of the client.
Duplex integrates itself into a project to pursue its completion with the objective to complete the work on time, within budget and without compromise to safety and quality standards. Duplex's customers are mainly the construction companies and shipyards in Singapore, Malaysia and Indonesia.
The services provided by Duplex include testing (nitrogen/helium integrity testing, hydro testing and nitrogen/air pneumatic testing) and flange management (bolt tensioning, bolt torquing and documented traceability.)
The senior management team has extensive experience in the industry, and possesses a strong knowledge of working best practices for, QHSE, operational and financial management systems. The company is also certified to ISO 9001 for quality management, ISO 14001 for environmental management and OSHA 18001 for safety management.
Following a transition period for the integration of Duplex Commissioning into PNS Services, the new company name 'PNS – Asia Pacific' was introduced into the market in January 2010.
This has been a very positive opportunity for both PNS and Duplex, as the strength of PNS has given Duplex the opportunity to go forward with solid support from a likeminded service company and allowed the organisation to offer its clients additional capability and services that has enhanced the total services and support available to them.
The acquisition has also offered the companies the opportunity to expand much more quickly in the region of Asia Pacific with a strong financial and technical background supporting the marketing of additional services.
PNS Asia Pacific
Products: Pipeline and nitrogen services