Your flexible service partner
In 2006 a group of individuals with more than 20 years of industry experience saw that the conditions were right to establish a new venture that would service the growing pipeline and process sectors within the oil and gas industry.
This resulted in the birth of Pipeline Nitrogen Services (PNS) a merger between itself and its partner company Coil Services BV in 2009, PNS BV today boasts more than 350 employees worldwide and an excellent reputation for safety, efficiency, innovation and quality.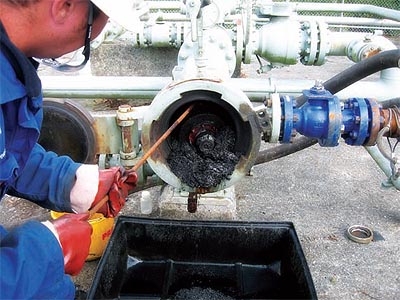 The company is today part of Well Services Group BV and provides a comprehensive portfolio of services that extends into process-, pipeline-services, bolt working, on-site machining and LNG services. This includes pigging, chemical cleaning enhanced reactor cool-down and Pipeline Hydrostatic and strength testing, as well as many other services.
"We constantly focus on new services to support our clients in the best possible way, which has resulted in a new joint venture for Mercury Solve solution. The objective is that in 2014 the first Mercury projects will be performed and we expect a huge demand for these services in the future.
"The development of the company and the services that PNS provides has been a steady response to the changing demands of the oil andgas sector as a whole," as general manager Michael Dufrasnes elaborates: "With the demand for further efficiency and new technology there have been some significant changes in the oil and gas industry and the need to develop new ways of working and types of equipment has been great."
As such, from its very beginning the company has worked to ensure that it provides the targeted services that its clients require, as Michael observes: "PNS has dealt with pipeline and process services since the company began, however in 2012 we decided to enhance the deviation between pipeline and process services, because we often see that companies will look for targeted services in each area. In terms of quality, we do not want to be the company that is the cheapest option, as sometimes the company that is the cheapest is not the most cost-effective option in the long-term. Even if your operating prices are not the lowest, you can still be the cost efficient option if you do a proper job and understand fully what needs to be done. More clients see the benefits of our approach, which result in long-term relations for the future and give us the ability to support the client on a tactical level."
This philosophy has enabled PNS to cultivate an impressive reputation and track record with major clients in Rotterdam, the North of Holland and many offshore clients in the oil and gas industry. Furthermore, the company has recently invested in new facilities at Rotterdam's Europoort to enable PNS to better serve its customers from one of Europe's major entry points, as Michael explains: "Europoort is a good location as we are in the centre of the port area where there is a lot happening with operators, tank terminal, the refineries and petrochemical plant. The complete Rotterdam upstream industry is connected with pipelines from the Maasvlakte to Europoort and Pernis and eventually to the end clients like Schiphol for the supply of jet fuel."
As well as its strong presence throughout Europe PNS boasts a truly global footprint through its network of bases and support offices, including those provided by the autonomously operated PNS Asia Pacific subsidiary. PNS currently maintains key locations within the Netherlands, UK, Germany, Italy and Singapore as well as sales offices registered worldwide. While PNS UK and PNS Asia continue to operate independently through a firmly developed relationship with local engineering talent, PNS Continental Europe will look to Turkey as a possible area for further growth, as well as at strengthening its operations in Germany. "Turkey is a growing market and is well located as it is right between Asia and Europe, and also next to Kazakhstan and Russia," Michael says. "Within Europe we tend to focus on the offshore side of pipeline services because unlike some of the larger competitors, we can be quite flexible so we can transition between onshore and offshore projects in the North Sea, for example. On the continent there are a number of smaller, flexible competitors so we do a lot of offshore work in conjunction to inland pipeline services. Germany is still a growing market and we would like to further focus there as we are keen to be active wherever there is potential to grow."
The flexibility enjoyed by PNS is one of the strengths that have enabled the company to weather the onslaught of the volatile global economy and changing market conditions. "Within Europe refinery capacity is going down, because you see that in other areas of the world companies will build their own refineries and bring their product to Europe, rather than European operators refining the product," says sales and marketing manager Mick Modderman. "This has an influence on our work, but the other side is that we see a lot of development in small wells where large operators sell their plots and smaller companies move in and make them successful. In producing more oil and gas they need their pipelines to be in good shape so we do a lot of work with them. We also do a lot of work with installations throughout the whole of their life cycles, so when companies like BP do renewals we are able to service them."
As 2014 reaches the conclusion of its first quarter PNS will remain focused on steady growth and maintaining close longer-term relationships with clients old and new. Throughout the year and beyond the company will be engaged in the development of technologies for niche markets as well as considering further moves into global markets including Saudi Arabia and Abu Dhabi. With a broad base of diverse, steady growth the future of PNS is set to be very exciting indeed.
PNS Nitrogen Service BV
Services: Process, pipeline, LNG and bolting services