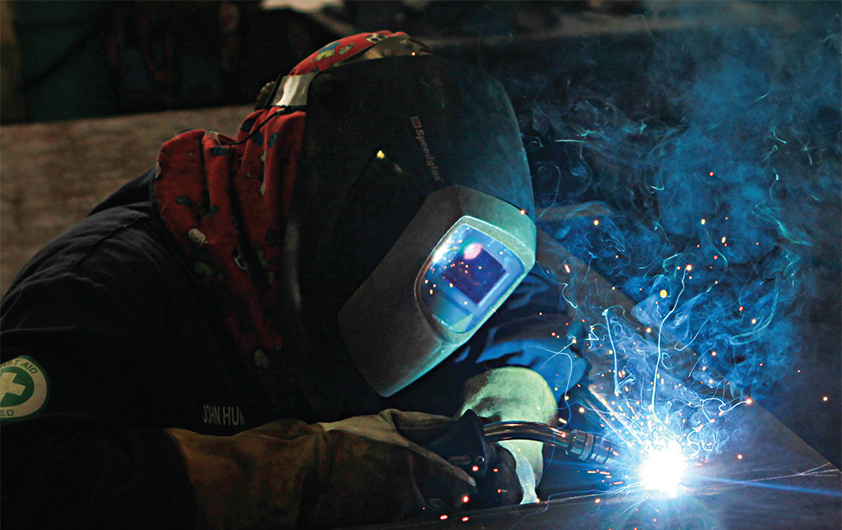 Putting clients first
Part of a £52m privately owned group of companies, Poole Process Equipment Ltd is headquartered in Poole in the UK.
With a 40 year history of involvement with heat exchangers, today Poole Process Equipment Ltd is a recognised leader in the design, manufacture and repair of shell and tube, air cooled heat exchangers and pressure vessels for oil and gas, power generation and process industries globally.
Paul Drennan-Durose has been managing director since April 2010. An experienced board level leader with international experience, Paul has created and leads a strategy that is already delivering sustainable stakeholder value and has seen sales double during his tenure.
He elaborates: "Our strategy for the next ten years is our 2020 vision, and our client's needs remain at the forefront of that strategy. Early on we establish our clients' requirements as well as identifying emerging trends for future needs. In tandem with this we established and then have focused squarely on our key strengths to deliver value and greater clarity of our offering with clients.
"Our behaviour includes continually improving whatever we do, particularly as clients often have bespoke needs or specifications. So, our development programme has been wide ranging, encompassing plant optimisation, people development, increasing the size of our site to 14,000 sq metres and implementing process improvements – including introducing lean manufacturing techniques. An example of the plant improvement is the investment in industry-leading bespoke machining and drilling equipment, enabling us to produce heat exchangers, pressure vessels and their components to a higher spec without attracting cost and dramatically reducing the environmental impact and emissions of these processes. Our waste levels have also decreased and we are now able to offer a higher quality product and service than many competitors in the market."
Paul describes how people play an important role in the success of the company's relationship with clients: "Our strategy is based on having the best people in the right roles and aligning them effectively with our clients. By changing and evolving our structure we have a good foundation now established. With foresight we see that businesses face challenges from skills shortages and we don't take any challenge for granted. It was against this backdrop that in 2010 we launched Skills 2020, an integrated skills and education strategy involving our entire business over the next ten years. This is already helping us shape our existing team to meet today and tomorrow's client needs, and has seen us successfully introduce an apprenticeship programme in 2010 and launch a graduate scheme in 2012. This will support the controlled expansion of our business and these changes are therefore firmly rooted in generating engineering and service excellence for our clients."
Quality of service is critical to these clients and Poole Process Equipment has an extensive history and engineering pedigree. This has been developed even more in recent years and includes process development and improving its ISO 9001 approved quality management system, as well as gaining membership of the 'The Welding Institute' and gaining approval by Achilles FPAL and Achilles UVDB in 2012.
With a wide array of regular clients, Poole Process Equipment's project capabilities are equally as broad, as John Hudson, sales director, highlights: "Poole Process Equipment Ltd has built a reputation for being the UK's most experienced and respected heat transfer equipment manufacture and repair facility.
"From straightforward planned de-tube and re-tube of heat exchangers to emergency work, Poole Process has the commitment, flexibility, skill and resource to support our clients in the shortest possible guaranteed turnaround time. Under Paul's leadership we have been able to successfully grow our design and manufacturing business.
"Our experience on shell and tube heat exchangers encompasses all TEMA configurations, manufactured in a wide range of metallurgies from carbon steel to exotic alloys. We can also offer carbon steel/corrosion resistant clad exchangers, which can deliver a cost effective alternative to complete alloy units too – providing clients with choice."
The design and manufacture of pressure vessels has been a complimentary addition to the Poole Process Equipment product family for many years. John continues: "Pressure vessels are designed and built by us to industry design standards including ASME & BS5500 and cover a wide range of sizes, complexities and metallurgies.
"We also design and manufacture air cooled heat exchangers from the most complex complete package applications to a replacement bundle. Units are designed to API 661 and clients bespoke requirements.
"As well as providing services from our main operating hub in the UK, we also have substantial experience in working on-site in harsh environments and have a reputation for quality and agility. Our multi-skilled, experienced and fully qualified personnel can be mobilised quickly to provide technical support, removal, repair and decommissioning services for heat exchangers, pressure vessels and boilers in situ. This has been of great interest recently in the power generation market as well as our traditional markets with sizeable projects completed in 2012."
Certainly this expertise is reflected in the company's turnover, with international suppliers and clients recognising that, given the difficult nature of the economic climate, working with a stable organisation that will still be operating in years to come is of even greater value than in the past.
Despite the market challenges, Poole Process Equipment has a clear vision and with this strong base behind it, Paul concludes with Poole Process Equipment's strategy for the years ahead: "Our level of passion for the ideas and personal commitment to our clients is very strong. We are focusing more on controlled growth so clients can depend on us whether we deal with them today or if they are new clients who will use us tomorrow. Our culture reflects a state of mind, which delivers a proactive, entrepreneurial approach coupled with experience and underpinned by the development of robust processes. We will continue to utilise our expertise, resources, innovation and creativity to transform projects into tangible results for our customers. We are always open to new clients that we don't deal with contacting us, as we'd like to support them in the future."
Poole Process Equipment
Services: Shell & tube air cooled heat exchangers and pressure vessels