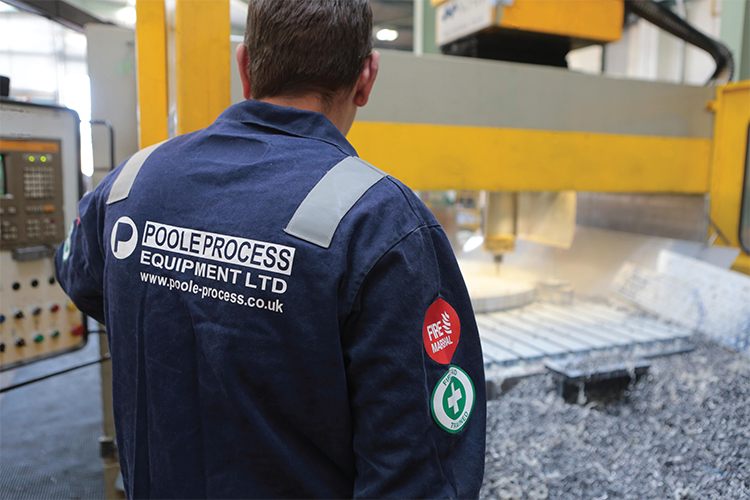 Poole Process Equipment Ltd
Creating and exchanging excellence
With a history dating back over more than four decades, Poole Process Equipment has a proven reputation as a leader in the design, manufacture and renovation of shell and tube heat exchangers, air-cooled heat exchangers and pressure vessels for oil and gas, energy and process industries globally. The company is based in the UK coastal town of Poole and with further administration, HR, IT and treasury functions based nearby in Southampton. However the company services clients all across the UK and Europe.
Core to the company's strategy is its dedication to remaining a market-leader and supplier of choice, through the delivery of the highest levels of quality and service. "Our strategy is called our 2020 vision. We promote and create continuous improvement, which generates real value and upper quartile service for our clients – safely and profitably," explains Managing Director, Paul Drennan-Durose. "Our aim is to be leaders in our chosen sectors and be recognised as a supplier of choice. With over 40 per cent of the company's current revenues stemming from new additional clients its clear that clients have an appetite for our service, our passion, the way we communicate and our delivery."
Poole Process Equipment's expertise and competences cover a comprehensive range of applications relating to air-cooled heat exchangers, shell and tube heat exchangers and pressure vessels. Project Engineer Ivars Millars beams with pride when he says "that we are THE one stop shop for clients for repair, re-tube and renovation operations as well as new build & replacement. Our team really do excel."
Within the field or air-cooled heat exchangers for example, Poole Process Equipment is able to design and manufacture air-cooled heat exchangers that range from the most complex complete package applications to a single replacement unit or bundles. The company offers complete solutions relating to air-cooled heat exchangers that are fully ISO 9001 approved and delivered on a one-stop-shop basis, which are subject to strict quality management systems including inspection, non-destructive testing (NDT) and test and control systems.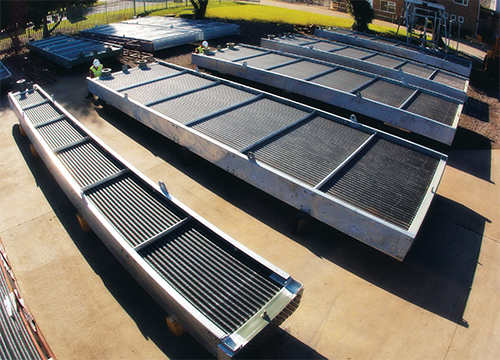 Services in this area include thermal design using the latest software, mechanical design using the PV Elite design software, as well as producing technical drawing and modelling. The company's design services are supported by strong manufacturing capabilities including in-house fabrication, machining, drilling and assembly capabilities that are further supported by dedicated pressure testing and installation services. Finally to assist clients, Poole Process Systems is able to provide leading edge contract and project management and communication solutions.
These services are typically applied in sectors including refineries and petrochemical facilities, power generation and product and process manufacturing. For example within the field of petrochemicals and refineries, Poole Process Equipment has previously been contracted to undertake the complete design, manufacture and supply of eight air-cooled exchangers simultaneously for critical and dangerous hydrofluoric services. The project was awarded by a major petrochemical organisation following a full tender and audit process. The reputation of Poole Process Equipment as a reliable and credible partner, coupled with a track record of build success for these kinds of units in aggressive services, generated confidence with the client in awarding this project. The units were completed in full, in close co-operation with the client and its inspection body. Furthermore the exchangers fully met the service demands that they were designed for, which ultimately led to further project awards from the client.
The company's products are similarly applied in a diverse spectrum of industries, such as power generation. For example, Poole Process Systems recently came to the assistance of a power sector client after it suffered from an unexpected equipment failure relating to two shell & tube heat exchangers. The units were 42,000 kilos each and were 15 metres long. In a project which was completed within 21 days Poole Process Equipment worked with the client's engineering team and operated through the night to develop and implement an engineering plan that gave the plant a way to move forward. Managing Director Paul Drennan-Durose explained that "our solution of using specialised cutting equipment at our facility and de-tubing and re-tubing the unit before welding it back together and completing all tests, allowed the client to plan effectively, without causing major long term impact to their operation. Our strong supply chain relationships enabled the sourcing of materials outside of normal hours and the expedition of these to the company's facility. The quick action of our whole team and the quality of its performance resulted in a reduced outage time and cost for the client as well as the removal of organisational anxiety for the plant and its end clients."
Throughout the remainder of 2015 and beyond, Poole Process Equipment will continue to evolve and expand intelligently, while further creating and exchanging excellence. By stabilising its strong position in existing marketplaces, while utilising its evolving portfolio of services, Poole Process Equipment is developing in new sectors and territories. Paul is proud to tell us that "our efforts and honest credibility have seen 40 per cent of revenues in the current year stem from new clients. It's demonstrated that there is an appetite for our one stop shop capabilities and clients are genuinely delighted with the process and product we deliver."
Going forwards, the business and its executive team will promote and continually strive to meet the highest standards and expectations. As such the company cultivates and implements continuous improvement, which generates real value and premier levels of quality, safety and profitability. Throughout the business, Poole Process Equipment shares an embodied state of mind and behaviour, which is focused on getting the detail right and raising standards and expectations. The company would welcome hearing from more clients and demonstrating its capability.
Poole Process Equipment Ltd
Services: Shell and tube exchangers, air cooled heat exchangers and pressure vessels
Issue 125 October 2015