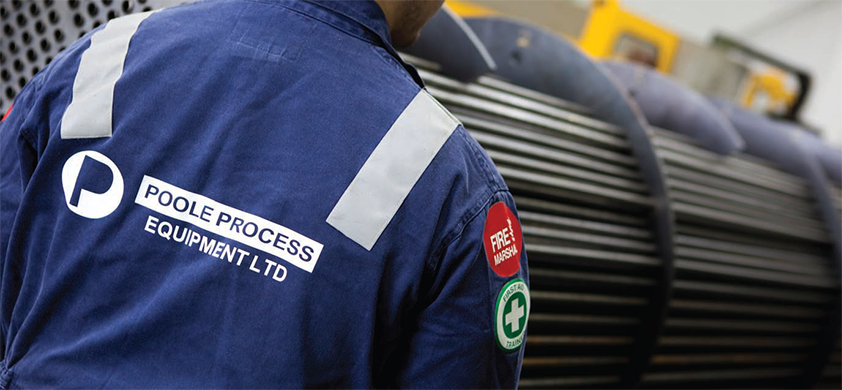 Process perfection
Part of a £60m privately-owned group of companies, Poole Process Equipment is a global leader in the design, manufacture and renovation of shell and tube heat exchangers, air cooled heat exchangers and pressure vessels, serving the oil and gas, energy and process industries all over the world.
The company is located in Poole in the UK with administration, HR, IT and treasury functions based nearby in Southampton.
The history of Poole Process Equipment spans over 40 years, and over this time it has refined its working processes and enhanced its approach in order to meet the needs of its demanding and successful blue-chip clients.
Major investment and a new management approach have moved the business from being a predominantly local manufacturer to a regional and international company.
"Our strategy is called our 2020 vision. We promote and create continuous improvement, which generates real value and upper quartile service for our clients – safely and profitably," explains Paul Drennan-Durose, managing director, on the company's brand new website, www.poole-process.co.uk.
"Leaders in our chosen sectors and recognised as a supplier of choice. Our level of passion and the personal commitment to our objectives make us a powerful force – we exceed and excel." The main area of expertise for Poole Process Equipment is shell and tube and air cooled heat exchangers, where it is an expert in design, build and manufacture, testing and overhaul, and can offer a complete solution – a one-stop shop.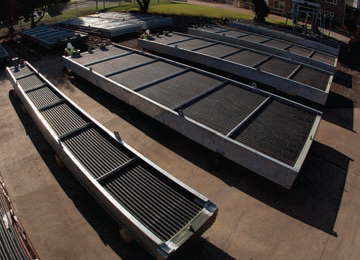 Clients that use Poole Process Equipment Ltd include those in oil and gas exploration, gas terminals, refineries, petrochems and power generation. A recent project in an oil refinery is a good example of how the company works. Poole Process Equipment Ltd provided the complete design, manufacture and supply of eight air cooled heat exchangers simultaneously for a critical and dangerous process – hydrofluoric service. Attention to detail and an acute awareness of getting it right for process and safety reasons is a key strength of PooleProcess Equipment.
Another contract recently won was from a major gas terminal. Poole Process Equipment's reputation for being reliable and credible coupled with a track record of build success for these kinds of units in high pressure services generated confidence with the client in awarding this project. The organisation completed the units in full and on-time. This included operating closely with the client and their inspection body and the exchangers met all the service demands they were designed for. This successful result has led to further project awardsfrom this client's other sites.
Poole Process Equipment Ltd can manufacture in a wide range of metallurgies from carbon steel to exotic alloys. It also offers carbon steel/corrosion resistant clad exchangers,which can deliver a cost effective alternative to complete alloy units too – providing clients with choice and value.
Completing the product portfolio are pressure vessels, which are designed and built at Poole Process Equipment Ltd's enlarged facility in the UK to industry design standards including ASME and PD5500 and cover a wide range of sizes, complexities and metallurgies.
Poole Process Equipment's capability to manufacture and also repair, re-tube and renovate has built a reputation in the oil and gas world for being a leading facility and solution provider.
Its investment, skill and experience allow the business to take on the most complex of repair requirements in the shortest possible guaranteed turnaround time. For example, on a project undertaken for an international gas terminal client, Poole Process Equipment Ltd was called upon to re-tube multiple heat exchanger bundles. It was supporting a turnaround team who were faced with an unplanned need to complete the refurbishment within a major turnaround in a short time window.
Its successful track record with this client combined with the investment the company had already made in tripling the size of its production premises, its leading edge equipment and the quality of its team all generated client confidence on this project. Furthermore its agility, service and quality performance resulted in further projects being awarded to it during the duration of the turnaround.
Successful project completions such as this are testament to the skills and dedication of Poole Process Equipment Ltd's staff. Managing director Paul Drennan-Durose is "eager to stress just how important our staff are and the plans the company has going forward to recruit and develop even more valuable employees. Our strategy is based on having the best people in the right roles and aligning them effectively with our clients."
"With foresight we see that businesses face challenges from skills shortages and we don't take any challenge for granted. It was against this backdrop that we launched Skills 2020, an integrated skills and education strategy involving our entire business. This is already helping us shape our existing team to meet today's and tomorrow's client needs, and has seen us successfully introduce an apprenticeship programme in 2010 and launch a graduate scheme in 2012. This is already supporting the controlled development of our client base and the structure is firmly focused on generating engineering and service excellence for our clients."
Poole Process Equipment Ltd is eager to discuss where it can help and add value to your business and is contactable on +44 (0)1202 674683; email:- enquiries@poole-process. co.uk and more details are available on our new website www.poole-process.co.uk
Poole Process Equipment
Services: Shell and tube exchangers, air cooled heat exchangers and pressure vessels