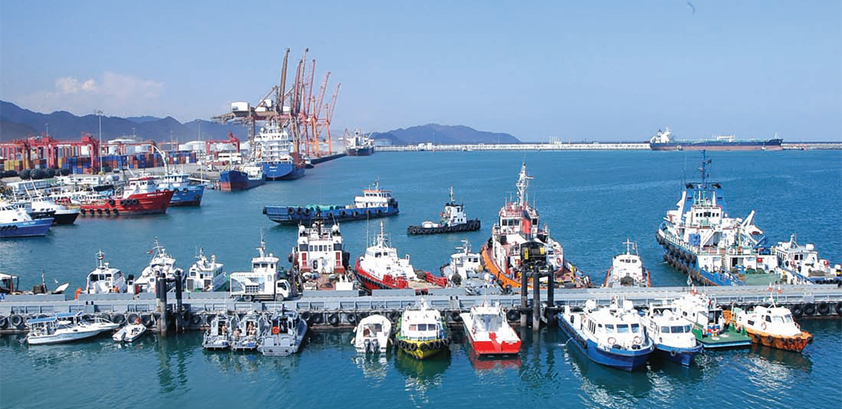 Port of Fujairah Authority
An important hub
The Port of Fujairah is the only multi-purpose port on the eastern seaboard of the United Arab Emirates (UAE).
Located approximately 70 nautical miles from the Straits of Hormuz, the Port is positioned at the crossroads of shipping lines between east and west making it one of the Emirate's most vital facilities, as well as an important hub for the market activities of the Indian sub-continent and East Africa.
Construction of the port initially began in 1978 as part of the economic development of the UAE, with full operations beginning in 1983,giving it a long heritage in port and terminal operations. Since then the Port has embarked on a continuous process of enhancement to both its facilities, and comprehensive range of services. These include handling of general cargo, bulk cargo, wet bulk cargo, container activity, and facilities for small supply craft users and agents.
The Port benefits from a draft of 15-metres and 1.4 kilometre long main quay. It has a number of different berths for container, general, and bulk cargo, and two oil terminals commissioned in 2006 and 2010 respectively. Oil Terminal 1 is home to three berths with the ability to accommodate tankers of up to 110,000 tonnes, whilst Oil Terminal 2 has four berths and a draft of 18-metres allowing larger vessels to call.
Container operations at the port began in 1982, since which time it has built up a long expertise in road relay, consolidation anddeconsolidation, sea/air cargo, and transhipment services. The Port's alliance with DP World as the concessionaries for container cargo has also strengthened its position amongst the global network of container ports.
In terms of more general cargo, the Port also handles a significant proportion of the steel billets, steel bars, copper concentrate, chrome ore, iron ore, coal, bagged aluminium hydroxide, and industrial salt which moves to and from the UAE, GCC countries and beyond. A major proportion of project cargo associated with the UAE Federal Qidfa Desalination plant was handled successfully through the Port.
As well as a paved storage area of 500,000 square metres which can accommodate general and project cargo, cars, and containers, the Port has additional compacted land of approximately 150,000 square metres available for temporary pre-shipment or post-shipment storage.
Also present at the port is Fujairah Anchorage, which offers an efficient and varied one-stop-shop service for up to 100 vessels at any time. Calling vessels can secure bunkering, ship supply, ship repair, spare parts, and inspection services, as well as crew changes to and from anchorage.
In order to keep accommodating the growing, and diverse, volumes that look to take advantage of its attractive location, the Port of Fujairah has long subscribed to a strategy of investment. It is not only the Authority itself though that sees the benefit of this approach, private external companies also fund developments within the port and surrounding area.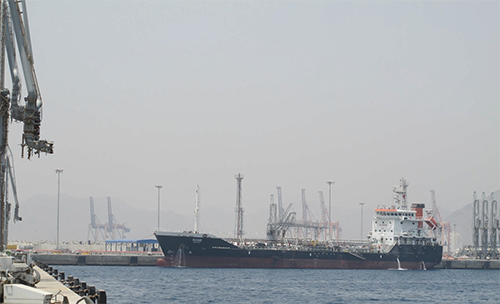 One notable project has been the completion of the Abu Dhabi Crude Oil Pipeline (ADCOP), which will carry between one and 1.5 million b/d per day via a 360-kilometre pipeline. This feeds into 12 million bbl of storage capacity, and then onto export through three subsea pipelines and three single point mooring buoys for deep water loading.
Another recent development is the UAE Federal Grain Reserve, which in its first phase contains 250,000 tonnes of grain silo storage, conveyors, and load and discharge arms. Plans are already in place for a second phase of development that will see this capacity increased to 750,000 tonnes.
Earlier this year a new observation tower was inaugurated at the port in the midst of Fujairah Bunkering Week 2013. Fifty-three metres in height, the tower is shaped like the letter F of the Port of Fujairah logo and equipped with radars, navigation systems, and a state-of-the-art system for calling vessels. It was constructed as part of an ongoing programme to enhance the port and increase its capacity to accommodate more inbound and outbound operations. The tower will also help the Port of Fujairah to offer customer service that is on par with international standards.
Furthermore the port has installed eight Tideland SB-285P lateral mark buoys north of the port to mark a new passage where the Port Authority provides services for the ADCOP. The buoys are equipped with SolaNOVA-65 self-contained LED lanterns, the first to be supplied in the Middle East, and AIS AtoN systems to communicate with vessels in the vicinity. This equipment transmits a range of information such as its position to vessels approaching the port, and sends a remote monitoring signal back to base. These are picked up and routed through to the AIS display system situated in the newly-built observation tower.
Elsewhere, private companies are continuing with the construction of additional tank storage to cater for trading and bunkering activity, and new terminal facilities. This is a particular point of focus for the Port which aims to raise capacity from around six million cubic metres to ten million by 2014. This is in response to booming demand from the Middle East and Asia, which could see the Port of Fujairah rival the world's top bunkering hubs.
With additional berths also scheduled for delivery, and projects like the ADCOP come to fruition, oil is clearly a target market for the port when it comes to making the best use of its position. Also in the pipeline is the new Fujairah Refinery, which is expected to become operational around the end of 2016. It is designed initially to produce 200,000 b/d per day, primarily using feedstock from the ADCOP, but can also import different grades of crude through the port. Planning has not only focused on the facility itself, but also the services required around it, particularly if products are to be exported.
Even those sub-trends such as LNG, which the Port may not be able to cater for directly through its berth and storage structure, are still being fulfilled in the area as a result of private investment. At present a separate LNG facility to the north of the port is being developed by Mubadalla and IPIC, and as for all commercial activity in Fujairah waters the Port will supply the necessary marine services.
Whilst the Port of Fujairah clearly has a lot to offer its customer base, its success is not only down to its favourable location. From the very beginning the port has grown alongside its market, enhancing and adding new capabilities to mirror the requirements it sees. By having a structure that allows for this evolution, and the determination to succeed, the port has become a strong marine logistics hub. Although the acceleration of investment has seen it become an increasingly internationally important oil centre, the Port is not focusing on growth in one area through the sacrifice of others. As such, it continues to build on both its oil-based and non-oil activities to ensure an enduring high level of service.
Port of Fujairah Authority
Services: Multi-purpose port