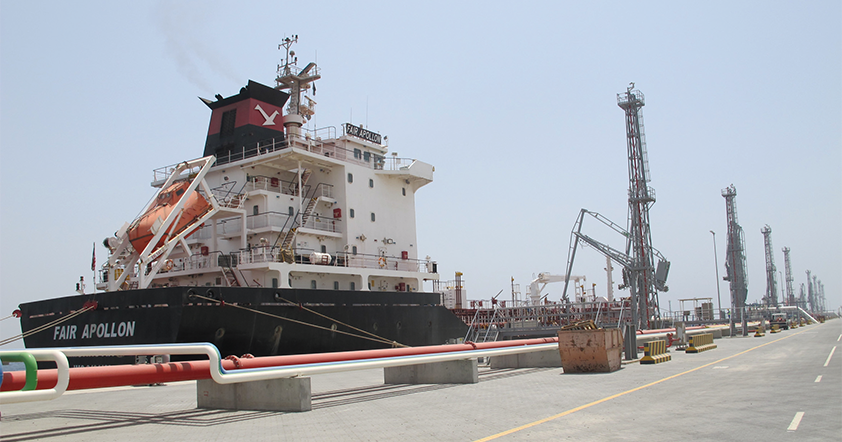 Port of Fujairah Authority
A vital asset
The Port of Fujairah is the only multi-purpose port on the eastern seaboard of the United Arab Emirates (UAE), approximately 70 nautical miles from the Straits of Hormuz.
Initial construction on the port began back in 1978 as part of the economic development of the UAE, becoming fully operational from 1983. Positioned at the crossroads of shipping lines between east and west makes the Port one of the Emirate's most vital facilities, as well as an important hub for activities in the markets of the Indian sub-continent and East Africa. It is this strategic position of the Port and its anchorage that form the basis of its current success and the catalyst for growing investment in both the port and the surrounding region.
The port offers comprehensive facilities for a wide range of requirements such as general and project cargo, bulk cargo that is predominately export aggregate, oil and bunkering, containers in a concession with DP World, and maritime supply through the Fujairah Anchorage. Commenting on how the Port has enhanced its facilities over time, general manager Captain Mousa Murad says: "I feel one of our main attributes has been our ability to react to and cater for the needs and requirements of our customers. The reputation that the Fujairah Anchorage has gained is not based solely on its strategic position, but also on the organisation and determination necessary to make it a successful marine logistics hub. The port has, and will continue, to develop its facilities and berths to meet requirements
"Of the current oil berths, three were commissioned in 2006 as part of 'Oil Terminal 1' with a length of 840 metres and 15 metre draft. Alongside this is the recently completed 'Oil Terminal 2', which consists of four other berths, a total of 1500 metres length, and 18 metres draft. We are about to place a contract for an additional two berths, and further development is under urgent consideration as we also see the need to provide VLCC berths in the future," he elaborates.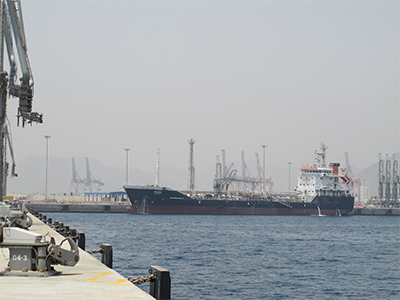 In the last year alone a number of developments have come to fruition, both at the Port itself, and with regards to its location. Most prominently, this includes the completion of the Abu Dhabi Crude Oil Pipeline (ADCOP), which will carry one to 1.5 million b/d per day via a 360 kilometre 48 inch pipeline. This will culminate in 12 million bbl of storage, and then onto export through three subsea pipelines and three single point mooring buoys for deep water loading. The ADCOP facility is expected to become fully operational within the next few months. Elsewhere, private companies are continuing with the construction of additional tank storage to cater for trading and bunkering activity. The total capacity on this front is forecasted to exceed ten million cubic metres by the end of 2014, putting it on par with many of the largest ports in the world.
"The ADCOP pipeline project is a significant development," highlights Captain Mousa. "In a similar vein, nearing initial completion within the port is the UAE Federal Grain Reserve which involves 250,000 tonnes of grain silo storage, associated conveyors, and load and discharge arms. This will become operational at the end of this year, with plans in place to increase this capacity to 750,000 tonnes in a second phase of development. On a general level, we have seen an increase in trading as well as onshore sourced bunkering activity. Our traditional export aggregate market continues apace and we have invested in a second bulk loader, with a capacity of 4000 tonnes per hour, which will become operational this year."
Another key investment the Port is taking for the future is the new Fujairah Refinery, which is scheduled to become operational at the end of 2016. This will be designed initially to produce 200,000 b/d per day, primarily taking its feedstock from the ADCOP but is also required to import different grades of crude through the Port. The Refinery's product is intended to serve the local market, but a significant amount may also be exported in due course.
"We are currently planning for this new asset and the services required to cater to it, particularly with regards to the Refinery's LPG exports. New, but considered, diversity opportunities such as LPG are under constant review in terms of how we can accommodate these. We are already, for example, speaking with chemical companies to assess their particular requirements. Of course, certain market trends such as LNG are not something we could develop within an oil storage and berth structure. However, a separate LNG facility to the north of the Port is being developed by Mubadalla and IPIC. As for all commercial activity in Fujairah waters the Port will supply the marine services to this facility," describes Captain Mousa.
Whilst the Port's main activities have evolved over the years from container transhipment to the bunkering and trading market, and now berths for oil services, each of these steps have been a logical move in taking advantage of the demand its location has attracted. "There is no doubt that Fujairah is a strategic location," notes Captain Mousa. "Development over the past few and coming years has meant that Fujairah has now become a prime location with key facilities – crude oil pipelines and SPM's, significant oil storage, state-of-the-art oil berths and refinery. We are becoming an increasingly internationally important oil hub. We will continue to build on that and to provide high levels of service in all areas including non-oil activities, which will also grow as the Emirate develops.
Port of Fujairah Authority
Services: Multi-purpose port