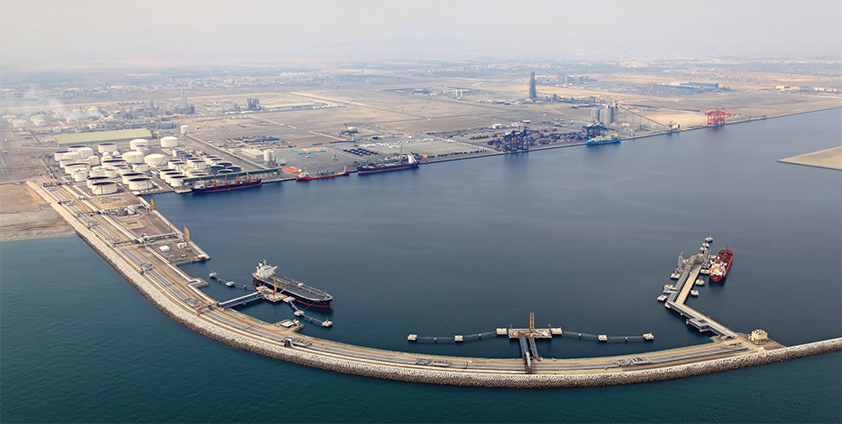 Firm foundations
Strategically located in the Sultanate of Oman, 220km northwest of Muscat,Port of Sohar is managed by Sohar IndustrialPort Company SOAC (SIPC), a 50/50 jointventure between the Government of Oman andthe Port of Rotterdam.
The two parties signedan agreement in 2002, with first industrial developments beginning at the port in 2004.Since then, as the port authority and landlord ofthe Port of Sohar, SIPC has witnessed incredible growth that is set to continue, with current investments exceeding $14 billion.
"The port is over ten years old now, and if you look at how it has grown, especially in the last five years, it is remarkable. Since starting in 2006we have seen cargo throughput reach more than44 million tonnes. We have also enjoyed positivegrowth year on year, particularly in dry andliquid bulk in the last three years; on top of this,more industries are beginning to understandthe logistical benefits of Sohar and are deviatingtowards the port, so for us there has been greatprogress," says Edwin Lammers, commercial manager at the Port of Sohar.
Located just outside the Strait of Hormuz, Port of Sohar is close to the booming economiesof the Gulf and Indian subcontinent; it also hasAbu Dhabi, Dubai, Al Ain and Muscat nearby, as well as Saudi Arabia, the largest consumer market in the region, in direct reach. "Our location is key to our success, but without the right foundations a company gets nowhere. We are doing very well in setting up a world-class infrastructure to ensure our long-term masterplan for the future developments of the port," says Edwin.
The port houses three clusters, logistics, petrochemicals and metals, where leading global firms such as Vale, Air Liquide, Methanol Holding International, Larsen & Troubo and Jindal Power & Steel are established, while world renowned companies operate the independent terminals. "The way we manage the port is not like any other in the region," explains Edwin. "The fact we are one of the few ports that is manually operated allows us to attract players with major repute on a global scale. We have four specialised terminals, each of which has its own capacities; the consortium of Khimji Shipping and TM International (TMIL) operates our dry-bulk terminal, they will handle the export of aggregates, then we have C Steinweg Oman, which has a head office in Holland and operates all dry-bulk, break bulk and container stuffing and stripping operations at the Port. Hutchinson Whampoa, a world leading port investor, developer and operator, chose Sohar as a good base to operate from due to its base in the GCC; it operates our container terminal. Oiltanking Odfjell Terminals operate the central tank terminal for liquid cargo as a joint venture and are a major player at Sohar, particularly now that the petrochemical industry brings great benefits to Oman."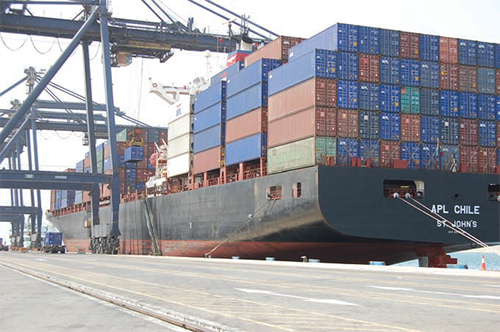 Due to an increase of bulk storage capacity at the central tank terminal, the Port of Sohar is anticipating a rise in liquid cargoes handled at the port. To prepare for this, it plans to build a new liquid jetty, designed to cater for product tankers reaching 120,000 deadweight tonnes (DWT), which will also further cement the port's reputation as an up-and-coming liquids hub. "We are going to be tendering for the construction of the jetty in the summer and have entered into a design contract so it can accommodate larger vessels and also handle two large product tankers on either side," says Edwin. The new jetty is also in preparation for Oiltanking-Odfjell's plans to expand its world-class 1,297,800 cubic metre capacity further.
The expansion of the port's liquid terminal will also allow Oiltanking-Odfjell to cater for the requirements of a planned one million tonnes per annum capacity bitumen refinery at Sohar, which Bahrain-based Mashael Group of Companies plans to develop with an investment of approximately $200 million. An agreement was signed between the group and the Port of Sohar on May 30th 2008 for the bitumen refinery, which will be the first in the region. Targeting the nice bitumen market, the plant will boast state-of-the-art technologies to provide a one-stop bitumen supply centre with a 30,000 barrel per day capacity.
Another major milestone for Port of Sohar is the development agreement it signed with Hutchinson Whampoa in December 2012, which will establish a new 70 hectares container terminal and ensure a capacity growth from 800,000 TEU to 1,500,000 TEU. The agreement will not only expand the total capacity of the container terminal, but will also increase the vessel capacity of the port as a whole. Already benefiting from a deep draft, the investment into seven post-panamax cranes will be able to handle 10,000 – 11,000 TEU ships, putting Sohar in a competitive position for shipping lines bringing their cargoes to Oman by allowing them to skip large container hubs in the region and go direct to the port.
Ongoing developments at the terminals have allowed the Port of Sohar to re-assess and re-develop port infrastructure, which has led to construction plans for the sultanate's first sugar refinery. The world-class ultra modern refinery will have the capacity to produce one million tonnes of the highest quality refined sugar per year, with construction commencing in the third quarter of 2013. Production is expected to begin in the third quarter of 2015, with full production expected at the start of 2016. "It was the devastating cyclone in 2007 that led to the Omani Government taking a strategic strategy towards food security," says Edwin. "At the time we felt we didn't know how to incorporate agro bulk into our port development, but over time we realised it was an interesting market and decided to develop a facility that can handle one million tonnes of raw sugar as well as the import of grains. This will result in lower food prices in Oman and costs remaining at a controlled level."
With massive investments and increased demand for services within it, the future looks positive for Port of Sohar, which will continue to maintain high standards and the latest technologies to ensure efficiency, safety and profitability. Furthermore, the port will also be focusing on Freezone Sohar, which is adjacent to the port and provides investors an excellent product distribution base to a consumer market of nearly two billion. "We aim to create a circle that will lead to the port's continued growth by attracting more opportunities to the Freezone, which will make the port more attractive to shipping lines. This circle will continue to draw in more ships and more opportunities and we anticipate that over time the world will know where Sohar is and the wide range of materials we can handle," concludes Edwin.
Port of Sohar
Services: Logistics, petrochemicals and metals