Foresight Group LLP has acquired 100% of the equity of Simple Power Limited for an undisclosed sum, comprising a portfolio of 52 onshore sub-250kW single wind turbines located across Northern Ireland. In the past five years, Foresight has mobilised investment of more than £200 million into the Renewable Energy sector in Northern Ireland, building a portfolio of 12 Bioenergy and Waste projects alongside this wind portfolio.
SPL has the largest distributed wind portfolio in Northern Ireland, with a total output in excess of 12MW across all the turbine sites, which benefit from some of the highest wind speeds in Europe.
James Taggart, Investment Manager, Foresight Group commented: "SPL's wind portfolio is a fantastic acquisition with a volume of well positioned and operational single wind turbines around Northern Ireland. We look forward to working closely with the Simple Power management team to continue the portfolio's success and to further establish Foresight as a leader in the renewable energy sector."
The 52 wind turbines are fully operational and OFGEM accredited. The portfolio qualifies for participation in the recently launched I-SEM market in Ireland. Each turbine benefits from a standardised lease, grid connection and PPA, with long-term fixed price O&M agreements in place with a number of experienced third-party contractors.
Wind farm first

The first laser sensor developed for offshore wind farm applications where the need for installing fixed reflective targets is eliminated, SceneScan Monopole is designed to increase safety on-board service operation vessels (SOVs), since vessel positioning sensors that rely on targets fixed to the structure, are often unreliable because of poor placement, poor quality, and obscurement by workers on the platform. The SceneScan has been designed and developed by Guidance Marine, which was acquired by Wärtsilä in 2017.
The system successfully underwent sea trials earlier this year on-board the 'Windea La Cour', a purpose-built SOV owned by Bernhard Schulte Offshore. The vessel is fitted with other Wärtsilä sensor solutions, including the RangeGuard Monopole, the first targetless local position reference sensor based on radar technology.
The SceneScan Monopole's advanced software allows the measurement of range and bearing to the offshore wind turbine, independent of the use of targets and GPS. The technology is highly applicable for China's developing offshore wind market, as well as for North Sea wind farms. The first SceneScan Monopole was delivered in summer 2018 for a Chinese SOV newbuild project carried out by GE Power Conversion, a subsidiary of General Electric.
Indian opportunities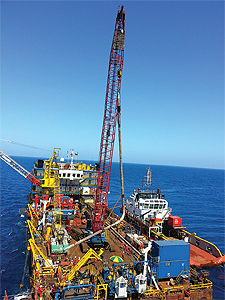 Kreuz Subsea and consortium partner Seamec Ltd, have successfully completed the mobilisation of the Kreuz Glorious vessel to commence a two-year project with India's Oil & Natural Gas Corporation (ONGC). The scope of work includes the inspection of 27 offshore jackets in the Mumbai High North, Mumbai High South, Heera, Neelam and Bassien assets, located off the coast of Mumbai in the Arabian Sea.
The construction work barge is specifically designed to work around complex jackets which are often inaccessible by more traditionally utilised DP2 diving vessels. The Kreuz Glorious has a 1200m2 deck area, accommodation for 304 people and an eight-point mooring system. The campaign will see 50 personnel from Kreuz supporting in project management roles as well as performing offshore construction tasks.
In September 2018, the Government of India approved fiscal incentives to attract investments and technology to improve recovery from oil fields. This move is expected to lead hydrocarbon production worth more than $700 billion in the next 20 years. AJ Jain, chief executive officer of Kreuz Subsea, commented: "India has always been a key growth area for the business and with the recently approved government fiscal incentives expected to drive production, this provides ongoing prospects for global service providers like Kreuz Subsea."
Green gas for the North East
A new biogas generation facility is set to make a major contribution to renewable energy in the North East. Wardley Biogas has received £17m of funding to construct a new plant at Follingsby Lane, Wardley which will convert unwanted organic waste into green gas for use across the region's heat, power and transport sectors.
A team of lawyers from Ward Hadaway supported Wardley Biogas on various aspects of the transaction over an 18-month period. This included structuring and negotiating all major commercial contracts to bring the project to fruition. Commercial Partner Matt Cormack led on the firm-wide transaction, which was also supported by Ward Hadaway's banking, finance, property, energy and utilities, and construction teams. Matt commented: "We are delighted to see this project achieve financial close and look forward to seeing the scheme enter the next phase of its development. This was a complex project, which required delivery of strategic and technical legal advice across a number of disciplines within a tight timescale. It is always exciting to work on regionally significant renewable energy projects, such as Wardley Biogas."
The creation of Wardley Biogas presents an opportunity for the recycling of food waste in the North East to create renewable green gas. The project is backed by experienced funders and supported by BioConstruct GmbH, a biogas EPC contractor in the sector.
The scheme is also supported by project partner, Gap Organics, the food recycling division of a national waste management company based in the North East.
Nuclear protection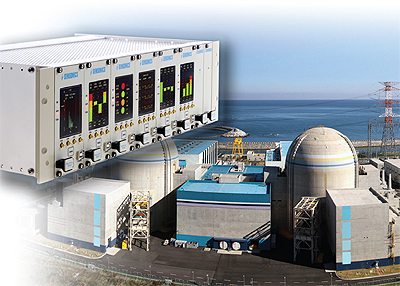 The final tranche of machinery protection systems from SENSONICS has been delivered to the Barakah Nuclear Power Plant project in the UAE. Following a five-year design and manufacturing phase, the equipment delivery was made up of nearly 400 Sentry G3 4-channel protection modules and over 1200 channels of vibration analysis across 12 cabinets. The instrumentation will monitor and protect 180 machines, the balance of plant equipment for all four units, consisting of various fans, pumps and chillers in support of the plant operations.
The fully programmable Sentry G3 equipment is utilised to monitor bearing and shaft vibration in addition to thrust wear and speed. It includes dual redundant power supplies in each rack with redundant Ethernet communications to the main plant systems for trending of overall vibration levels and the reporting of alarms. A condition monitoring package is also integrated with the G3 equipment to provide real time analysis of the vibration signals. All data is stored on a local server which provides live machine Mimic's in combination with offline analysis of historical trends.
In Brief
Major contract extension
Expro has strengthened the opening of its new purpose-built facilities in Baku, winning a four-year contract extension for BP's Shah Deniz Stage 2 project. The contract extension will see Expro continue its provision of subsea landing string equipment and services to the project in the South Caspian Sea. To support this major contract and expand its portfolio in the region, Expro has invested in a new purpose-built facility, which opened in mid-November.
$70m contract
Penspen has been awarded a contract by Abu Dhabi National Oil Company (ADNOC) Onshore, with a value exceeding $70m. The project is for the provision of project management consultancy (PMC) services for the company's 15 major projects and will cover different stages of engineering, procurement and construction (EPC) activities, from EPC tendering stage to commissioning and close out. Peter O'Sullivan, chief executive officer of Penspen, said: "These projects will provide Penspen the opportunity to utilise the vast expertise and knowledge it has to ensure that ADNOC Onshore receives excellent project management consultancy services."
In the mix
Industry-leading, technology and service provider ProSep has announced the first refinery application in the Middle East of its Mutliphase Adjustable Xtreme (MAX+) Mixer, a unique mixer with integrated injection and mixing capabilities which delivers homogenous mixing of multiphase flows with low pressure drop over the entire turndown range. Scheduled for delivery in 2019, ProSep's MAX+ technology exceeds that of traditional static mixers with its unique, fit for purpose design delivering a range of benefits.