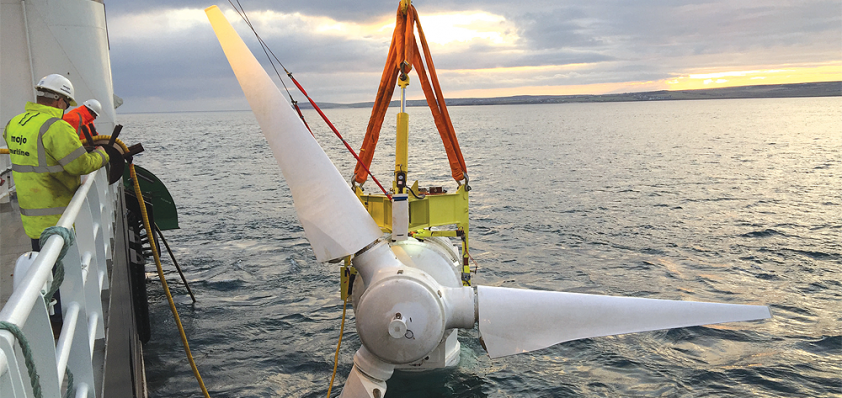 SIMEC Atlantis Energy Limited's (Atlantis) Turbine and Engineering Services Division (ATES) is to enter into a Technology Partnership and Preferred Supplier Agreement (TPPSA) with GE's Power Conversion business (GE), a global leader in power conversion.
Under the terms of the partnership agreement, both parties will work together and share resources for the ongoing development of utility scale tidal energy generation and associated energy storage solutions. They will also engage in joint marketing activities to promote their innovative new subsea connection technologies and the wider benefits of cleaner, predictable tidal energy.
Drew Blaxland, Director of ATES, commented: "GE is a world leader in power conversion equipment development and supply. The AR2000 is expected to be the world's largest single axis tidal turbine and it will be deployed on the world's largest tidal power project. We want to partner with the world's best companies; leaders in technology and innovation. This agreement with GE is a clear demonstration of our commitment to working with industry leading companies to deliver utility scale tidal power. As the sole supplier of turbine generation equipment to the second phase of the MeyGen Project in Scotland, partnering with GE unlocks enormous opportunities to build on ten years of R&D to now deliver more cost-effective, cleaner tidal power solutions for developers around the world.
"We expect that the AR2000 will become the system of choice for developers of tidal power projects around the world. Developed and built in Britain and then exported around the world."
Service and support

Continuous high standards and a focus on safety has led Perenco to extend and expand its support contract with Servelec Controls, ensuring that the oil and gas operator's UK east coast assets continue to operate safely, efficiently and productively.
Perenco's Controls Team Leader, Oliver Tibbenham was confident that it had made the right choice to extend the agreement: "Servelec Controls has consistently provided a reliable service, their engineers are highly knowledgeable and they've gone above and beyond when we've needed them to. They have not only kept our operations safe and productive, but suggested improvements when implementing modifications. We therefore want to keep them on board and have even extended the scope of their remit."
The renewal also now includes a managed spares option which means Servelec Controls holds a supply of critical spare parts specifically for Perenco at its Sheffield site, which is ideally located midway between the client's sites. This equipment can be tested prior to shipment. This helps to ensure minimised downtime and therefore improved productivity and safety because parts are readily available.
Digital revolution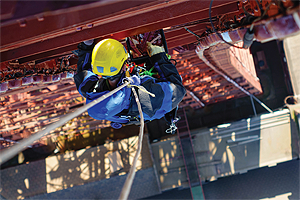 Arup and EnerMech have announced a new digitised inspection service – Arup Inspect MInteg (AIM) – to enhance and revolutionise the inspection process for the oil and gas industry.
Created by Arup, the innovative inspection technology – the first of its kind – digitises the entire inspection workflow by leveraging automation, overhauling the current paper-based and outdated manual process. EnerMech's specialist inspection division MInteg and Arup have signed a three-year agreement to complete inspections with AIM.
Dr Bryan Horton, Offshore Digital Leader, Arup, comments: "The partnership between Arup and EnerMech brings global expertise to digitise an old way of working, drive high value and lower risk outcomes for operators." MInteg Director, Patrick Gallagher, added: "AIM is a potential game-changer which offers enhanced inspection capabilities on oil and gas assets and can assist operators with prioritising the annual integrity management cycle. The potential time savings and subsequent cost reductions are considerable. In addition, AIM can significantly reduce the amount of time personnel will be required to work at height using rope access to inspect difficult-to-reach areas of offshore and onshore assets."
Going deep

Oilfield technology firm Airborne Oil & Gas and engineering company SÍMEROS TECHNOLOGIES have signed a collaboration agreement which aims to deliver the first qualified Thermoplastic Composite Pipe (TCP) Risers in the deepwater region of Brazil.
Last year, Airborne Oil & Gas commenced its TCP Riser qualification programme. The technology is believed to be a world first for fully bonded, free hanging composite Risers with the aim of providing a disruptive new Riser pipe technology for operators with international deepwater applications.
The programme is receiving funding from a major operator in the region and is aimed at qualifying the TCP Riser for dynamic deepwater applications, including for pre-salt and highly corrosive conditions, against an ambitious timescale.
The TCP Flowlines and Risers developed by Airborne Oil & Gas can be installed by existing flex-lay and reel-lay vessels and be installed in the flexible and cost effective free hanging catenary mode. "Installed in free hanging catenary configuration, our TCP Riser provides the opportunity for significant savings on typical FPSO development, through faster installation and avoiding the need to use buoyancy modules," added Oliver Kassam, Airborne Oil & Gas CEO.
Floating solar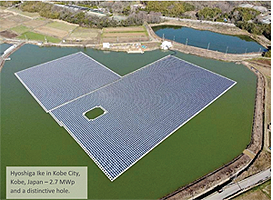 In late March, another project designed and supplied by Ciel & Terre was grid-connected in Japan, the 'world leader in floating solar power' according to the World Economic Forum. Hyoshiga Ike represents 2.7 MWp additional to the 128 MWp already implemented in the country by Ciel & Terre. Owned by EBJ and constructed by JFE Plant Engineering, the plant provides electricity for utility use, and benefits from feed-in tariffs to continue to make people aware of the technology and promote floating solar.
Hyoshiga Ike should generate 3,138,474 kWh, equivalent to the annual electricity consumption of around 872 residential homes. It should cut CO2 emissions by up to 163 tonnes in the meantime.
Hyoshiga Ike's floating solar farm lies on an irrigation pond, meaning that the water contained in the reservoir is used to water plantations. This means harmless materials must be used for the technology – Ciel & Terre's patented, and industrialised water-based PV concept Hydrelio is ideal for this.
Hyoshiga Ike's floating PV plant is also installed above a historical spot, a shrine for the good harvest, which is revealed when water level goes down. This area is a place of worship for all the local farmers, and a gap was designed on purpose by Ciel & Terre so that this sacred zone is left free.
In Brief
Green options
Ørsted is expanding its offering with the addition of biogas and carbon neutral gas options – designed to suit the differing requirements and budgets of UK businesses of all sizes. Ørsted's biogas product comes with guaranteed certificates of origin, so businesses can report near-zero emissions from their gas consumption in greenhouse gas (GHG) reporting, making a significant contribution to carbon reduction. For those businesses seeking a lower budget option, Ørsted can also provide a carbon neutral gas product.
French wind deal
In an acquisition that is a further testament to its significant European ambitions, Octopus Energy Investments, part of Octopus Group, has acquired the 18MW Roche Quatre Rivières wind farm from RES. The project was developed by RES who will also be responsible for the construction and asset management of the wind farm. The project sees Octopus expanding its existing French renewable energy portfolio from solar PV into onshore wind with additional acquisitions expected.
Survey for Shell
Ocean Infinity will be supporting its partner 'Guardian Geomatics' on an extensive hydrographic project for Shell. The project will be run from Ocean Infinity's vessel 'Seabed Constructor' and will collect high quality hydrographic data over an area in excess of 800km2, using up to three Ocean Infinity unmanned surface vessels (USVs).
Steve Duffield, Guardian Geomatics Commercial Director, said: "Using Guardian's Seabed-Cloud technology, the data is able to be presented to the users with a much quicker turnaround. The fuel usage on the project is estimated to be reduced by a factor of ten".