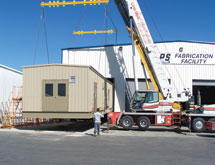 In 2002, Power Service Inc. was a $16 million company. In the 10 years since, it has grown to nearly $100 million in sales, all through organic growth. The growth has been overseen by its current owner and President Tony Cercy, who became its sole owner in 2002. As a value-added distributor for several industries, including the oil and gas and mining industries, much of the growth has been spurred by the oil and gas industry's recent boom and the mining industry's steady ascend, coupled with Power Service's ability to meet the needs of these growing industries.
"Ever since I took over the company in 2002 as sole owner, we have done a lot of expansion," Cercy says. "And through those expansions I don't mean just shipping equipment there. When we go into a new territory, we have to open a store and transfer the right people or hire on a local basis to get the right people in there. Our go-to-market strategy has to be that if we place equipment in any booming economy, we have to have local service and local support."
That's because – even though Cercy explains that Power Service is a distributor first – it is also much more than that. In addition to selling equipment such as air compressors, pumps, generators, filtration systems, air dryers and blowers, the company also keeps an extensive parts inventory. All six of its locations are fitted with a shop floor for after-sale services such as maintenance and repairs that can be performed in the shop or in the field. One of its biggest calling cards, however, is in providing turnkey solutions – a trend that Cercy notes began in the 1980s.
"That trend really started in the Rocky Mountain area, and the reason it become a very high trend in the oil and gas industry at that time was because of the remote locations and the difficulty it took to get contractors on location to build any kind of facility," Cercy says.
"There was a need for companies at that time to build modular plug-and-play facilities and we started with things like waterflood plants and water disposal facilities," Cercy continues. "We could design it with the engineers and set the pumps and the filtration and all the automation and electrical systems, whatever they needed, and then ship it to the location as a modular plug-and-play facility. Everyone began seeing the value of having a facility built in a controlled environment."
Growing with Customers
Power Service began matching the best equipment for particular jobs and integrating that equipment into modular plug-and-play facilities. In 2002, it was performing this service from a 20,000-square-foot facility on a four-acre parcel of land. Today, it performs this service at the same Casper, Wyo., location from a 22-acre parcel of land in a 130,000-square-foot facility that will be expanded to 160,000 square feet by the end of July.
Power Service has had to expand to keep up with its customer base. In Dickinson, N.D., the company has backed those working in the Bakken Shale, and in Denver and Casper and Green River in Wyoming, it has provided for the needs of companies working in the Niobrara Shale. The company recently opened a shop in San Antonio to supply equipment for those working in the Eagleford shale. Cercy expects to see the same success with its newest location as it has seen with its other locations.
"We've had over 400 percent growth in North Dakota since the Bakken Shale find," Cercy says. "Three years ago we started with two people and today we have 12 people there in North Dakota, and we grew from $2 million in sales to over $27 million in sales. We feel that Eagleford is going to give us similar-type results because we are going to go in with the same market strategy. We don't like to go into a city just because it's booming. We want to know that it has long-term resiliency and that the market can take us on for a long time and forever, hopefully, or we won't take the time to invest. But if it can, we will go in with a building and invest in new trucks to offer our after-sale services. We go in feet first."
More Than Middle Men
The oil shale plays have provided an outlet for Power Service to move into these new regions. As it expands, its "feet-first" business model allows it to capitalize on other sectors in the area, such as mining, nuclear, manufacturing, agriculture, chemical producing and various engineering and contracting firms. Having this diverse customer base is a major attraction for manufacturers seeking distributors who can provide them with greater market share while making sure their equipment is represented well.
Part of Power Service's expertise is in matching the best equipment for a particular job, and for that reason it looks for the top manufacturers within certain fields. For instance, it works with Flowserve , whose pump division is recognized as the No. 1 pump manufacturer in the world, and the European-based Atlas Copco which manufactures air compressors and air dryers and is the largest company in its sector and No. 1 among its competition. Power Service then works to make sure it is representing the manufacturers' product by selecting the applications that will allow each particular product to shine. For example, Power Service has developed a niche for the Moyno Pump, using it for gathering systems at oil shale plays.
"Everybody is battling for marketshare," Cercy explains. "Whether it's an up, down or flat market, we have to be able to provide the go-to-market strategy that manufacturers require to keep their product No. 1, 2 or 3 in the market. They are looking for distributors like us that understand how to best represent and utilize their product and get the most products on the ground. The fact that we've been doing this for 58 years and have strong market presence is why we're able to represent the top one, two and three manufacturers in the field with their product lines." EMI