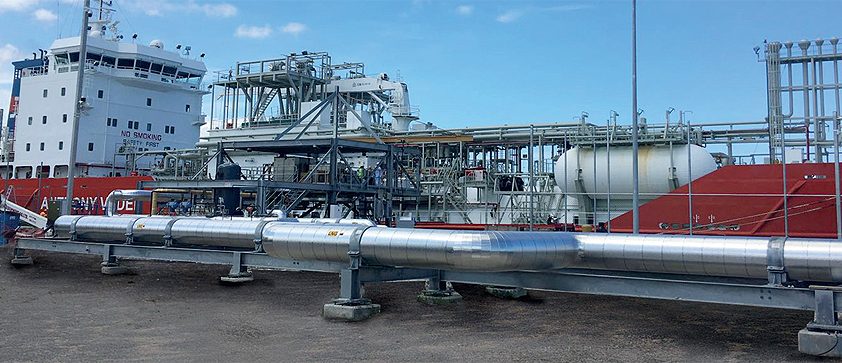 Signum Technology Group company KLAW LNG, the world-leading specialist in the design and engineering of ship-to-ship and ship-to-shore LNG transfer systems, has transformed the lives of the people of Montego Bay, Jamaica by delivering the world's first fully automated LNG safety transfer system to enable a reliable flow of LNG to this community.
Working in partnership with Exida and Siemens for client Fortress Energy, KLAW LNG designed, engineered and manufactured this ground-breaking Safety Integrity Level and Safety Instrumented System (SILSIS).
"It is no exaggeration to say that the cost of the power previously [which was fuelled by diesel] was crippling to the island's economy and up until now they had no practical alternative. SILSIS means they now have a reliable and cost-effective energy source that is delivered with the highest safety levels of any LNG transfer system on the planet," commented Julian Fairman, KLAW LNGs Technical Manager – Control Systems.
"SILSIS in Montego Bay is a genuinely ground-breaking innovation that has had an enormous positive impact on the lives of local people and it is something that we are very proud of indeed," added Jeff Vile, Signum Technology's Sales and Compliance Director. "It is remarkable on a number of different levels – in addition to being the world's first fully-automated LNG transfer system and the world's first SIL2 compliant LNG transfer system, it is also the first LNG land terminal in the world that uses a Flexible Hose Transfer System and the first LNG transfer system in Jamaica."
Landmark celebration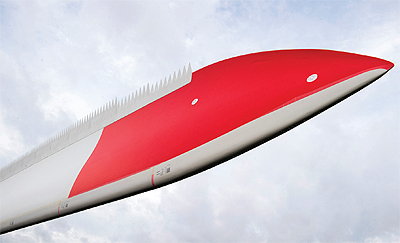 ScottishPower Renewables has been celebrating the creation of the 'first blade' for the East Anglia ONE windfarm. The 75-metre long blades are being made at Siemens Gamesa's Hull factory demonstrating ScottishPower Renewables' commitment to UK content. Production of the first wind turbine blade for the East Anglia ONE offshore windfarm represents a significant milestone for the project located 43km off the Suffolk coast.
Inspection of the blade, and sign-off by the East Anglia ONE project team, was completed on 7th February. With the blade's comparable in length to the wingspan of an Airbus A380, this feat of engineering forms part of the major contract between leading wind energy producer ScottishPower Renewables and Siemens Gamesa to manufacture and install the turbines for the East Anglia ONE Offshore Windfarm.
The £2.5 billion East Anglia ONE project will see 102 Siemens Gamesa turbines deployed, each with a capacity of seven megawatts.
This announcement follows ScottishPower Renewables' £25 million investment in the Port of Lowestoft with the construction of a start-of-the-art operations and maintenance building. The base, at Associated British Ports' Hamilton Dock, Lowestoft, will see 100 full-time employees manage the day-to-day operations and maintenance activities for East Anglia ONE.
Further support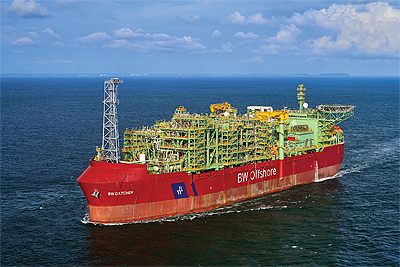 Babcock has been awarded a four-year framework contract for brownfield fabrication and modification projects on the BW Catcher, a Floating Production Storage and Offloading (FPSO) vessel owned by BW Offshore. The scope of the contract includes engineering, onshore fabrication and offshore modifications on the Catcher FPSO.
BW Catcher is a newly deployed FPSO in the North Sea, which achieved first oil late in 2017. It has an oil storage capacity of 650,000 barrels, with a processing capacity of 60,000 barrels per day. With a design life of 20 years without dry docking, it can be moored using a submerged turret production at an average water depth of 90 metres. BW Catcher is on a seven-year fixed term and 18 years of options contract with Premier Oil and will be deployed to the Catcher field in Central North Sea, UK.
Sean Donaldson, Babcock's Managing Director of Energy and Marine, and the Rosyth site, said: "The framework contract taps into Babcock's experience of supporting specialist maritime vessels from our Rosyth facility using our expert teams. BW Offshore is a company which we have had an enduring relationship with over the years and we are delighted to be supporting them with the Catcher FPSO."
New hope for North Sea
Geologists at the University of Aberdeen have discovered a huge swathe of the North Sea left unexplored for oil and gas because of so-called 'phantom' volcanoes they have proven don't exist. The 7000 sq km area, known as the Rattray Volcanic Province, was previously thought to contain the remains of three volcanoes, however, a study led by Dr Nick Schofield and PhD student Ailsa Quirie from the University's School of Geosciences, with colleagues from Heriot-Watt University and the University of Adelaide, has overturned this view.
Dr Schofield explained: "Building on methods we have used to look at prospectivity in volcanics elsewhere in the UKCS, we combined 3D seismic data donated to us by Petroleum Geo-Services (PGS) with well data to take a fresh look at the Rattray Volcanic Province.
"What we found has completely overturned decades of accepted knowledge. Previously, it was believed the area contained old magma chambers – the plumbing systems of three Jurassic-era volcanoes – that effectively ruled out the potential for oil and gas discoveries.
"However, our study has shown these volcanoes never existed at all, and that the fireworks preceding the North Sea's attempt to create an ocean with Europe came via a series of lava fissures.
"Essentially this gives us back a huge amount of gross rock volume that we never knew existed, in one of the world's most prolific regions for oil and gas production."
$110m contracts

Global drilling and engineering contractor KCA Deutag's land drilling operation has won new contracts and contract extensions worth approximately $110m. These contracts are for onshore drilling in the Middle East, Russia and Africa.
In the Middle East, KCAD has been successful in winning a total of seven years of contract extensions for five heavy rigs operating in Oman, as well as signing a contract with a new client in Oman for one of its 2000hp rigs. This is for a fixed term of six months.
In Russia, KCAD's land operation has been awarded a new drilling contract for a 1000hp rig with one of the country's leading integrated oil companies. The contract has a fixed term of one year.
In Nigeria one of KCAD's 700hp rigs has won a one year contract to carry out a workover program, with a further one year extension option. Additionally, a second rig has won a short-term contract for a threemonth programme. This 1500hp rig will be operating in an area of Nigeria where the company will see increasing activity. This is the rig's second contract in quick succession in this location.
KCAD has also had some success in Algeria where it was awarded a short-term contract extension for one of its 1500hp Speed rigs.
In Brief
Water-based fuel launch
Australian-Israeli company Electriq~Global and Dutch company Eleqtec have entered into an agreement to launch Electriq~Global's water-based fuel technology in the Netherlands. Together they plan to launch Electriq~Fuel's recycling plants, and introduce eMobility applications for trucks, barges and mobile generators. Comprised of 60% water, Electriq~Fuel is a game-changer in zero-emissions energy. When compared to green energy storage solutions like lithium-ion batteries or compressed hydrogen, Electriq~Global achieves a greater range at a lower cost.
Project refinancing
Cubico Sustainable Investments has completed the refinancing of 17 onshore wind and solar PV projects in the UK. All projects are fully operational and reached commercial operations between 2013-2016. The portfolio is comprised of a mixture of ROC accredited and Feed-in Tariff projects. The total amount of nonrecourse, long-term project finance debt raised was £258m with a £14m debt service reserve facility.
Baltic States ahead
In a recently published EU report, which showed the Netherlands and the UK to be the least energy efficient EU member states in terms of renewables, the same findings showed that the Baltic States of Lithuania, Latvia, and Estonia make up over 30% of the EU countries that have already met their 2020 renewable energy targets. Sun Investment Group, (SIG), a Lithuanian-Polish investment firm with one the biggest shares of the solar energy market in Poland believes that the Baltic States' drive for self-determination both in terms of energy and seeking closer ties with the EU is why they have managed to outperform longer-standing EU member states.