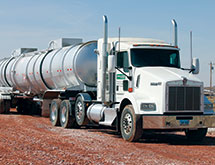 In recent years, oil and gas companies have kept so busy in the Bakken Formation that they found they could use a helping hand. That is where Prairie Cos. comes in, CEO Patrick Hughes says.
Based in Wayzata, Minn., the company operates several businesses in the Williston Basin area that serve the oil and gas industry. Hughes started Prairie Cos. in 2011, after making investments in North Dakota through Agency Trading Group, his brokerage firm based in Minneapolis.
"I was watching what was going on," he recalls, noting that Prairie Cos. began by providing housing services, which it now offers under its Prairie Housing Services division. Its companies also include Flatland Water Solutions, which offers fluid management services and works "with all kind of waste streams," he adds.
Its Prairie Field Services division offers sand, oil and water hauling and logistics support, and its North Dakota LNG LLC subsidiary provides liquefied natural gas and production services. Today, "We're well on our way to establishing ourselves in the Bakken," Hughes says.
Prairie Cos. has found a niche in between the large corporate giants and the "small, mom-and-pop companies," Hughes says. "My philosophy was really to be a betweener. That's where we fit today."
Chris Jewett, who serves in the roles of president of Flatland and a director of Prairie Cos., credits the parent company's success to its leadership. "We try to lead by example," he says.
"We're not above doing anything that needs to get done," he says. "We're able to search out new technologies, new partnerships and new vendors. I think that bodes well for [Prairie Cos.]"
Economic for Everybody
The North Dakota LNG division has earned much attention recently, Hughes says. This is because "as an industry in North Dakota, we're challenged with what we are going to do with the gas," he explains.
Wells are being drilled at a fast pace, but exploration companies need proper infrastructures for gathering and processing. Although some are being built now, "[It's just] not fast enough," Hughes says.
Transporting the gas out of the area is a problem, as well, Hughes says. Until North Dakota LNG began providing services, the local companies had only two options: the Northern Border and Alliance pipelines. However, "At some point, those get full," Hughes says.
North Dakota LNG's processing, transportation and storage services chip away at that problem for its clients. "It's a great example of the industry solving the problem with solutions that are economic for everybody," Hughes says.
A Top Team
After only three years, Prairie Cos. has made substantial progress, which Hughes credits to its management team, including Jewett. "He's done a phenomenal job of building out our facilities and leading the way in the processing of dirty fluids in our locations," Hughes says.
He also praises Prairie Field Services Director of Operations Peter Kronschnabel. "He has just done a phenomenal job of building an industry-leading group of people that go out in the field every day in the harshest of conditions," Hughes says.
A recent addition to the team is North Dakota LNG COO Paul Burns. A South Dakota native who graduated from Princeton University and Yale Law School and has worked as a lawyer and senior executive in New York, London and Switzerland, including on transactions and projects involving Royal Dutch Shell, BG, Texaco, and various national oil and gas companies.
"I'm just so happy to have him and the experience he brings," Hughes says, noting that Burns will manage North Dakota LNG.
Prairie Cos.' workers in the field are key, including tanker driver James Hayes, who joined the company in 2013. "Now he's one of our lead drivers," Hughes says.
Jewett also praises the fieldworkers at Prairie Cos. and Flatland. "They're working their tails off," he says, noting that the employees often cope with high demands and the companies' rapid growth. "That's a lot to handle for anybody. We couldn't be doing what we're doing without them."
Thinking Ahead
Hughes takes a long-term view when it comes to Prairie Cos. "We'll be moving oil and liquefied natural gas for a long, long time," he predicts, adding that he wants the company to achieve his vision of being "an industry-leading Bakken service company" by 2016.
"Most importantly, [we want to be] the place where people want to work," he says. "If we can establish our company as the landing pad for permanent employees, the world's our oyster. It's all based on people, especially in this area of the country."
Jewett adds that he thinks the future is bright under Hughes' leadership. "We've got a great CEO and partner in Pat," he says. "I'm just excited to run alongside him."