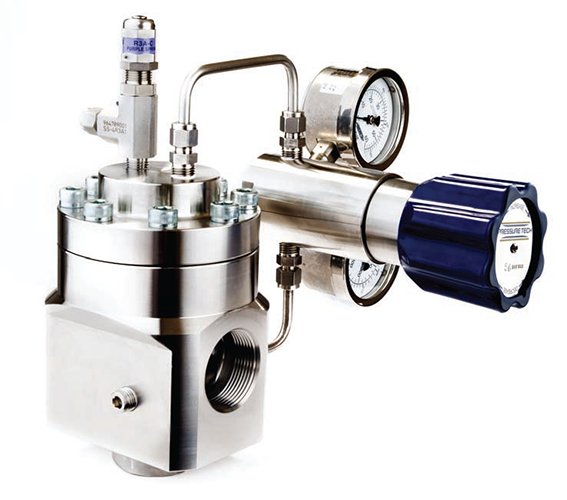 Rapid regulation
Since its formation in November 2000, Pressure Tech has developed an extensive range of high quality stainless steel pressure regulators for use on gas and liquid applications. "Having started the business 15 years ago as a one man operation, we have expanded to a 30-strong team that is well positioned for future growth," says managing director, Steve Yorke- Robinson, adding: "The ability to work closely with our customers, and listen to their specific needs, has helped ensure we design products that provide accurate control, with long term reliability in service."
Growing recognition as a market leader ensures its range of quality pressure regulators, predominately for the oil and gas market, occupies a share equivalent to 80 per cent of its business. "We have developed products that have unique features designed to make them not only last longer in the field, but also easier to service, effectively reducing down time," points out Steve. As the first company in the market to incorporate ceramic seats into hydraulic regulators, its innovative thinking highlights its commitment to not simply re-engineer products, but actively evaluate customer application and product design to create a better-suited product. "The ceramic material itself is designed to withstand wear and tear and cavitation issues, which are often encountered, particularly on water – glycol systems," adds Steve.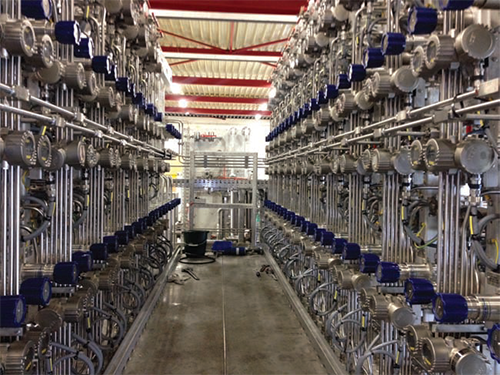 With a large investment in CNC machinery in 2008, its in-house machining ensures control over production to maintain flexibility with minimal lead times, and a business model that is able to provide a rapid response to develop unique product designs. Having been involved in the market for much of his career, Steve was able to call upon a core understanding of mechanical principles and an aptitude for sales, establishing a successful combination of working with the customer and designing the products around them. Demonstrable of this commitment to customer-focused designs, Pressure Tech has worked closely with numerous clients to developing products. "We have a subsea pressure regulator, capable of being used down to 3000 metres as a pressure control device, and whilst still in the development stage, we also have a high-flow pressure regulator, which is unique in that it fits, as a unit, inside the pipework. It is a lot more compact than other products on the market, with fewer working components and a simpler design, and is therefore less likely to have any kind of failure issues," says Steve, whose regulators are manufactured within the UK and covered by ISO-9001 accreditation.
Another product; the new flow control valve has been designed as a manifold concept, providing the option of filtration and block and bleed valves built into the assembly, as Steve continues: "We have incorporated all these features into a manifold block that can be connected up to the flow control valve itself. With an emphasis on engineered solutions; our core range of products each have unique selling points, and importantly from design to final product, everything is manufactured in-house."
The expansion into a new 5000sqft facility, coinciding with the investment in another four CNC machines, bringing its total to 11, allowed the business to not only increase the volume of production, but also reduced the need for subcontracting components, effectively minimising lead times. "One of these machines holds 90 tools, which is sufficient to manufacture several of the pressure regulator bodies eliminating the requirement for using a range of other machines. We identified that 40 per cent of the time spent on the machines was setting-up, so we have improved our throughput by eliminating that inefficiency," explains Steve.
With a quarter of its customer base within the UK, and an additional 40 per cent from within Europe, the business also holds a strong export customer base with panel and system builders for hydraulic control units, ultimately used by companies such as FMC, Aker Solutions and OneSubsea. Commenting on the market, Steve highlights: "We have enjoyed continual expansion, but it is an uncertain period ahead, particularly with concerns over oil pricing. However, this does create opportunities for us with end users looking for cost reductions up to 25 per cent. As a smaller company with a proven and accepted product we are able to attract the attention of major players as they look for competitive alternative options."
It is the flexibility and the size of the business that equips Pressure Tech with an added strength, capable of delivering contracts valued at €500,000, whilst being flexible, responsive, and quicker to react to customer requests. Moving forward, Steve provides an insight into the direction of the business as it faces a potentially challenging phase: "We are looking at a direct sales approach to the market, simultaneously launching an e-commerce website that will allow customers to receive quotations and pricinginformation as well as placing orders directly via the website, which we believe will open up the door and accessibility to our products, internationally. As part of this sales drive, the business recently recruited a sales engineer based in Aberdeen to solely focus on the markets in Scotland, Norway and Holland. We want to double our turnover in the next two to three years, as well as extend the product range into offering a complete solution, diversifying into new areas outside the pressure regulators, through internal development and acquisition."
Pressure Tech
Services: Manufacturer of stainless steel pressure regulators
Issue 122 July 2015