Primed for action
Offering horizontal directional drilling (HDD) technology made in Germany, Prime Drilling is one of the leading manufacturers of drill rigs and accessories in this sector.
Established in 1999, Prime Drilling has always focused on retaining a skilled workforce, which enables it to tailor every single rig to meet the client's specific requirements and the geographic conditions.
Much of the company's success has been due to its ability to respond to particularly technically challenging requests, as well as to advise on optimal technology. Above all else though Prime Drilling recognises that a successful drill particularly depends on the reliability of the machinery. Therefore, alongside the technical characteristics of these systems, the company attaches the greatest importance to delivering a low maintenance and robust drill rig with above-average durability. In total over 130 Prime Drilling HDD rigs are successfully in operation around the world.
This range includes various types of drill and compact drill rigs of up to 6000 kN pull force, pump aggregates, mixing units, and recycling units. The company strives to ensure that each of its machines are mechanically simple, to assist clients in finding replacement parts in their local market and undertaking repairs without the need for too much manufacturer assistance.
Ralf Kiesow, international sales and service director outlines the design element of Prime Drilling's capabilities: "The brain behind our design is our main shareholder, Werner Wurm, who designed one of the first HDD rigs in Europe, and has gone on to develop different types of machine such as vertical rigs, anchor boring rigs and auger boring machines. The majority of our design team have over 15 years experience in the drilling industry and are educated to at least bachelor level.
"Our supervising engineers work with the customers themselves, and are in close contact with the in-house team so we can bring their experience right into the design. As such each new machine is another bit of evolution. We're not looking for revolution, but whenour customers buy a rig from us they are purchasing 30 years of evolution in drilling techniques," he continues.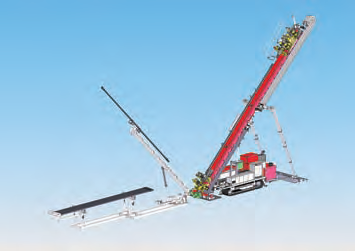 Recent developments have included production of a new pipe pusher, which grabs pipes and pushes them into boreholes over a long distance. It mainly serves for additional push or pull force with pipe pullback, but also can work in combination with tunnel boring machines. Furthermore, last year Prime Drilling delivered two rigs to a client in Australia that were specially designed for coal seam gas drilling – an area outside Prime Drilling's usual activity.
This was based on the existing rig type PD 100/80 RP-C 45°, which was adapted to meet the specific requirements, such as a penetration angle of six to 45 degrees. Another milestone project was the construction of a drill rig for aclient in Nigeria that doesn't require a separate barge to work in the swamps as it is able to sail natively. It is the first rig of its type that Prime Drilling has developed, and possibly the first in the world. The company has also recently developed and delivered a new type of drilling rig (Multi Purpose Rig) to Africa, which works in conjunction with its pipe pusher.
"We have commissioned a design for a new type of drilling rig for the oil and gas industry, which works at an eight to 90 degree angleof inclination. We also have a brand-new rod loading systems for drilling rigs working at this eight to 90 degree inclination, and as with all of our equipment the system is very simple to handle and control," highlights Ralf.
"Within the next couple of weeks we will deliver a PD 400/120 RP – C, which is a crawler mounted drilling rig with 4000 kN pullback and 120.000 Nm torque. The rig will be driven by a 570 kW Tier 4 engine, which is already ahead of the new emissions regulations. It can be driven by either one or two power packs, which means a total engine capacity of 1140 kW. This will be the biggest drilling rig in the UK."
He continues: "Over the course of the year we have enlarged our production hall to give more space for test runs and more pleasant working conditions for our production team. We also needed more room for the manufacture of our latest models, including Trinity-HDD brand pumping equipment."
Prime Drilling has been a major partner in Trinity since December 2008 when it purchased a number of shares from the business. Formerly known as Trinity Pumpenwerk GmbH, the company changed its name to Trinity-HDD GmbH as of the start of 2013 when it became an official division of Prime Drilling. Together the two companies design, develop and manufacture state-of-the-art pumping equipment and consumables, including a line of reciprocating piston pumps and packages designed specifically for the HDD industry.
"Quality and customer satisfaction is what we are focused on, and as such the company is well known for these areas," notes Ralf. "Our philosophy is that customer satisfaction is when the customer gets more than they expected. We are also lucky to have many long-term customers, some of which we have been working with since the very beginning.
"We are always trying to react to the new demands of our clients, and to improve day-by-day. As such, we are ahead of the new emissions regulations, and our safety standards surpass many others worldwide. Our order book is very positive for 2013, and we hope that this will continue into 2014," he adds.
In fact, Prime Drilling has seen demand for its machines increase in most of the countries it works within. This is partly due to word-of-mouth regarding the effectiveness of the rigs, and the continued attention placed on quality and reliability. "We recently exhibited in Munich at the biggest show for construction equipment worldwide, and we received very positive feedback from the drilling industry. As always we have an ear for the customer, which helps us to keep improving, and this will see the rest take care of itself," concludes Ralf.
Prime Drilling GmbH
Services: Bespoke drilling rigs