Boring genius
Prime Drilling is a German engineering company that produces drilling rig solutions for clients in the onshore oil and gas sector.
It was established in 1999 and since that time has focused on retaining a small but skilful workforce of approximately 70 people, organised in a very flat hierarchy. This careful model has differentiated Prime Drilling from many of its larger competitors and been crucial in securing it a steady high volume order book throughout its lifetime. Every single rig to emerge from the company's factory has been tailored to meet the client's specific requirements.
"It is all custom made," says international sales and service director Ralf Kiesow. "Everyone wants their design to be a little bit different and this is where we are really strong. Prime Drilling has an in-house design team that takes care of exactly what the customer requires and can even recommend designs that are more suitable where necessary. In terms of recent contracts, we sold two machines to Australia that will be used for coal seam gas drilling that were specially designed for the client. We are also about to build a machine for Nigeria that is able to sail natively. It is a drilling rig that doesn't need a separate barge to work in swamps because it can float and manoeuvre itself. It's the first one we've made and I believe possibly the first one in the world."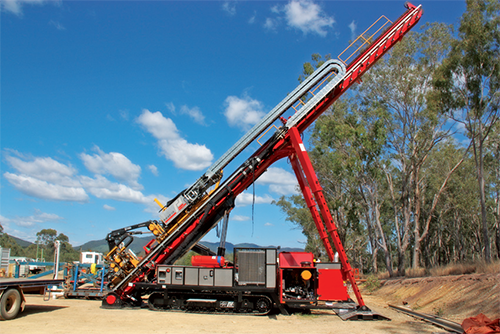 Prime Drilling's bespoke approach means that innovation is at the very heart of its business. It ensures the machines are mechanically simple, for example, so that clients can find replacement parts in their local market and repair the rigs themselves without requiring too much assistance from the manufacturer. This has become an increasingly significant feature because the company's quality and service has drawn attention from all corners of the world, resulting in Prime Drilling rigs located on every continent. At present Prime Drilling's most popular market is Russia, where many clients believe in the quality and reliability of its machines.
Another recent development by Prime Drilling is the pipe pusher, a machine that grabs pipes and pushes them into boreholes over a long distance. It is placed on the exit point of a building and can be used if the pipe in question is particularly large, leaving the contractor unsure as to whether the rig itself can offer the required capacity. A commitment to innovation and design is equalled by a dedication to using high quality materials. Its large steel consumption, for example, draws from a single German steel supplier that the company has come to rely on for high quality metals. Despite this it makes sure to test all the steel for quality and reliability before engineering it.
"We have a certain standard with respect to quality," Ralf says. "On the rigs recently sent to Australia, for example, we even had a third party carrying out non-destructive testing (NDT) on the welding seams so that everything was tested and reported to the quality expected by the customer. From 1999 to date all the rigs produced by Prime Drilling are still working, which illustrates the quality of the materials we use."
Unsurprisingly, in light of this evidence, business for Prime Drilling has proved continuously fruitful. "The order books have been consistently full over the last five years," Ralf explains. "We could have sold even more but our philosophy is to have a team of 70 people and not grow much more than the size we are now. We are based in Sauerland and the people here are committed – they work in one company until they retire. Therefore it is important for Werner Wurm, the main shareholder of our company, to have a business that remains steady so all employees have a job until they choose to leave.
"It is thus important that we do not grow because if the market drops and you have a business based on selling things according to price – rather than based on detail and quality as Prime Drilling does – then it would be necessary to drop the quality of the final product in order to meet that price. That is something we will never do. We have a reputation for high quality machines and want it to remain because this has ensured the company steady business for more than 12 years now. The order books were full for last year and we are nearly booked up until the summer of 2013 so it looks like good business will go on."
Prime Drilling
Products: Bespoke drilling rigs