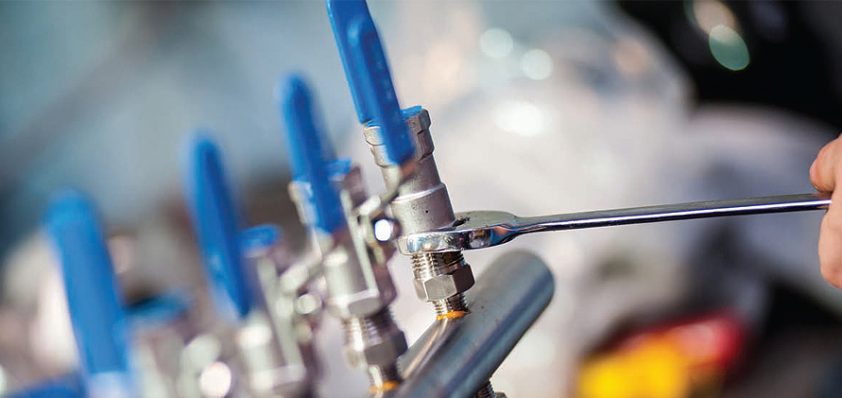 Process Control Equipment Ltd
Channelling ambition
Founded in 1980, Process Control Equipment (PCE) has grown to become an international supplier of valves and instrumentation built to suit a variety of applications.
The company is heavily involved within the oil and gas industry but also supplies the chemical and petrochemical industries, giving it a diverse client portfolio and an operational understanding of several industrialsectors. This has made the family-owned business an increasingly important player in the international oil and gas market, as sales director, Richard Jackson elaborates: "We are a true valve distributor holding large inventory to support our customer needs across Europe, we have the ability to automate valves at our in house Valve Actuation centres at each of our locations.
Our ability to service our clients has made thebusiness what it is today. We don't walk away from problems and are always striving for improvement. We hold gate, globe check, ball and butterfly valves from sizes ½" to 30" in stock with the ability to source larger sizes from our key principal suppliers.
"The aim for PCE is to grow through MRO agreements and project work. We have two separate divisions specifically designed for each. We understand how to run larger projects and have just completed a project in excess of $16 million dollars."
In recent years PCE has moved to capitalise on its continued success and made significant investments into its international facilities. These include strategic investments in new areas where the oil and gas market is highly active, as well as facilities that will aide the business in its established bases. Presently PCE is headquartered in Teesside, UK and maintains further locations in Scotland, Spain and the Netherlands, as well as a further base in Germany that is currently under development.
"We have made new investment in stock and testing facilities as well as valve automation centres across the business," Richard says. "These are either fully completed or underway at the time of writing and we are also hiring highly competent staff at each location who can provide the best service to clients.
"The investment in this has been around three million euros over the past one and a half years, which for a family company is a significant amount of money," he reveals." "We are anticipating the branches that we have established to grow significantly over the coming years and while we do not necessarily expect the UK market to grow, we believe that we will be able to gain market share in other areas."
In over three decades of operation PCE has never lost sight of the fact that it is its reliable service and stalwart commitment to customers that has differentiated it in a competitive marketplace. Indeed the company places great emphasis on its loyal and skilled workforce that has enabled it to develop long-lasting relationships with both clients and suppliers alike. In today's challenging market it has been recognised that there is a skills shortage, however PCE is committed to investing into its workforce to ensure that the business remains strong today and well into the future.
"We run apprenticeship schemes and we also hire graduates so that we are able to bring people into the company through several routes. It may sound clichéd but people make our business, and if we find the right people then we will accommodate them and help them fit into the company," Richard explains. "In some areas it is not too difficult to find personnel, in fact people will approach us, yet in other areas like Scotland it can be very competitive when looking for people. There is an engineering shortage at present and in the 30-50 age group this is particularly prevalent."
Despite the competitive nature of the oil and gas market and the increasing demand for talented engineering personnel, PCE manages a dedicated staff of 75 across its various locations. These, in conjunction with its strong network of suppliers, enable the company to deliver its comprehensive portfolio of valves and associated instrumentation equipment. However, the company recognises the help and support of key suppliers such as Neway, SWI and Jamesbury, which have all collaborated with PCE and established trusting, long-lasting relationships.
The range of valves provided by PCE within its portfolio extends to floating ball valves, trunnion mount ball valves, as well as cast steel gate, globe and check valves. These are available in a variety of different materials including stainless steel, alloy, duplex, cast steel and so on. Furthermore the company offers a range of diaphragm valves, parallel slide valves, hygienic valves, single and dual plate water pattern check valves as well as brass, carbon steel and stainless steel non-fire safe ball valves. This impressive product portfolio is accompanied by a full range of instrument tubing, stainless steel twin ferrule fittings, manifolds, air distribution manifolds, gauges, solenoid valves, brass compression fittings and instrument enclosures, meaning the PCE is able to supply the right solution every time. Associated equipment includes weatherproof instrument enclosures that are suitable for transmitters and manifolds, and options such as windows and anti-static devices.
As the company grows it will continue to deliver its extensive service offering to an international market. As a comparatively smaller business PCE is able to operate with significantly reduced overheads than larger rivals and is typically more agile in delivering quotes and finalised solutions quickly. Indeed its reputation and continued success fuels a considered yet  determined ambition within the company, as Richard concludes: "PCE still feels like a young and enthusiastic business and our aim is to continue to grow through strategic acquisitions and through strong organic growth. We feel we are ideally situated to make PCE a strong player across the European valve scene and still hold plans for other global markets."
Process Control Equipment Ltd
Services: Valves and instrumentation