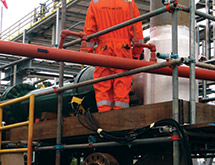 ProForma Engineering is not in the habit of keeping its customers at arm's length. Instead, "We spend a lot of time with people to establish strong relationships," owner Doug Krokosz says. "We make sure that we travel to see our clients face to face."
Based in Winnipeg, Manitoba, the mechanical engineering consulting firm provides design and development services to customers in the mechanical, oil and gas, and industrial engineering sectors. Krokosz founded the company in 2009 after working as a mechanical engineer for STATS Group (UK Ltd) and prior to that, Suncor Energy Inc.
"I was employee No. 1," he recalls, noting that ProForma initially worked on projects for Vale in Thompson, Manitoba. "Later that same year, the company began assisting STATS Group out of the United Kingdom on product standardization, including ASME design registration in Alberta."
Today, ProForma employs a staff of 17 mechanical engineers and has additional offices in Thompson, Manitoba. It also partners with Amps Services, an associate that specializes in industrial and electrical engineering.
"We are in a unique position within the industry as most mechanical engineering firms offer commercial building services," Krokosz says. "While we do offer those services, our main focus is on pressure equipment, welding engineering and piping systems."
Excellent Clients
ProForma services a very technical customer base, Krokosz says. "We've been lucky to have some excellent clients with high levels of creativity," he says. "We try to introduce engineering and public safety codes with a practical approach." He notes its clients include
JTL Industries Ltd., an oil and agriculture firm that it met in 2011.
"They have some very impressive products and a very creative approach to fabrication," Krokosz says. "We have enjoyed working with them and have learned a great deal in the process. It is hoped that we will continue to work together well into the future."
The company also serves STATS Group, which specializes in product and services for oil and gas installations and pipelines. "We try to make sure [their products] are deployed to market safely and profitably," he says.
He also praises CANCADE. "We view them as an industry problem- solver and it is a pleasure to work with them," he says. CANCADE is a manufacturer of material haulage equipment and ProForma has found good synergies with the work that it does.
New Additions
ProForma regularly invests in its operations, including the purchase of new software. "We have SOLIDWORKS Inventory, AutoCad, Inventor, Ansys, MicroStation and Microsoft Office, as well as a dedicated state-of-the-art computer dedicated to Finite Element Analysis (FEA) problems," Krokosz says. There are many unique situations where design by rule has to give way to design by analysis and FEA helps ProForma deal with these very complex problems.
ProForma maintains a friendly work environment, Krokosz says. "We have an open office concept, but we're divided into smaller groups to allow people to focus on what they need to," he says. "We try to maintain professional environments."
The company grows the talents of its staff with training. "We have a large training budget," he says, noting that its associates attend technical courses, as well as training on Canadian pipeline and pressure vessel codes, and leadership training.
Krokosz sees a strong future for ProForma. "We would like to grow as a mechanical maintenance and engineering firm," he says, noting it will add more employees. "Someday, we also would like to add more locations."