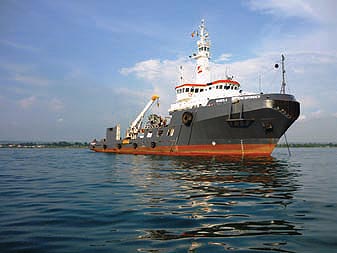 Promar Shipping Services S.A.
The safest option
Since the company was established during 2002, Promar Shipping Services S.A. has proven itself to be a reliable and trusted supplier of vessel management services to clients operating within the oil and gas industry.
During the past 13 years Promar has forged a strong global position, with a permanent presence within Europe, Africa and the Middle East. The Ship Management office is based in Geneva, Switzerland and is further supported by logistical bases in Congo, Angola and Gabon as well as Finance & Chartering office located in Dubai. Today either directly or indirectly, Promar activities provide employment for some 600 crewmembers, logistical staff and office-based personnel. Throughout the organisation, Promar is dedicated to providing expert services rapidly, that address its clients' specific requirements.
"Promar Shipping possesses a deep knowledge of oil and gas market and its management team has worked within the offshore industry and shipping for many years," elaborates Chief Operating Officer, Christophe Mansuy. "A significant strength of the company is the reactivity and flexibility of the team, which includes all of the crew aboard vessels at sea, staff at our logistic bases as well as in the Geneva and Dubai offices. We provide services 24 hours a day, seven days a week and we have people who are very focused on vessel availability and customer satisfaction. We are proud to provide tailor-made solutions that match our customers' requirements from early stage definition up to final delivery."
At the core of the company's activities is its commitment to efficiency and safety. During March 2015 Promar Shipping launched its 'Make Every Day a Safer Day' campaign, which is deployed on all vessels, on-shore bases and offices in English, French and Portuguese languages. The objective of the campaign is to promote an incident free workplace within all working locations, as well as to ensure that safety culture is a mind-set shared by all seafarers, base and office personnel.
Operationally Promar splits its activities across two divisions, each with dedicated overall management, operation, crewing and technical departments. The first of these divisions is the offshore support vessel (OSV) branch, which represents the historical origin of the business dating back to the company's beginnings. Presently the OSV division manages seven vessels comprised of five multi-purpose support vessels (M-PSV) and two brand new platform supply vessels (PSV).
Delivered during February 2015 in Galati, Romania, the Mamola Reliance is the first of two PSVs to be provided by Damen Shipyards, with the vessel sister ship, the Mamola Defender to arrive during August 2015. Following its official handover, the Mamola Reliance stopped over in Barcelona, Spain for her naming ceremony in March 2015 before sailing for West Africa to begin operation in Gulf of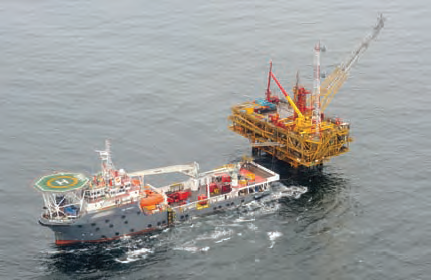 Guinea during April 2015. "The Mamola Reliance is a DP2 PSV 3300 from the Dutch shipbuilder, Damen and was built in Romania," Christophe says. "During the building process Promar had a team based in Romania from almost day one, to co-ordinate with Damen shipyard. Thanks to great co-operation between the Promar team and Damen, as well as Damen's excellent production capabilities the project went well and was delivered on time."
In addition to its growing OSV division, Promar also manages a fast crew boat (FCB) operation, which was established during 2011. These FCBs are 20-metre aluminium vessels, designed to transport passengers from the shore to offshore locations. "Today we manage over 30 units within the FCB division," Christophe explains. "The FCB fleet is organised around the logistical bases in Angola, Congo and Gabon. FCB vessels are attached to a dedicated logistics base where crew change and any other vessel requirements are managed, whereas the OSV are more independent and are able to carry their own spare parts for example."
Presently the fleet managed by Promar is entirely engaged in operation in Gulf of Guinea, where it provides services for major industry players such as Eni, Total, Perenco and others. Despite the challenging market conditions created by the present low price of oil, Promar and the ship owners are in the strong position that the majority of the managed fleet is engaged on long-term charters. This is reflective of the company's deep industry knowledge and focus on long-term relationships with their clients.
"Part of our future strategy is to focus on consolidating and increasing our market shares in Gulf of Guinea delivering the highest level of service to our customers and their operations," Christophe concludes. "The feedback and rating of our service is extremely positive, and as such, our key customers are inviting us to operate in other countries where we are not today – namely offshore South America, East Africa and Asia. Following them and extending our business model to other major oil & gas producing regions are of great interest to us and represent an important component of Promar's future strategy."
Promar Shipping Services S.A.
Services: Vessel management for the offshore oil and gas industry
Issue 122 July 2015