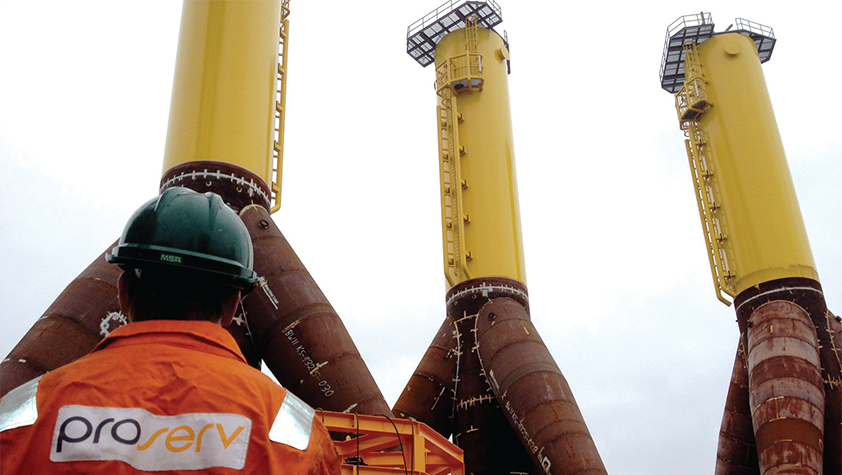 Provider of choice
Proserv, a production technology and services company for the global energy industry, credits its success on the strength of its engineering capabilities, innovative solutions and field proven technologies.
Headquartered in the UK, Proserv works closely with clients to maximise recovery, minimise costs and enhance sustainability, and offers them a wide range of products and services for the entire oilfield lifecycle. The company has a large global footprint, and employs over 1600 people in 12 countries.
Proserv's products and services fall under four categories – drilling and production, subsea technology, equipment and support, and infrastructure services. These divisions then cover their own range of services, so for example, infrastructure services includes automated pressure test facilities, marine growth removal, friction stud welding, and infrastructure decommissioning and abandonment.
In this last area, Proserv is a global leader in the abandonment and decommissioning of offshore structures and pipelines. With over 35 years experience, Proserv has abandoned and decommissioned over 600 structures worldwide. It offers an extensive range of equipment and services for marine and subsea operations, including ROV and diver deployed equipment, which is being used within remote and challenging environments around the world. Furthermore, using the company's in-house manufacturing capabilities and expertise, it is continually developing new tooling solutions in order to meet complex engineering project requirements worldwide.
A recent addition to the facilities at Proserv in Trondheim will further enhance the solutions available from the company. This new flagship research and development (R&D) centre, which opened in April 2013, is designed to create new subsea innovations worldwide, and contains vast workshops and office space as well as an impressive technology showroom for client demonstrations.
The opening of this centre is only the latest in a raft of exciting announcements Proserv has made in 2013. In February the organisation secured two major contract wins worth in excess of £15 million for work in the North Sea, which further strengthened its market-leading position in the subsea controls and communications field.
The first deal is with TAQA for the control of subsea wells approximately 16.5km from the Tern platform in the Cladhan field. Proserv will implement a system to control three subsea wells as part of a significant development project for the company. Using Proserv's proprietary Open Communications Controller (OCC) technology, the system will provide a high-speed network capable of communication speeds up to 1.3Mbps.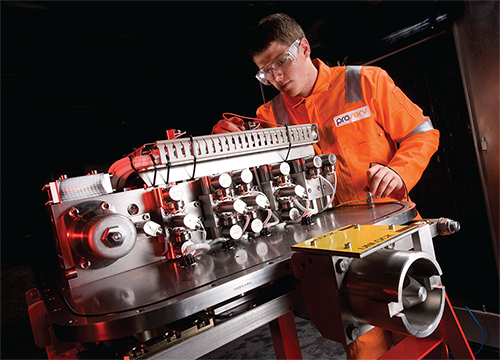 The second contract award is with another leading operator and also involves work to control the subsea wells. Proserv will use a cutting-edge system, which will control a number of wells and manifolds. This features a fibre-optic communications system using Proserv's Open Communications Hub (OCH) technology for fully transparent communications and high-speed data monitoring from the subsea multi-phase flow meters and control modules.
Commenting on the recent award wins, David Lamont, Proserv's chief executive officer, said: "Both contract wins reflect Proserv's industry-leading position and strong track record for delivering high-value integrated technology systems on time and within budget.
"Proserv's fast-growing suite of technologies have been developed based on the company's 'ingeniously simple' philosophy and are underpinned by our international talent pool of technical and engineering expertise."
The beginning of the year also saw Proserv consolidate its position following the successful completion of a $215 million refinancing agreement. Proserv has experienced exceptional growth within the past two years with turnover rising from $181 million in 2011 to around $316 million within 12 months. The refinancing agreement reinforces Proserv's fast-growing status and came after the company made two high-profile acquisitions in 2012, which not only bolstered its capabilities but saw its global talent pool increase by more than 600 people to over 1600.
In May 2012 more than 300 members of Weatherford staff joined Proserv when the company's subsea controls subsidiaries were acquired. Six months later, in December 2012, Proserv acquired major US company Total Instrumentation & Controls (TIC), a company that specialises in advanced process and control systems equipment and has a manufacturing facility in Lafayette (LA). TIC provides a broad range of installation and maintenance services to equipment manufacturing, drilling, production and pipeline companies. Specialising in blow-out prevention (BOP) stacking and installation services for offshore applications, the company manufactures drilling and production control systems and supplies ancillary subsea components such as remote terminal units (RTUs) and topside umbilical termination units (TUTUs).
The deal reinforces Proserv's position as a leading player in the drilling and production controls market and provides it with enhanced capabilities to expand its offering into the BOP subsea controls and services sector.
David commented: "This is a significant development for Proserv as TIC is a leading independent contractor to subsea BOP manufacturers, meaning the deal will create a greater stronghold for Proserv in the Gulf of Mexico market, enhancing our integrated capabilities. In turn, this will allow us to cross-sell Proserv products and services through TIC's customer base, creating considerably more capacity to develop our international business.
"Existing product lines, such as our Gilmore Valve range, are complemented by TIC's service offering and will enable us to provide the offshore and land based drilling sector with a more comprehensive drilling controls solution."
He added: "We are thrilled to welcome the TIC team to Proserv. They bring a broad range of technical skills and experience, but most importantly they share our core values and ambition to be the provider of choice to our customers and together, as one company, we are even stronger."
Proserv
Services: Drilling and production, subsea technology, equipment and support, and infrastructure services