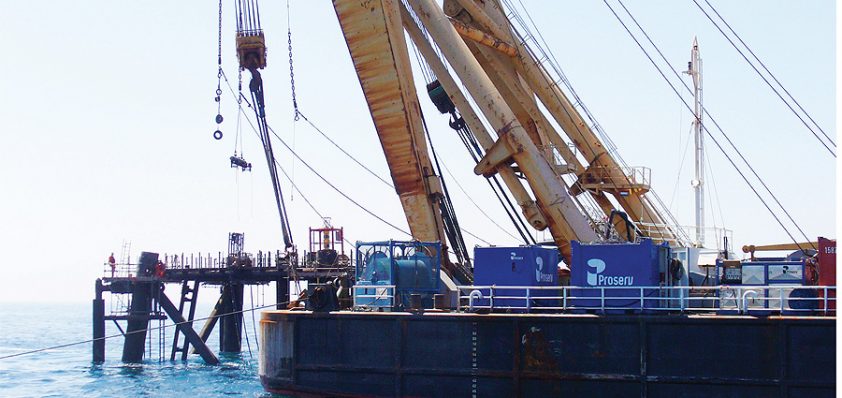 Divide and conquer
Proserv Group, a Norwegian-based company, is a leader in providing innovative engineering solutions and technically specialised services for the oil and gas industry.
Its portfolio covers test and control systems, instrumentation and calibration, oil and gas sampling, speciality machining, and abandonment and decommissioning.
The company's test and control systems encompass a range of different areas but focus mainly on building control and chemical injection systems. These are custom-built by Proserv Norge to meet the clients' needs, and include hydraulic power units, wellhead control panels, umbilical termination panels and wire line equipment. As well as manufacturing its own, the company also supplies a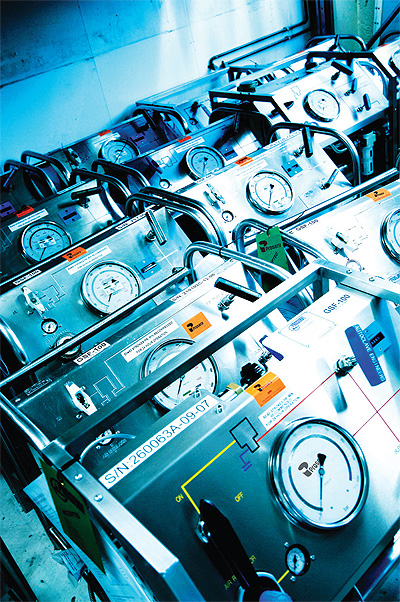 large array of products from various renowned brands throughout Europe and the Middle East. It also hires out various different units such as highpressure mobile pumps and mobile chemical injection pumps. Proserv Group works in the field of abandonment and decommissioning as well, which covers the cleaning, dismantling and removal of underwater infrastructure, providing various tooling solutions for divers or remotely operated vehicles (ROVs) to carry out the clearance of underwater debris and dredging. It is also responsible for down hole sampling and mercury free sampling in the North Sea, as well as various other sampling systems for the oil and gas industry.
The company saw a successful year in 2008, when it made three pivotal acquisitions to further enhance its already strong position in the market. These were Petrotech in Indonesia, PsiPro in Norway and GM Engineering in Aberdeen, Scotland. Arve Sem-Henriksen, CEO and president of Proserv Group talks about the importance of these acquisitions: "Firstly, Petrotech will be integrated into our testing control business units, and will form the foundation of our operations in the Far East. We also see potential in this to move into the US market, as Petrotech also has a daughter company in New Orleans, Louisiana. Then there is Norwegian company PsiPro, which focuses on larger projects and chemical injection systems. This will fully consolidate our current test control systems already in place in Stavanger, Norway. Finally, GM Engineering in Aberdeen has its own chemical injection systems which fit in perfectly with all our other operations in Scotland."
After making so many acquisitions the company has expanded to the point where it has now split into two separate divisions, as Arve discusses: "In doing this we can focus more on the operational activities within the two divisions, separating our business into Proserv Offshore, which incorporates all of our abandonment and decommissioning activities, and Proserv Technologies, which operates our remaining four business units." He continues: "Of course the company is still fully owned by the Proserv Group, but we see the potential for these two divisions to be developed as two separate companies in the future."
The business is currently working on various major projects and has recently obtained a number of contracts in Saudi Arabia for manufacturing wellhead control panels. It has also been awarded a Vendor Development Project (VDP) contract with Petronas, a Malaysian company, which also involves building control panels. Arve explains: "We are always looking to work closely with new partners and clients, and are always prepared to obtain new businesses and work on new sites – we are currently building facilities in Al-Khobar, Saudi Arabia, and have also set up new facilities in Johor Bahru, Malaysia. In addition, we are upgrading our facilities in Dubai, in the UAE, with a new site that will be three times larger than the existing one. All of these activities will improve our operations and enhance further growth in these market places."
Arve talks about the manner in which the global downturn has had its impact upon Proserv Group: "In 2008 we saw a moderate year, although that was the peak of the financial crisis, but it came as a surprise. The value of the US dollar to other currencies and the lowering oil prices took its toll upon the oil companies and so their desire to invest in new projects declined significantly. However, we are already seeing a rise again in oil prices and we predict that 2009 will be a better year for us, and so we remain optimistic."
In fact, Arve even believes that new opportunities could arise once the crisis abates. He elaborates: "As soon as oil prices rise again, companies will want to invest more than ever to take advantage of the improving market. We operate in a niche market that will always be abundant with opportunities, as these oil companies will want to initiate new oil field developments in different geographical areas. We will be able to expand our existing technology, which is why we are focusing heavily on both the Far East and the Middle East at the moment, and we also have plans to take advantage of the potential market in West Africa when the crisis subsides, in countries such as Angola and Nigeria."
Proserv Group
Services: Engineering solutions for the oil and gas industry