The cutting edge
For 20 years Proserv Offshore has provided decommissioning activities to the offshore market, in that time working on more than 600 projects on structures ranging from single wells to multi-platform fields.
It has decommissioned in some of the most challenging environments throughout the world, including the Gulf of Mexico and the North Sea, and used this experience to inform the company's ongoing development of equipment, training and operational procedures.
Proserv Offshore formed after the Proserv Group merged three companies it had recently acquired, Circle Offshore, Tytan Jetting Ltd and Promac. Two years later three further companies were acquired and their capabilities added to Proserv offshore's growing presence in the offshore market: Twatchtman Snyder and Byrd, Ramstud and Stainless Solutions. Today, the company employs more than 200 people and delivers its services to the UK, Scandinavia, the US, the Far East, Asia Pacific and the Middle East.
Since European Oil and Gas last talked to Proserv Offshore two years ago, a lot has changed in both the company and the decommissioning landscape. David Dent, vice president of business development, discusses this further: "In 2009 Proserv Group was taken over by Intervale Capital and, since then, we have become much more focused on project management and the provision of subsea tooling and engineering support services. Our plugging and abandonment (P&A) business, which was based in the Gulf of Mexico, was recently sold off to the Tetra Group but we continue to experience increasing decommissioning activity both there and across the globe."
In February of 2010, SapuraAcergy awarded Proserv Offshore a contract for major subsea cutting work on the Iwaki gas platform oil northeast of Japan. The 20,735 tonne structure, situated in 154 metres of water, required the removal of eight legs and the entire jacket structure; Proserv Offshore provided all of the cutting equipment and services to complete this huge undertaking. Some of these tools, such as its water-abrasive cold cut system JetCut, already existed but several new machines had to be specially developed including the 24" to 42" saddle pipe cutter, launch runner cutting tool and 62" to 80" diamond wire cutter.
Once developed these new tools are added to Proserv Offshore's inventory, and in this way the company expands its capabilities progressively. "We are continually improving our tooling systems, operational procedures and technician training in an effort to maintain our excellent safety record," says David. "Stringent onshore trials ensure problems associated with environmental or safety issues are identified at an early stage and are planned out of the procedures before offshore operation commences. All these developments are then stored within a recognised, integrated management system." Following these principles, the Iwaki project proved a success with the necessary 34 structural cuts completed on time, within budget and without incident.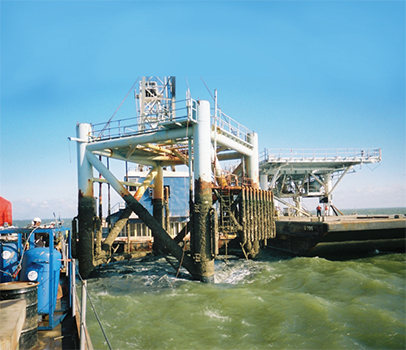 Despite this major project, the sheer scope of which has seen Proserv Offshore establish itself as a leading name in the East Asian decommissioning market, and others such as Perenco's recent Welland platform or current work on Shell's Indefatigable oil field, decommissioning business has been slow. Fluctuations in the price of oil, combined with inconsistent demand for Proserv Offshore's services throughout and since the recession, have made the last two years a challenging period for the company. However, in line with industry forecasts that decommissioning activity will grow over the next decade, Proserv Offshore has seen a greater numbers of enquiries over the last few months.
"The projected increase in demand is well documented and tallies very closely to our own observations. Ironically, many of the technologies involved with decommissioning offshore structures are also used in subsea asset life extension programmes, so whilst a portion of our business is focused on end-of-life work we are also actively working to extend the life of structures, thereby ensuring demand for our services will remain reasonably consistent into the future," comments David.
Following success on the Iwaki platform, Proserv Offshore seeks to expand its presence in the Asia Pacific region. A new facility in Perth, Australia, complete with 50 ton crane, has been opened to strengthening its existing base and provide an ideal stepping-stone towards more business in the region; it has already been involved with cutting for salvage on Seadrill's Montara oil platform. Elsewhere, ukplans for doubling in size its facility at Louisiana, the US, in order to allow for growth in Gulf of Mexico decommissioning are already underway.
As David illustrates, Proserv Offshore has a defined strategy for the future that will keep the company's prospects strong in the coming years: "We have a clear vision and mission to expand our existing position as leaders in the inspection, repair and maintenance (IRM), decommissioning and specialist subsea tooling markets. This includes: improved training for our people, such as the recent upgrade of our graduate training programme as a result of the current shortage of personnel; developing new technology, including a new conductor cutting tool currently in final offshore trials and planned for the market later this year; and growing our geographic spread to cover the oil and gas markets worldwide."
"These are exciting times," he confidently concludes. "We believe the work we have done to date, preparing for the increase in demand and our commitment to innovation solutions, will give us a strong position in the future market."
Proserv Offshore
Services: Decommissioning and asset life extension